Delaware artist Susan Benarcik brings the outdoors in with her unique artwork
Susan Benarcik works in both sculpture as well as mixed media. She developed both skills as a child in her parents' stores. "My mom had a flower shop and there were all these awesome three dimensional materials that I could fool around with and than my dad had a home decorating and DIY business."
She had access to art supplies and lumber, she could build and cut things. "I used all of those materials as a kid just to keep myself occupied, cause you know my parents were busy," Benarcik said.
A lot of natural materials go into the work, like sticks and vines.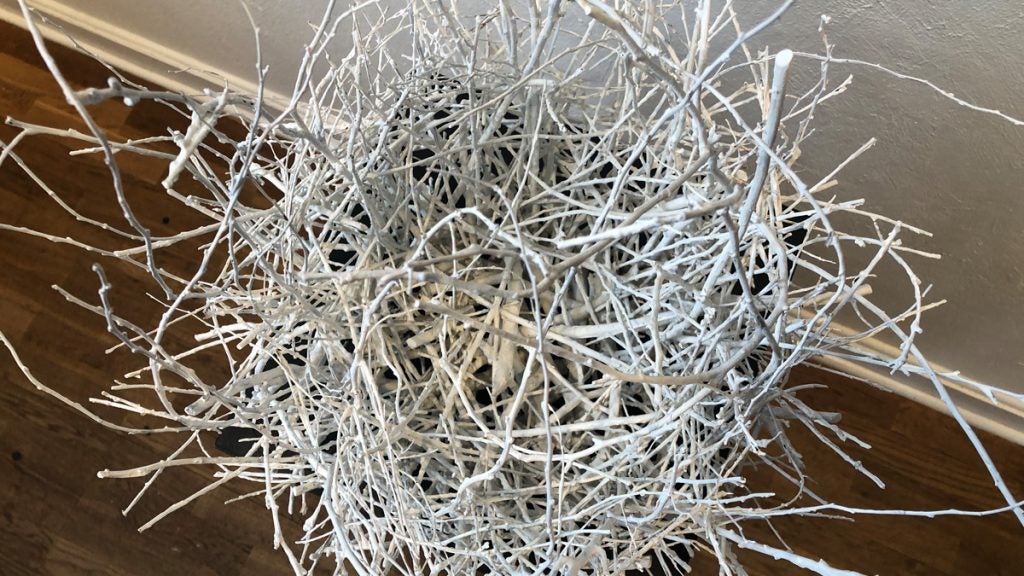 She likes to say, "I grow my artwork." Once you see it, you may believe that too. Sticks and vines and bits of paper rise up from the bottom of the frame as if it were planted there for that purpose.
All of these materials are used in new ways that perhaps Mother Nature hadn't intended or thought up herself. "They don't do the things that they do in nature, I give them a new purpose."
Benarcik went to college to become a printmaker, skills that she really doesn't use any more. But one holdover from those years is her love of print and books. She uses lots of book pages in her work as well as the natural elements. "I would find words and phrases and sentences in old books and they would soon be the titles of my pieces."
While it adds another layer to the artwork as the pages obviously have words written on it, Benarcik doesn't place a meaning to the words that appear in the work, she says, "People can find meaning in it if they want to."
For this show, which is being held at the Arden Buzz Ware Village Center, Benarcik chose these particular works because they make her think of the Arden woods. "I picked out pieces that had to do with trees and vines and insects."
Another reason is that these works are a bit more quirky, with more personality than her normal work, which she says can be "kind of more serious."
Many people have told Susan that her work makes them feel calm or serene, "Which I think that's what my work does for me, so that's good," Benarcik said.
She hopes her work is something you want to hang on your wall and see every day, that it brings you, "calm, inner harmony, that's awesome."
Ultimately her goal is to get you to think, to shift your perspective, "to open your eyes to something different … I got them to look outside the box. Maybe turn the TV off for a little while and go experience some art."
She likens the whole experience of viewing art, surprisingly, to food. Or more specifically the experience of trying some new taste for the first time.
"Did you ever have something and your like 'wow, that tastes amazing, what is it? When you discover something like that, that's amazing."