Del., Pa. slaughterhouses illegally dumping wastewater, pollution report finds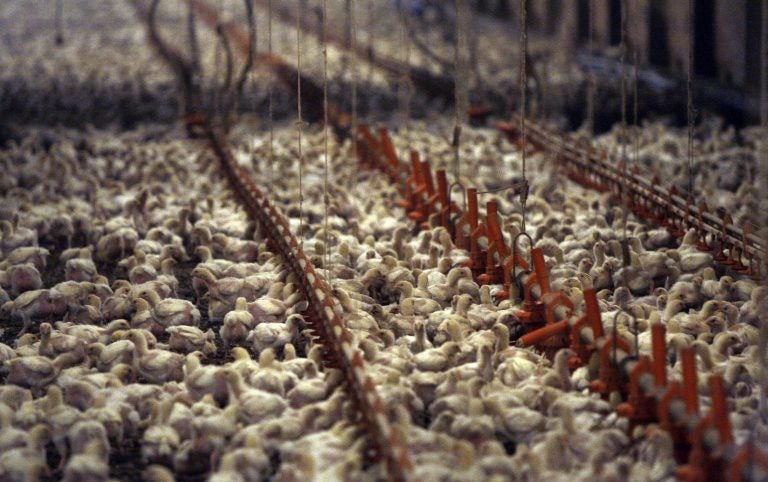 Feces, fat and blood from slaughterhouses are often discharged into rivers and streams. Too much of it can lead to excessive nitrogen loads and bacteria levels. Meat-processing plants in Pennsylvania and Delaware are among the top permit violators, illegally dumping their waste into waterways, according to a new report.
Released this week by the Environmental Integrity Project, "Water Pollution from Slaughterhouses" looked at EPA enforcement and compliance data for 98 large slaughterhouses across the country, focusing on those that discharge more than 250,000 gallons of waste a day.
Between Jan. 1, 2016, and June 30 this year, three-quarters of those slaughterhouses violated the Clean Water Act by improperly disposing of wastewater contaminated with blood, fat and feces.
One of the hardest hit areas is Sussex County, Delaware, which is home to five chicken slaughterhouses in just over 1,000 square miles. Four of those plants have been hit with water pollution violation notices in the last four years.
"We cannot take any more here," said Sussex County resident Maria Payan, a  consultant with the Socially Responsible Agriculture Project. "The land can't absorb it, the water can't absorb it, and the air can't absorb it. Clean water and clean air should be a basic human right."
High nitrogen levels can lead to algae blooms and deplete oxygen, which makes it difficult for plants and fish to survive. High bacteria levels threaten public health.
According to the report, the Mountaire Farms plant in Selbyville, Delawae, has violated the Clean Water Act every quarter for the last three years by discharging into Sandy Branch section of the St. Martin River. The company paid a civil penalty of $48,000 in 2015.
The Allen Harim plant in Harbeson, also in Delaware, had more than 90 Clean Water Act violations over four years, dumping contaminated water into the Beaverdam Creek, a tributary of the Broadkill River. The Delaware Department of Natural Resources and Environmental Control fined the company $421,000, but it has appealed and has a hearing scheduled next month with the state's Environmental Appeals Board.
Purdue Farms in Georgetown, Delaware, has also discharged excessive amounts of nitrogen and bacteria into streams, which resulted in a $77,300 fine earlier this year, though the company has offered to work with the Nature Conservancy to convert 39 acres of farmland into forest to offset some of the penalty.
In Pennsylvania, the Keystone Protein poultry slaughterhouse in Fredericksburg had 62 violations over the observed time period. Yet that company only paid $1,030 in fines, according to the report.
That sort of modest penalty occurred in several locations across the country, said the Environmental Integrity Project's executive director, Eric Schaefer.
"It's basically a fee to pollute, not a penalty that amounts to a sanction," said Schaefer. "We're not talking about the Little Sisters of Mercy here. These are big companies with lots of money that can be used to fix these problems."
He said a dearth of resources at the EPA and state agencies accounts for part of the lack of enforcement. Most of the violations of Clean Water Act permit limits were reported on the company's own discharge monitoring reports.
"You don't have to be Sherlock Holmes to find these cases," he said. "But you still need people to bring them."
The report also called out Mountaire for spraying high levels of waste onto corn and soy fields in Millsboro, which is another method companies use to dispose of wastewater that avoids dumping the water in the stream.
In November, DNREC issued Mountaire a notice of violation for excessive effluent in its spray irrigation program. The state limits concentrations of nitrogen in spray wastewater to 15.6 mg/L. In September 2017, Mountaire's concentration was 641 mg/L — more than 40 times the limit.  In August of that year, the fecal coliform was more than 5,000 times the legal limit.
The state fined the company $600,000 in June. Residents are also suing the company in two separate class actions, saying the company contaminated their drinking water.
Neither Mountaire nor Allen Harim responded to requests for comment.
James Fisher, a spokesman for the Delmarva Poultry Industry, told the Delaware News Journal that the state's chicken plants are investing "millions of dollars in improved wastewater treatment facilities, including investments in new ways to end discharging treated wastewater into rivers and streams."  
Despite these violations, another Allen Harim plant is being proposed outside Millsboro.
Comparing the chicken waste to an overflowing laundry tub, Sussex resident Payan said enough is enough.
"The first thing that you do is turn off the spigot, so the water can't keep overflowing," she said. "At some point somebody has to say, we need to turn these spigots off until we get this under control."
The Environmental Integrity Project's Schaefer said not all slaughterhouses were violating the Clean Water Act. Many plants within the same industry are doing better, sometimes within the same company.
"What that tells you is that these slaughterhouses can be run more cleanly," he said. "[Often] the company knows how to get the nitrogen down when required to, and that means there is a solution here."