Crowd-funding a historic facade restoration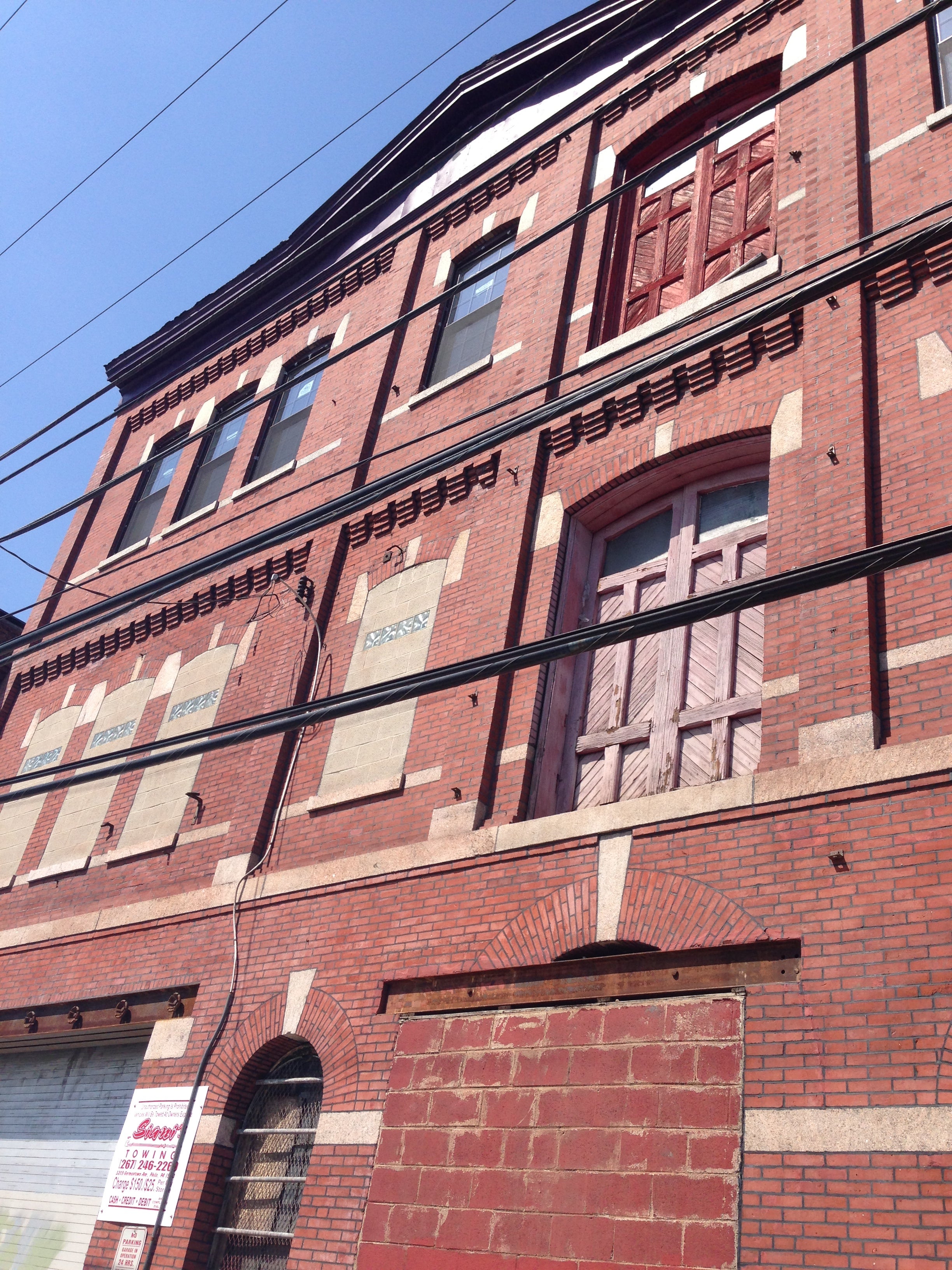 For the last few years, Tim Patton has been giving away his home-brewed Saint Benjamin beer at street festivals and during Philly Beer Week. Slowly, he's built a fan base of thirsty folks who want to try more.
Now, he and those loyal customers are working together to renovate the facade of an 1880s carriage house that itself was once part of a brewery.
After fine-tuning some two dozen recipes, and sussing out which concoctions are a hit and which not so much, Patton, 36, is ready for his next step: selling his wares.
Following a long search, the one-time software developer has located a 15,000-square-foot building in Kensington where a former tenant was the Theo Finkenauer Brewing Company. It's in dire need of some TLC, though, and through a unique crowd-funding start-up, Patton's hoping to raise the money for one critical aspect of its restoration.
"I looked all over the city, but I was really pleased to find something in this neighborhood," he says, alluding to the area's rich history as a brewing center. "I didn't even know until I was pretty far into the purchasing process that it had been part of a brewery — that was a bonus."
He bought the building for a song, $395,000, but estimates that he'll need an equal amount to retrofit it for a brewing setup and for a 35-seat restaurant. Initially, he'll be looking to produce about 500 or 600 barrels a year.
For the most part, he says, he's self-financing the enterprise.
A beer aficionado, Patton says the site— about a ten minute walk in either direction to Temple University and the fringes of Northern Liberties— tantalizes with the promise of pedestrian traffic.
Several rental buildings — all converted from former factories and all managed by the same group — are neighbors. Still, the immediate surroundings are prey to the empty lots and vacant corners that spell pioneer territory.
To succeed, Patton knows, "I really need it to be clear that there is something happening inside." So, he's trying to raise one specific chunk — $20,000 — for facade improvements. To do so, he's enlisted the aid of a company called Lucky Ant, a New York-based brainchild of two Penn grads, Jonathan Moyal and Nate Echeverria.
For anyone who's ever supported the efforts of a musician or writer pal through Kickstarter, the model is familiar. Lucky Ant, though, concentrates on crowd-funding small businesses not artistic endeavors.
The Saint Benjamin project represents its first historic restoration effort. More typical, are projects like marshaling fans of a Brooklyn bakery to help it purchase a new oven or using social media to sound the cry for a South Philly catering outfit that needed a new delivery truck.
In Patton's case, the money raised will go towards turning a door back into the window that it was originally, and creating a new entrance out of the now-cinderblocked stable. About 100 supporters have so far chipped in; even a relative of Theo Finkenauer has tossed some money into the pot.
After creating a short video that highlights the effort, Lucky Ant mines a business' own customer base and punches everything up with intensive email, Twitter, and Facebook campaigns.
On average, each investor promises $100 towards a goal that's usually around $10,000. So far, about 50 projects — or 80 percent of those undertaken — have reached their desired totals, according to Lucky Ant, which takes a 15 percent cut for each successful effort.
"It's not just funding," observes Echevarria. "It's community building in a very actionable and tangible way. We're really seeing this start to take shape in the Northern Liberties/FIshtown/Kensington area."
For example, Patton once served up free beer at a fundraising event for another Lucky Ant drive — to help establish a Kensington artists' space called Philadelphia Sculpture Gym — and now the studio is lending a hand in promoting Patton's effort.
Patton and Echevarria have dreamed up a varied batch of rewards for donors — a critical component of the Lucky Ant model.
They range from a Saint Benjamin's Pint Glass and 25% off the first beer (for a $10 donation) to a private beer-filled party for 30 ($500) to the topper, 50% off the bill anytime the donor comes to the pub, for life ($5,000). With slightly more than a week left in the campaign (it ends May 8), Saint Benjamin's has raised about $6,300.
"We're off to a good start," says Patton. "I was skeptical at first — but now I think this can happen." To learn more about the effort, visit www.luckyant.com/project/detail?project=1191 OR www.facebook.com/stbenjaminbrew