Council can't agree on changes to commercial corridor zoning districts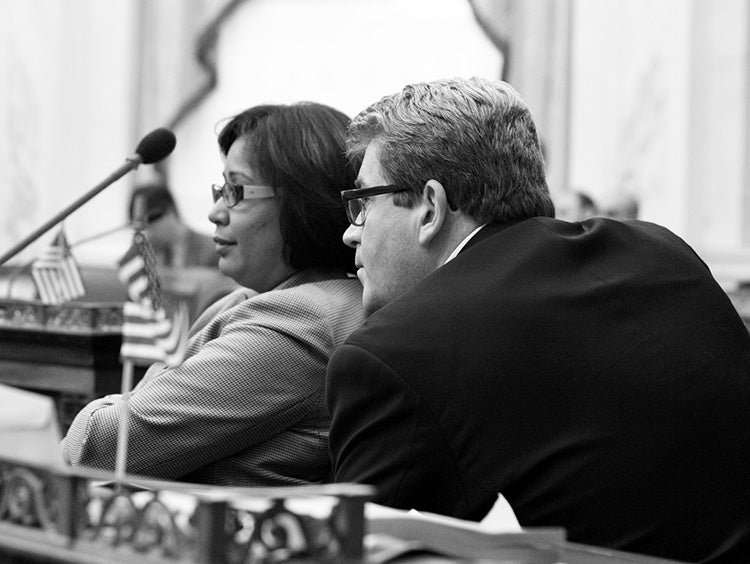 City Council's Committee on Rules couldn't come to a consensus in a meeting on Tuesday regarding two bills introduced by 10th-District Councilman Brian O'Neill that would restrict some uses in neighborhood commercial corridor districts classified CMX-2 and CMX-2.5. The Committee continued the hearing without making a recommendation; it will take the matter up again on Thursday, December 13th, at 9 a.m.
O'Neill has proposed prohibiting or requiring special exceptions for 15 uses currently allowed by right in the districts. O'Neill's district contains less of the two classifications than any other Council District, as PlanPhilly reported on Friday.
At Tuesday's hearing, more than twenty witnesses submitted testimony in opposition to the bills. But only one witness testified in support: Councilman O'Neill himself.
Councilwomen Marian Tasco, Cindy Bass, and Jannie Blackwell—of the 9th, 8th, and 3rd Districts, respectively—came to sympathize with some of the changes proposed by O'Neill. Councilmen Bill Green, Wilson Goode, and Curtis Jones, and especially Councilwoman María Quiñones-Sánchez, all expressed opposition to the proposals. Councilwoman Sánchez' 7th District would be more affected by the amendments than any other; more than 60 percent of commercial land there is zoned CMX-2, according to publicly available zoning data.
Councilman O'Neill described the CMX-2 and CMX-2.5 zoning districts as being appropriate for what he called "the hole in the donut" of the city. Neighborhood commercial corridors close to Center City, he said, may want the expanded list of by-right uses the new zoning code includes, but for some "older, established neighborhoods," the old code didn't work too badly. O'Neill, who was active on the Zoning Code Commission, proposes rolling the uses allowed in the CMX-2 district back to something roughly equivalent to the C-2 district of the old code.
O'Neill said he supports the goal of reducing the case load at the Zoning Board of Adjustment, but that "You have to watch when your method of reducing cases is allowing uses that the community doesn't necessarily want."
The by-right use categories his bills would permit include transit stations, animal services, community living facilities, and community gardens. Councilwoman Tasco seemed to support O'Neill's amendments because she said she doesn't want transit stations in certain of her commercial corridors, such as on Ogontz Avenue.
The bulk of the bills' protestants showed up at the hearing on behalf of community gardens or urban agriculture organizations. Representing the Horticultural Society and the Awbury Arboretum, Emerald Street Urban Farm and the Weavers Way Co-op, community development corporations and a handful of civic associations, witnesses said that community gardens are a boon to neighborhood commercial corridors and should not be prevented from easily being established in those zones.
The Zoning Code Commission had also decided as much during the zoning reform process. O'Neill did not explain why that particular use had been added to the list of uses his bills would restrict, except that he was trying to bring CMX-2 into line with the old C-2.
Councilman Bill Green, who was the most active Council member on the ZCC along with O'Neill, said he was "a little disappointed" to see that Council members were already introducing use changes to zoning districts, particularly ones that had already been subject to healthy debate during zoning reform. He also said that while he thought it was "ridiculous" to put community gardens in neighborhood commercial corridors, that decision should be left to the free market.
"If the market is going to support a community farm," Green asked, "why not permit it?"
"I just wish we weren't here," he said. Green left the hearing early for another meeting, but asked that his absence be regarded as a "no" vote on O'Neill's proposals.
In the end, the Committee did not vote on the bill.
It's not clear yet what compromise, if any, will be worked out. Councilwoman Sánchez insisted that if the Committee wanted to recommend the bill, her district be exempted. Councilman Jones also seemed to want any changes to not affect his district. But Blackwell, Bass, and Tasco all seemed likely to support some version of the changes for their own districts. Council may elect to make changes to certain uses in only some districts—and perhaps different classes of uses for each district, judging from the comments of different Council members.
What is clear is that the hope that Council would let the code sink in for a year—so that the city could feel it out, weigh its successes and its failures, monitor its changes to the development process, judge its ability to generate interest from outside developers, understand its implications for community input in major projects, or even just admire the thing that it pulled together over four hard, argument-laden years—was a false hope.
Contact the reporter at jbrey@planphilly.com and follow him on Twitter @jaredbrey