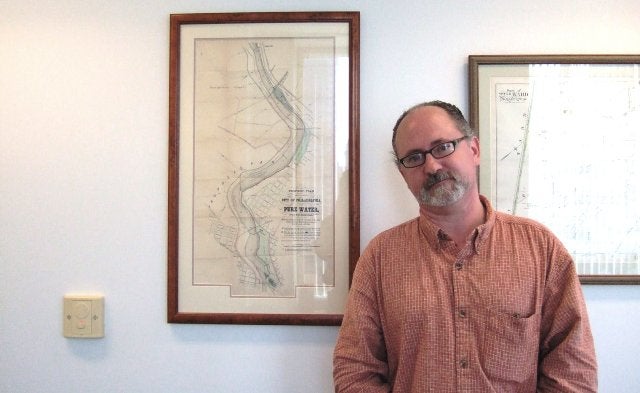 Friday is our last day of an eventful week (check out each day's report below) in Copenhagen. Locked out of the Bella Center to make room for the government delegations, we presented our panel at an alternative venue in the city.
Our delegation leader, Nobel Prize winner John Byrne organized and led another terrific panel and I provide a few excepts of his and other panelists' remarks (I spare you mine.)
Jim Harkness of the Institute for Agriculture and Trade Policy examines the food system's impact on climate change.
A discussion of Danish green food practices. And … thanks again to PlanPhilly for hosting this opportunity. I have a new respect for correspondents – what exhausting work that must be on a continuing basis! Can't wait to return to what apparently will be a snow-bound City of Brotherly Love and Sisterly Affection.
Coverage from Dec. 17
Between Wednesday and Friday's panels, I took some time away from the climate conference (no one but delegates and media are allowed into the hall anyway) and explored Copenhagen. I started at the Danish Architecture Center which has a great site on the old harbor, and a fantastic bookstore. Then off to Christiania, a "free state" with some very interesting brownies for sale, although I just bought stuff at the Christmas market! The UN canceled our panel but we found an alternative venue and will give our talks at a special session at KlimaForum. Unfortunately that won't be webcast – all cameras will be on Obama!

Here's a brief overview of Thursday's coverage.
Kongens Nytorv (perhaps the most important formal public square in Copenhagen) turned over to climate exhibits.
The French Embassy decked out in climate banners.
A few seconds of Christiania.
A few seconds of street protest, going on all over the city.
Coverage from Dec. 16
"Today we passed to the other side of the barricades. Leaving the silk suits inside the official Bella Center, we went to the alternative KlimaForum to give a presentation.
Billed as the "peoples' climate conference", we were part of a great panel discussing a variety of local responses to climate change.
This was one of my chances to position Greenworks Philadelphia as a leading example of city innovation and commitment.
After a day of protests, there was a debriefing by the protest organizers and we bring you that in its entirety.
It makes for some interesting and raw viewing.
I present on challenges for cities!
And even more protest wrapup
Jim Klienschmidt on local food systems and climate change
Audience reaction to KlimaForum cities panel
Coverage from Dec. 15
Mark Alan Hughes sets up a full day at the United Nations Climate Change Conference in Copenhagen. The former Philadelphia Director of Sustainability and Daily News columnist will be blogging daily on FLIP video for PlanPhilly from COP15 through Dec. 18.
After Danish troops gave us coffee while in line, we finally received our credentials, allowing us to enter the official conference venue, the Bella Center.
In the space of a few hours, we attended sessions on Sustainable Communities by the Environmental Protection Agency and Department of Transportation, a speech by Mayor Bloomberg, a speech by the mayor of Trondheim, Norway about becoming a smart city, a presentation by Tom Friedman, and a sighting of the Mayor of London and the Prince of Wales.
The highlight for me was the speech by Bloomberg showing the ongoing depth of his commitment on this issue.
It was also an occasion for me to chat a bit with my old colleague, Rit Aggarwala, the Director of Sustainability of New York City. He's looking forward to working with my successor, Katherine Gajewski, on a number of East Coast initiatives. The New York building energy efficiency strategy was a focus of the speech and I discuss it a bit in my daily overview.
Did you ever think you'd see the U.S. government making a climate change presentation? The centerpiece of the U.S. Center exhibit space is NOAA's "Science On a Sphere," a large globe that displays a wide range of climate, weather and other spatial data around the Earth. NOAA scientists and Department of Commerce officials are also blogging and holding web chats from Copenhagen.
Tom Friedman, of the New York Times, making some well-practiced one-liners.
Coverage from Dec. 14
Monday was supposed to be the day we lined up to receive our credentials to allow us to enter the Bella Center, the main site of the climate conference.
However, thousands of our friends showed up to do the same thing. After standing in line for seven hours, in sub-freezing temperatures, the credential desk closed.
Tens of thousands of people, including us, are without credentials.
We'll return early tomorrow morning and are hopeful we'll get our passes. In the meantime, I'll share a sample of the conversations, protests, and comedy that emerge from a long cold wait.
Eavesdropping on Dr. Byrne and Dr. Malkawi discussing South Korea
More eavesdropping on Dr. Byrne and Dr. Malkawi.
The end of a long day. See you tomorrow.
Coverage from Dec. 13
Exclusive PlanPhilly coverage from Denmark. It's Day One in Copenhagen for Philadelphia's former Director of Sustainability and Daily News columnist. Hughes spent most of Sunday checking out the activity in the streets surrounding the United Nations Climate Change conference headquarters. He will be blogging daily on FLIP video for PlanPhilly from COP15 Dec. 13-18. An assortment of video blogs from Hughes' travels Sunday are posted below.
Part 1: Setting up the day
Part 2: an expert's view of the conference
Part 3: Copenhagen's streets
Part 4: Nobel prize pedal power lights the tree
Coverage from Dec. 12
Mark Alan Hughes: Live from Climate Change Conference in Copenhagen
Philadelphia's former Director of Sustainability will be blogging live daily on FLIP video for PlanPhilly from Copenhagen Dec. 13-18. He is part of an official delegation from the University of Delaware's Center for Energy and Environmental Policy, which is a United Nations-designated observer organization for the UN's Climate Change Conference. Hughes and Penn-Tsingchua TC Chan Center colleague, Dr. Ali Malkawi, are also presenting at a UN panel called "Place-based Decarbonization Strategies: the Importance of Cities and Regions. Hughes is particularly excited to share ideas about Greenworks Philadelphia and the efforts of the Metropolitan Caucus. Check out the videos below as Hughes previews the week ahead.
WHYY is your source for fact-based, in-depth journalism and information. As a nonprofit organization, we rely on financial support from readers like you. Please give today.