At Constitution Center, Ginsburg champions #MeToo movement and rights of accused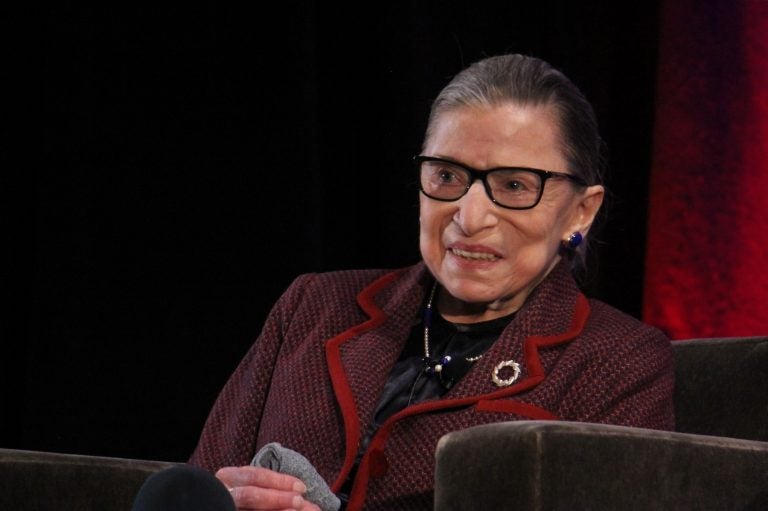 U.S. Supreme Court Justice Ruth Bader Ginsburg predicts that the #MeToo movement will soon transform sexual harassment law. In particular, Ginsburg said at the National Constitution Center Monday, keeping the details of a complaint secret after settlements over sexual abuse will likely become a thing of the past.
"Women who complain and brought suit and were offered settlements in which they would agree that they would never disclose what they had complained about. I suspect we will not see those agreements anymore," Ginsburg told the crowd gathered at the center on Independence Mall in Philadelphia.
Ginsburg, 84, who in recent weeks has been crisscrossing the country on a public speaking tour, has drawn headlines for saying the 2016 presidential election was dominated by a "macho atmosphere" that made it difficult for Hillary Clinton to gain an edge.
Ginsburg has also expressed confidence in the "staying power" of the #MeToo movement that has seen countless women stepping forward to expose men for abusive behavior.
On Monday, Ginsburg doubled down on her assessment that the #MeToo mobilization will continue. And she said she hopes it will empower women of all backgrounds, not just those working in entertainment, politics and media.
"My hope is not just that it's here to stay, but that it's as effective for the woman who works as a maid in a hotel as it is for Hollywood stars," she said.
In a conversation with Constitution Center President Jeffrey Rosen, Ginsburg reflected on her 25 years as a justice on the country's highest court, talked about how the next generation of justice-seekers can effect change and spoke about what she thinks is the key to a successful marriage. At times eliciting applause and laughter from the packed room, Ginsburg pointed to one embedded societal bias that may never be remedied through the courts.
"It's the unconscious bias that's powerfully hard to get a handle on," she said.
It's a type of unspoken discrimination that Ginsburg said she has was subjected to over the years as a hard-charging civil rights lawyer.
Knowing when to turn a deaf ear
Early on, she said, she chose her battles judiciously. "The days when I was a flaming feminist litigator, I never said to judges who asked an improper question, 'You sexist pig,'" Ginsburg said.
This is all before she became a judge, first in 1980 as a federal appeals judge followed by her appointment by President Clinton to the U.S. Supreme Court, where caution and decorum are the traditions.
Where did this restraint come from? Ginsburg pointed to her future mother-in-law's sage advice right before she got married. It's resonated with her ever since.
"In every good marriage, it helps sometimes to be a little deaf," Ginsburg said recalling the guidance.
"And that is advice I have applied to not only 56 years in marriage, but to this day in my current work place," she said, as laughter rippled across the room. "When an unkind word is said, you just tune out."
On criticism of the #MeToo movement, she said she shares concern for the right of the accused to due process. While she said the number of women who have joined the ranks of accusers has been heartening, she worries that some of the nation's core values are not being respected in the rush to judgment of the accused.
"It must not be ignored, and it goes beyond sexual harassment," Ginsburg said. "The accused has a right to defend herself and himself, and we should not lose sight of that. That's one of the basic tenets of our system."
Ginsburg avoided talk of President Donald Trump, but she was one of five Supreme Court justices who skipped the president's first State of the Union Address last month. Instead, she gave a talk at a law school, telling the audience that one of her deepest fears is that the federal court system will become politicized in the eyes of the public.
Her speaking tour comes on the heels of a new documentary about her called "RBG," which premiered recently at the Sundance Film Festival.
Rosen ended the interview by asking Ginsburg how millennials might best champion social justice causes in this era of fierce political division and tribalism.
"Not alone, but in alliance with like-minded people," she said. "Young people should appreciate the values on which our nation is based and how precious they are.
"And if they don't become part of the crowd that seeks to uphold them, there's no court capable of restoring it."