"Conceptual framework" for new Penn's Landing nearing completion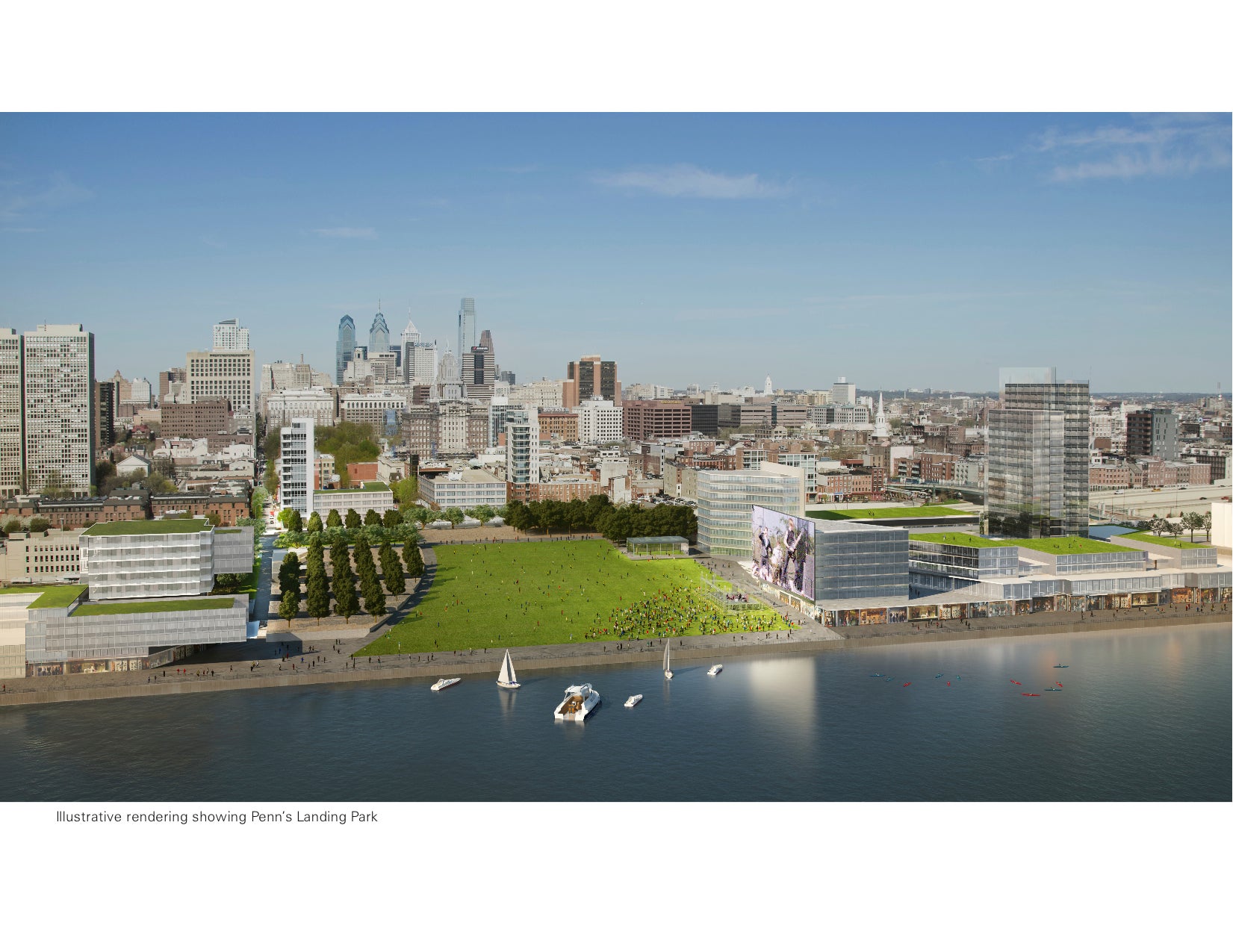 The latest concepts for Penn's Landing would replace what's now largely a sea of asphalt parking lots with green space framed by new residences and commercial activity, said members of the Central Delaware Advocacy Group, the day after they met with the quasi-city agency overseeing the project and its consultant.
Hargreaves Associates' work won't be the final, hand-it-to-the-builders design, said Delaware River Waterfront Corporation Planner/Project Manager Karen Thompson. It's more of a "conceptual framework" that somewhat fleshes out the ideas in the Master Plan, but more importantly tests how feasible they are in terms of logistics and engineering. It also provides more sense of cost and time-frame, she said. Part of the time-frame question is money, but part of it is also absorption rate for new residential and commercial development.
The current cost estimate for the plan, which includes capping I-95 and Delaware Avenue between Chestnut and Walnut with an 11-acre park: $205 million in public investment.
That large number would normally be discouraging, noted DRWC Vice Chairman and Old City resident Joe Schiavo. But he didn't think so after hearing about the financial concepts behind the plan. "The notion here is a lot of the work that needs to be done is infrastructure," he said. "It involves roadways, and as such funding is available through transportation budgets." The $205 million is for the public space and infrastructure only. The idea is that investment would spur the private parts of the development – the residences, restaurants, shops and the like – to the tune of $800 million or even $1 billion. "It's a very good ratio," he said.
Chairman Matt Ruben, who represents Northern Liberties, added that it's rare to find transportation projects with any return on investment, let alone something projected to be that large. Usually highways are widened, for example, because they need to be, and that spurs nothing as a result. The return-on-investment makes the infrastructure projects more attractive, he said.
Those who were at the DRWC session described what they heard and saw for the group:
The 11-acre park, which would stretch from Front Street to the river, would be engineered so that trees can be planted on what feels like ground level, and it would end at the waterfront in a large public space, framed by an amphitheater.
Low-rise residential development with mixed uses on the ground floor would start along the middle of the boat basin, and then fill in with mid-rise near the Hyatt and on the opposite end. These buildings would not be as tall as the Hyatt, Ruben said.
There's a small pier at the end of the boat basin which will also host residential and commercial development, but the very end will be reserved as public space, Ruben said.
Sandy Salzman, who represents New Kensington Community Development Corporation, noted that pier is where Chart House restaurant is now. Ruben added that the current structure would go, but Chart House has told DRWC it would like to be the lower-level tenant in a new structure. Patrons would still have a waterfront view and be on the pier area, but space in front would be open to the public.
The current Independence Seaport Museum building would also be torn down. The replacement would face south, smack on the basin. A residential tower would rise above it, Rivers Edge representative John Scorsone said.
Near the Hyatt and the Columbus statue there would be additional park space, with amenities geared more toward the local community, such as playgrounds and cafes. Buses would still stop at Penn's Landing, but they would be stopping in a mixed-use residential neighborhood, rather than a "concrete island," Ruben said.
Pennsylvania Environmental Council representative Patrick Starr lamented he couldn't make the meeting. He was keenly interested in what the pedestrian experience would be like under the developing plan, especially considering the concrete and scissor ramps that are there now. The ramps will be altered and lowered, Ruben said.
"It's a streetscape," said Scorsone. "There's commercial on either side, and trees." Scorsone suggested forgetting what is there now and imagining a normal, city street, like Chestnut or Walnut, with shops and homes and trees and places for pedestrians.
"It seemed they took every opportunity to make the pedestrian experience at the river's edge more pleasant and more direct," said Joe Schiavo. "They lowered the path to the water's edge as best as they could when they could. But by not changing the position of the path relative to the water consistently, it becomes more dynamic," he said.
Schiavo said the traffic patterns of cars, transit and pedestrians often don't intersect, but rather pass over one another.
The CDAG members who met with DRWC about the work-in-progress noted proposed changes for the South Street Bridge. It would be rebuilt so that it actually crosses over Delaware Avenue and provides access to the river. "The main support piece is the tilted, huge, semi-circle arch, if you will," Ruben said. "It's amazing. Like when people say, 'Why can't we have those nice things like they have in Europe?' This is one of those things."
"It's just absolutely marvelous," said Richard Wolk who represents Queen Village. " I went home said to my wife, "This is going to the renaissance of Philadelphia. This is going to make people want to come to the river, and make us a first-rate city. Because every first-rate city has a first-rate waterfront."
The whole plan is something that images convey better than words, CDAGers who saw the developing plan said.
PlanPhilly asked Thompson for the most current images, but she said they are still works-in-progress and not ready to be shared with the public. The team lead by Hargreaves and Associates, the consultant doing this plan study for DRWC, is working "fast and furious" so that a presentation can be made to the DRWC board on April 25. PlanPhilly will be there.
Thompson said Hargreaves is continuing to refine plans on the South Street pier, and also in the giant Penn's Landing Park. One of the on-going issues is finding the best balance of passive green space and more active areas with specific programming within the park – things like a Bocce ball court, cafe and dog run.
WHYY is your source for fact-based, in-depth journalism and information. As a nonprofit organization, we rely on financial support from readers like you. Please give today.