Community leaders discuss the power of planning at Philadelphia2035 update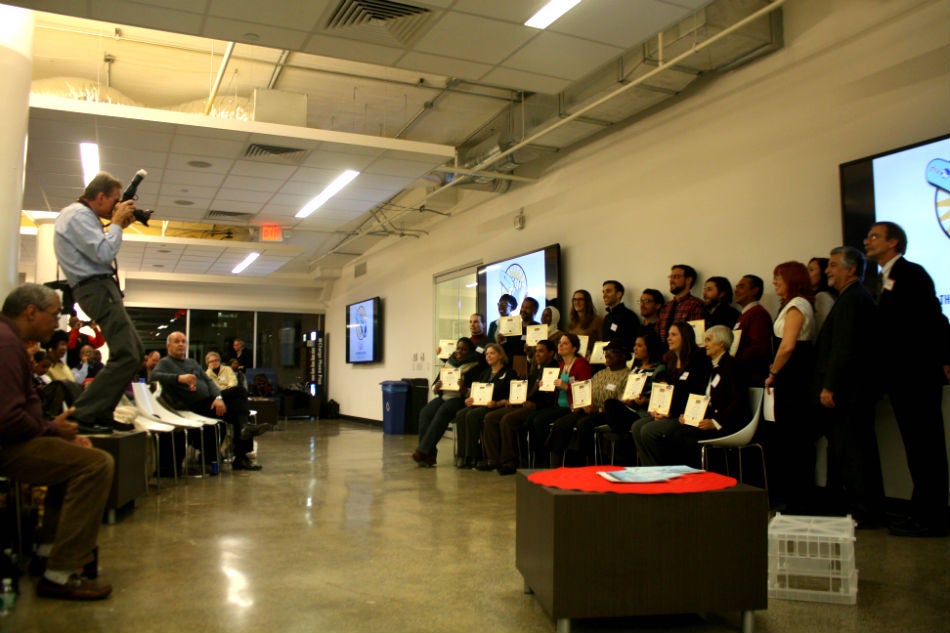 A few weeks ago, feeling ruminative and tasked with summing up a year's worth of zoning and development news, I took to these pages and described a specter haunting Philadelphia: reform fatigue.
There'd been a slow unraveling of the political will to create long-lasting, wide-reaching, and forward-looking zoning policies, was my thesis, in brief. The spirit that sustained the effort to create the city's first new zoning code in 50 years was flagging; zoning legislation was becoming, once again, a matter of troubleshooting.
I stand by that diagnosis, but it's incomplete: there are many, many people in this town for whom the health of their neighborhoods and the orderly development of the city is an everyday priority.
Many of them showed up at 24th and Walnut streets Wednesday night for an event called Power of the Plan, a celebration of the city's Philadelphia2035 planning process, and a graduation ceremony for the most recent class of Citizens Planning Institute students.
There were testimonials from community leaders about the importance of planning. Joshua Nims and Tony Bracali described the decade-long effort it took to get the city to build Franklin's Paine Skatepark, a public park designed for skaters adjacent to the Benjamin Franklin Parkway.
Frankford CDC director Kimberly Washington talked about working with city planner Ian Litwin to help develop the creative economy in Frankford.
Larry Freedman, zoning committee chair for Northern Liberties Neighborhood Association, talked about how having an established community input process is essential to dealing with the development pressure that neighborhood has seen—even if the community doesn't have specific development results in mind.
Jeff Carpineta, president of East Kensington Neighbors Association, said that the power of a plan was the opportunity to hand it to someone with influence when they say—after months, years, or decades of waiting—"What do you need?" He credited Mayor Michael Nutter for reinvigorating the Planning Commission and, by extension, reinvigorating the planning spirit in communities throughout the city.
And then there was Nutter, giving the credit to indefatigable neighborhood leaders.
"I think it's pretty clear today … that the City of Philadelphia has one of the best planning agencies of any city in the United States of America," Nutter told the group. "And a lot of that is driven by a lot of the folks that work there, and the leadership of Alan [Greenberger] and Gary [Jastrzab] and so many others. But I think what's also happened is: the citizens have demanded more. You've demanded more. You've said that we can do better. So whether it's [Citizens Planning Institute], whether it's coming to Planning Commission meetings, whether it's being engaged in communities, you make us better at what we do, because you've demanded it."
Michael Nutter, Power of the Plan

Fall 2013 CPI Graduates