'Collective Conscious' at African American Museum in Philadelphia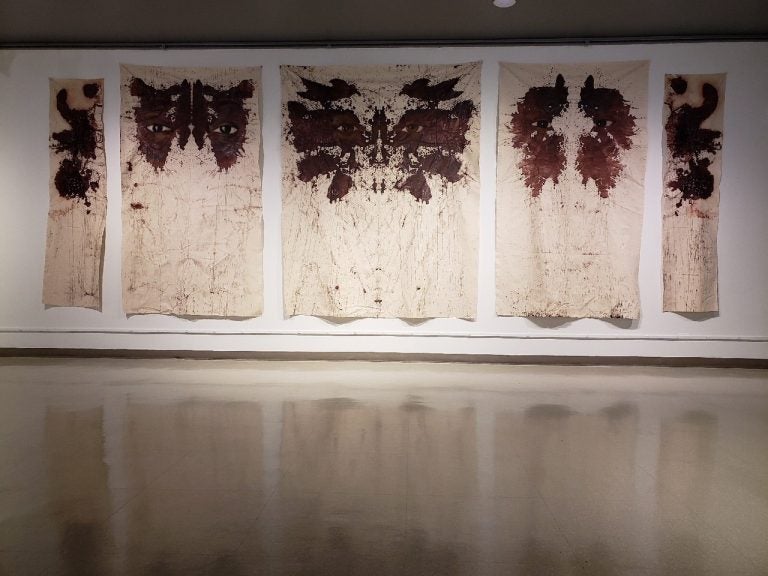 "Collective Conscious: The Art of Social Change"
June 2 – Aug. 26
The African American Museum in Philadelphia, 701 Arch St.
$14 for adults; $10 for students, seniors, and youth aged 4-12
A well-built wooden chair sits in one of the main galleries of the African American Museum in Philadelphia's new group show, "Collective Conscious: The Art of Social Change." It looks sturdy and worn, but something's wrong: The back of the chair, instead of shooting straight up, is bent backwards and points toward the floor. There's no support for anyone sitting in this chair. Lean back just a little, and it would be so easy to fall.
The work — "Tear Drop" by James Maurelle — is among the most striking in an exhibition that manages to be raw, compelling, and never didactic, despite taking on the lofty topic of "social change." Maurelle's work, for example, speaks plainly. A brief wall text explaining that the piece is a comment on the school-to-prison pipeline helps, but the sculpture is powerful on its own. So are his other works in the exhibition: a bed frame wrapped with a noose; a cage of water pipes; a wooden abacus for counting every person in the African diaspora.
"Each piece is a lineage, they're not separate from each other," says Maurelle, who holds an master of fine arts from the University of Pennsylvania and comes from a long line of woodsmen. His ancestors, enslaved in the South, chopped wood and built cabins for other slaves. He's also a fourth-generation master plumber, following in the footsteps of his great-grandfather, grandfather, and father, who became an architect.
"I believe they were artists, but because of the skin that they were born into and also the
time, there was no way they could afford to be artists," he says. "But I really believe that they were."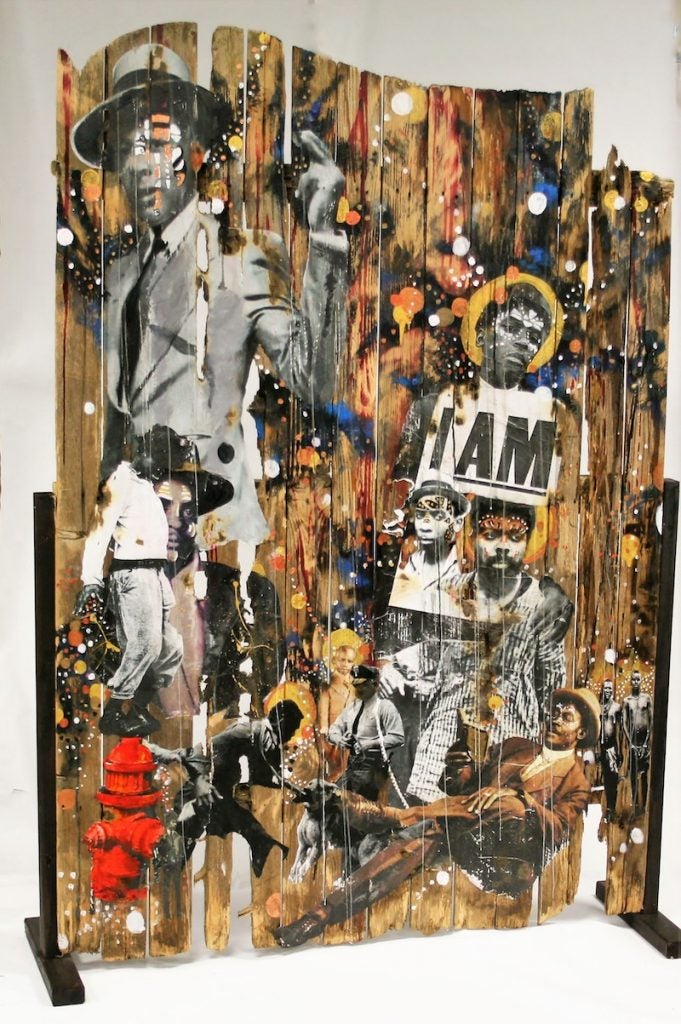 Ancestral memory is a running theme throughout the show, which also includes artists Diane Allen, Lavett Ballard, Russell Craig, Joshua Graupera, Keir Johnston, Nile Livingston, Sherman Fleming, Betty Leacraft, Tieshka K. Smith, and Shawn Theodore. They were all nominated for the AAMP's first "residency for art and social change." Graupera and Fleming were chosen for the honor; they've been working together and independently at Rush Arts Philadelphia in Logan to create new works that will be exhibited later this summer.
But after reflecting on the nominees' artworks, AAMP's director of curatorial services Dejay Duckett decided to organize another show that would include all of them, noting that their works returned to similar concerns.
"They seem to be really rooted to the earth," she says. Many pieces incorporate raw materials: raw canvas, raw cotton, reclaimed wood. "Even though some of them are really dealing with otherworldly topics and themes, I love that the works themselves are really connected to the earth and our place in it."
Craig, for example, has created wall-sized Rorschach tests using pig's blood on canvas, painting the faces of women killed by police so they peer out from inside the abstract shapes. Ballard transforms old fences into shrines to her ancestors — biological, spiritual, and cultural.
The works alone make it a strong show, but it's the decision to exhibit all of these artists, whether chosen for the residency or not, that really stood out to me. The artists range from their 20s to their 60s, and Maurelle says being included in the exhibition introduced him to his artistic contemporaries: emerging artists of color with deeply social concerns.
---
The Best of the Worst
July 13 – 29
Practice Gallery, 319 N.11th St., second floor
Free
It reminded me of a much lighter exhibition coming up next month: The gallery Practice, located in the Vox Populi building, has put out a call for the "The Best of the Worst."
"Tired of applying to all the Philadelphia July juried exhibitions and never getting in?" reads the call for entries. " Worse yet, you see the shows and are dumbfounded by what got in, while your highly superior work was rejected?"
The gallery is inviting artists to submit work that has been rejected from other shows — along with their rejection letters — with a promise to exhibit everything they receive, space permitting. (It's $10 to enter, and submissions are being accepted until midnight June 15.)
It strikes me as good practice for arts organizations to support camaraderie like this, instead of pitting contemporaries against each other.
---
This article is part of a new effort recommending things to do in the Philly region. Tell us what you think.