City Hall courtyard receives Project for Public Spaces placemaking grant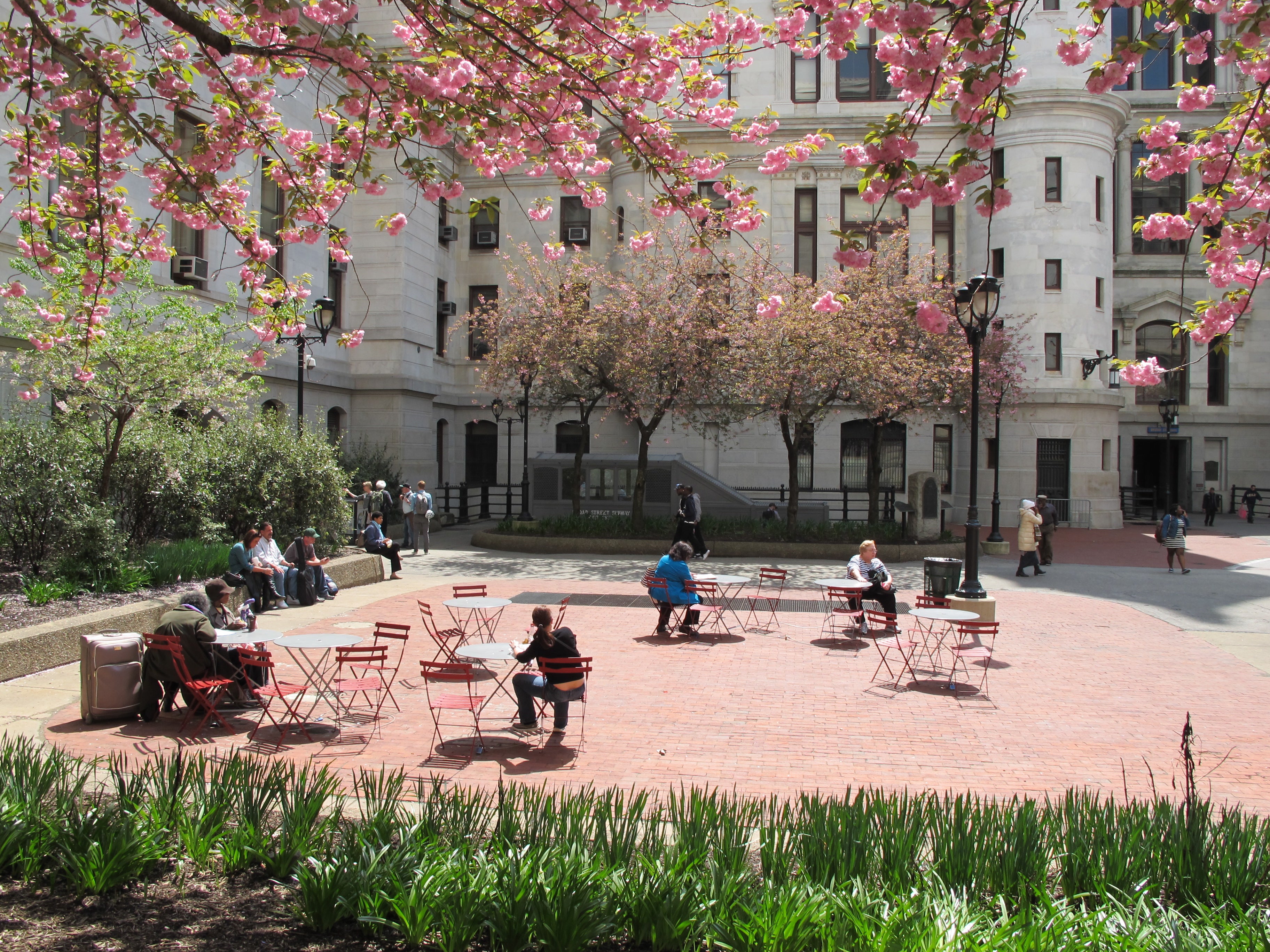 Philadelphia City Hall's courtyard looks a little dumpy next to the newly-renovated Dilworth Park, but that's about to change thanks to a new 'Heart of the Community' placemaking grant from Southwest Airlines and Project for Public Spaces announced yesterday.
Now in its third year, the grant program aims to highlight the importance of place and encourage community participation in transforming public spaces.
"By bringing community members and local organizations together to create a shared vision for their public spaces, the Heart of the Community grant program shows how placemaking can quickly transform ordinary spaces into extraordinary places that bring enduring social, cultural, and economic benefits to communities," says the Project for Public Spaces blog.
Philly was one of five cities to receive project funding, out of a pool of 90 applicants from 60 cities. The other projects to receive funding were: Woodruff Park in Atlanta, Hennepin Avenue in Minneapolis, Pershing Square in Los Angeles, and Monument Circle and Indianapolis City Market in Indianapolis.
The aim of the City Hall courtyard project is to create a "civic commons" in the courtyard "that celebrates the City's rich history and sustainable future" while building on the upgrades to Dilworth Park and LOVE Park. The project will be overseen by a partnership between the City of Philadelphia and the Mayor's Fund for Philadelphia, a city-affiliated nonprofit that facilitates public-private partnerships.
The courtyard project's description isn't overly specific as to what physical changes will be made, or what the community engagement component will involve, but it hints at a Green City, Clean Waters green stormwater component. We'll update this post as we learn more.
From the press release:
Today, the City of Philadelphia, the Mayor's Fund for Philadelphia, Southwest Airlines Co. (NYSE: LUV) and Project for Public Spaces announced a joint effort that will use creative placemaking and interactive programming to transform Philadelphia's City Hall Courtyard into an engaging civic commons that celebrates the City's rich history and sustainable future.
A generous grant, valued at $200,000 including monetary and technical support, from the Southwest Airlines Heart of the Community program will jump-start a local partnership led by the Philadelphia City Planning Commission, Philadelphia Water, the Department of Public Property, and the Mayor's Fund for Philadelphia to develop and implement a strategy to enliven this key public space in the "heart" of Philadelphia […]
The placemaking process creates the potential for public spaces to become vibrant, authentic, functional, and well-loved places that will benefit the community socially, culturally, and economically for years to come. The Southwest Airlines Heart of the Community grant will build on recent investments in City Hall and its surroundings, including the renovation of Dilworth Park and the JFK Plaza/LOVE Park Redesign in order to complete the vision for a cohesive network of public spaces from Fairmount Park to City Hall. The grant will help to spur interest in and attract additional funding commitments for a permanent redesign of City Hall Courtyard.
"I thank Southwest Airlines for their generosity," said Philadelphia Mayor Jim Kenney. "We now have a special opportunity to invite residents and visitors into City Hall's 'living room' and ensure it serves our community as a vibrant and engaging public space."
Philadelphia is among five communities that are receiving similar grants today, selected out of a highly competitive pool of more than 90 applicants from 60 cities. Each year, Southwest brings placemaking to the cities they serve through the Heart of the Community program, highlighting the importance of "place" and encouraging communities to take part in the creation of the public places they love.
For Southwest, placemaking is more than building great destinations, it is about strengthening local communities at their "heart."
"At Southwest, we connect People to what's important in their lives," said Linda Rutherford, Vice President and Chief Communications Officer at Southwest Airlines. "That commitment extends beyond the skies and into the hearts of our communities through our investment in public spaces. We recognize the power public spaces have to transform communities and are excited to support the efforts to reimagine City Hall Courtyard in Philadelphia, a city we've been serving for 12 years."
Philadelphia's neighborhoods have been increasingly enhanced through various placemaking efforts in the last several years, from parklets supporting local businesses, to creative transformations of public spaces at different scales, such as the Porch at 30th Street Station, the Oval, and Spruce Street Harbor Park.
Most notably, Mayor Kenney recently proposed a $300 million investment in community infrastructure by improving civic assets such as parks, recreation centers, and libraries.Through the placemaking process, the City will draw upon the successes of its Philadelphia2035 and Green City, Clean Waters plans to enliven the City Hall Courtyard and showcase the City's collective sustainable efforts.
WHYY is your source for fact-based, in-depth journalism and information. As a nonprofit organization, we rely on financial support from readers like you. Please give today.