City barnstorms, answers bike share questions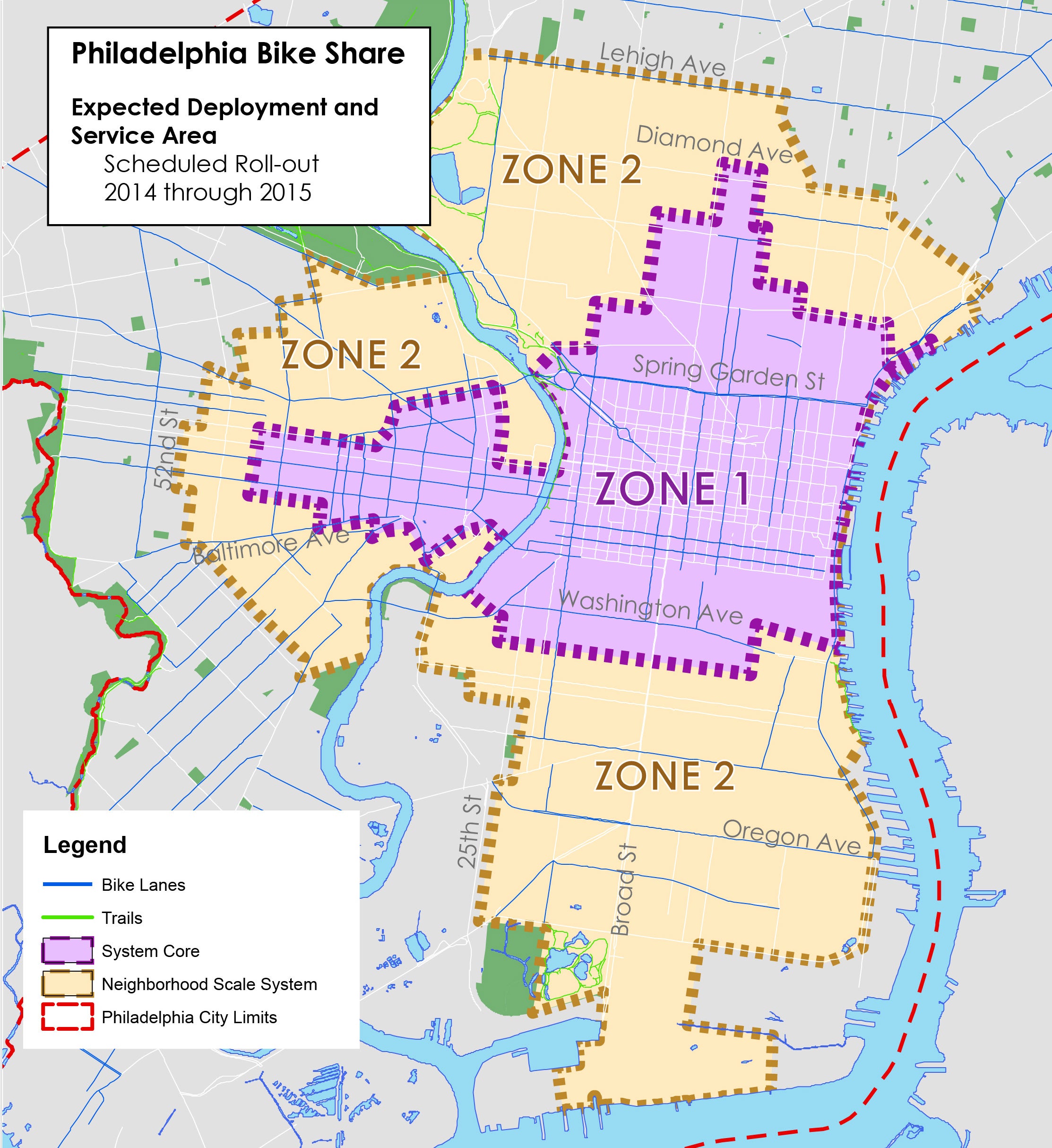 The Mayor's Office of Transportation and Utilities (MOTU) has been making the rounds, spreading the word about bike share.
In the last week and a half, MOTU officials have visited community and business association meetings in the South of South, Logan Square, Powelton Village, Queen Village/Bella Vista and Lower Moyamensing neighborhoods. A meeting in Chinatown remains on the agenda for Dec. 10.
With bike share planned to launch in Philadelphia in the fall of 2014, these meetings represent round one of community outreach. For the most part, the meetings are intended to keep community groups in the loop so that they are not surprised or caught off guard at any point, said MOTU's Bicycle and Pedestrian Programs Planner Aaron Ritz.
Philadelphia is certainly not the first city to get a bike share system.
"I think we're actually the 37th city or agency to pursue bike sharing in the country," Ritz said.
Philly's bike share will look much like systems in Washington, D.C., Boston and New York, and the system will function like other forms of transportation. Users will take a bicycle from a bike share station and ride to another station, much like they would take a train from station to station or a bus from stop to stop. When it is fully built out, the system will have between 1,000 and 1,500 bicycles docked at 150 to 200 stations from Center City to West Philadelphia and Temple University to the Navy Yard.
Mayor Nutter has committed $3 million in capital funds to help launch bike sharing in Philly, and the city is currently soliciting proposals from firms interested in building and operating the system.
In the meantime, MOTU is answering initial bike share questions. On Monday, Ritz addressed the South Street West Business Association in the swanky basement lounge of Jet Wine Bar, and on Tuesday, MOTU Chief of Staff Andrew Stober spoke with the Queen Village/Bella Vista Community Association at the Palumbo Recreation Center.
To a large extent, meeting attendees had similar questions.
Who is bike sharing for?
Bike sharing is "not really for 'bike people,'" Ritz said. "This is really for people who might want to add bike transportation to how they [already] get around."
Stober said the bike share system will work best for people who may have a "clunker" or bicycle that they don't ride everyday, people who don't own a bicycle at all, students and tourists. Both Ritz and Stober envision the system being used, for instance, by someone who took the train into Center City and wants to bike the remaining distance to work or by someone who needs to run an errand or get to a meeting in the middle of the day.
Where will the stations be?
The city hopes to start with between 50 and 70 stations. Eventually Zone 1 or the "system core" will have stations every four to five blocks. Zone 2 or the "neighborhood scale system" will have stations every eight to 10 blocks, and these "neighborhood scale" stations could have as few as three or four bikes each.
MOTU has vowed not to take away any parking unless a business specifically asks to turn their parking space into a station. For the most part, stations will go in open spaces like parks, plazas and privately owned spaces.
"We don't want to spend a lot of time fighting about locations," Stober said. "We want to put them where people want them."
How much will bike share cost?
Registered bike share members will likely pay a monthly fee and be able to make an unlimited number of free trips, so long as those trips are less than 30 minutes long. Less frequent users and tourists will have the option of paying a one-time fee charged to a credit card.
Pricing will be comparable to and likely cheaper than other modes of transportation, Ritz said. In Washington, D.C. annual bike share memberships cost $75 and monthly memberships cost $25. In Boston, bike share memberships go for $85 annually or $20 monthly, and in New York annual memberships start at $95. Day passes in these cities range from $6 to just under $10.
For the city, the cost should remain $3 million – the amount of capital funding Mayor Nutter has contributed. After that the firm that successfully bids to run the bike share system should cover operating costs without additional city subsidies.
What about helmets and safety?
Bike sharing is actually relatively safe. Nationally there have already been 10 million bike share trips, and there have not been any major injures or deaths. In Chicago, where cyclists have made 750,000 bike share trips, there have only been six reported crashes. Washington, D.C. has seen four million bike share trips and just 60 crashes.
Like many other cities, Philly's bike share system will not have an official helmet policy.
"Fortunately we don't think it's going to be a big issue," Ritz said.
For one thing, the large, heavy, three-speed bikes will not go very fast. For another the bikes put riders in an upright position, making the riders more visible to cars, and the bikes have lights on the front and back that are automatically powered as riders pedal. All of these factors increase safety and, in theory, reduce the need for helmets.
When it comes to car and pedestrian conflicts, Stober said, "My take is having more cyclists… should help to reduce all the issues related to biking."
What about theft?
To deter theft, bike share bikes tend to be heavy, slow moving and funny looking and distinctive enough to stand out. They are also built with parts that cannot be swapped to other bicycles easily.
Looking to other cities, Philly is hopeful that theft will be minimal.
"I'd still put my money on a Philly thief versus a D.C. thief, but they've only had 16 bikes stolen," Stober said.
Plus, the bike share bikes will not come with locks, so users will only be able to lock the bikes in the designated stations. Ritz said this is so that "somebody who doesn't realize how aggressive our bike thieves can be" does not inadequately lock one of the bikes to a regular bike rack or other fixed object.
What's next?
As the bike share system develops and MOTU knows more, Ritz and Stober will revisit the community organizations and update the groups.
"I think this will be much more interesting once we're closer," Ritz said. "Once we actually have a bike to show off or something."
For updates, stay tuned to http://www.phila.gov/bikeshare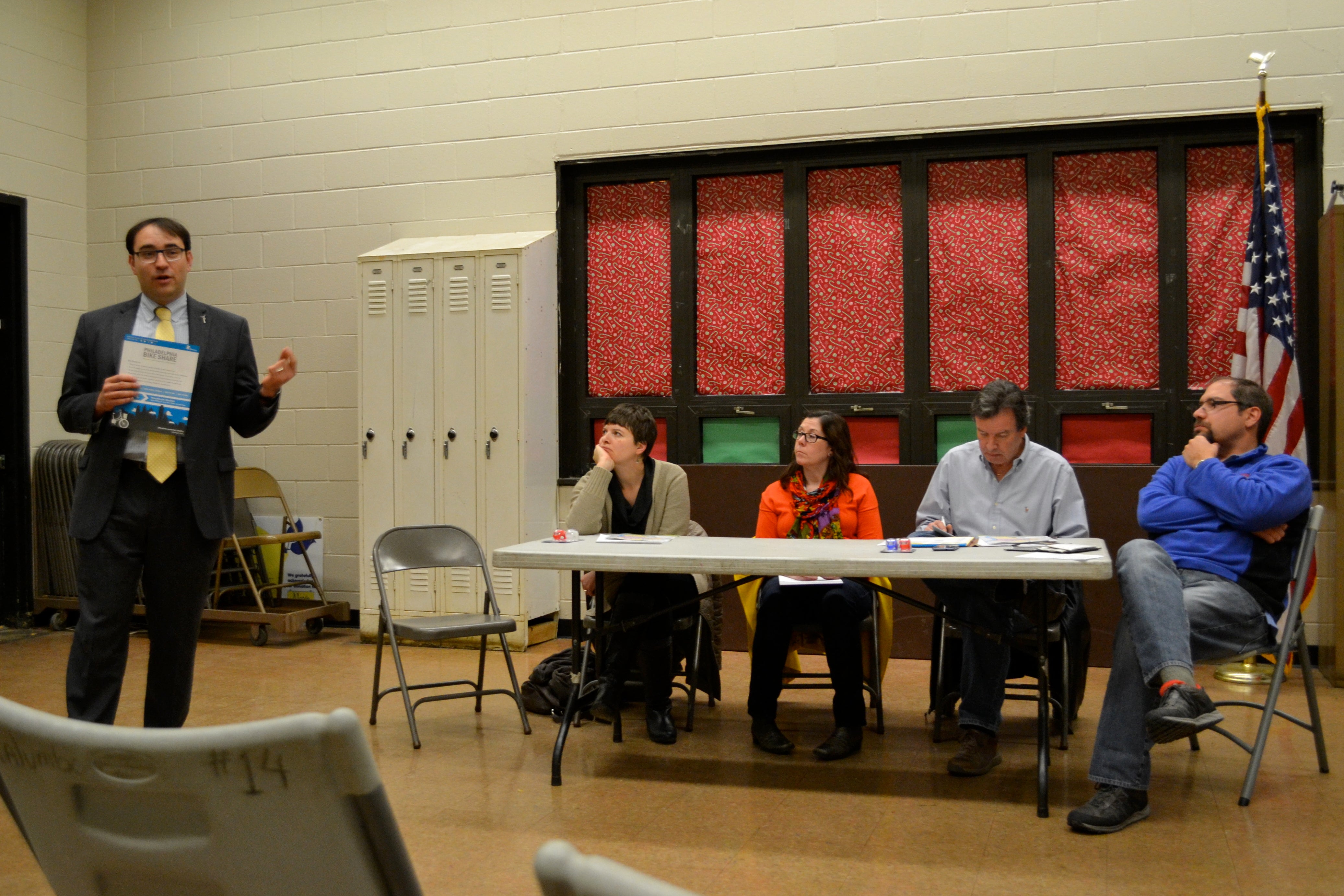 WHYY is your source for fact-based, in-depth journalism and information. As a nonprofit organization, we rely on financial support from readers like you. Please give today.