Cedar Shopping Centers purchases Boulevard property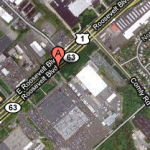 A 15.3 acre piece of land on Roosevelt Boulevard was purchased recently by Cedar Shopping Centers, Inc.
The New York State-based company paid $13.375 million for the property at 11501 Roosevelt Blvd., and also owns the adjacent 11601 property, both of which are currently used by the Internal Revenue Service.
The IRS has plans to vacate by the end of its lease this time next year, but Cedar reportedly has no plans yet for development. A call to Cedar yesterday went unreturned.
Hat tip to the folks at Brownstoner for pointing this out.