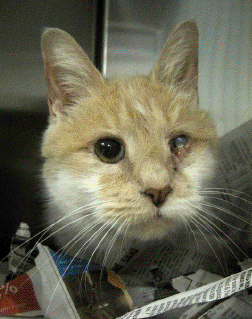 URGENT. Who's that hiding under the newspapers? It's a sweet little cat named Poo (A12697626)! Poo used to have a home, but her owners left her at the shelter when they moved. Maybe that's why Poo hides; it's so noisy here at the shelter. But let her know that you're going to give her snuggles, and she pops up, ready for action! Poo is a 4-year-old buff and white tabby. She's lost the use of her left eye, but that doesn't slow her down.
Her former owners report that she's a well-mannered girl who is friendly, good with other cats, and likes to be with people. Poo is an incredibly sweet and snuggly girl who really deserves a second chance at happiness.
These animals are located at Philadelphia's animal control shelter, ACCT. They need immediate adoption or foster care. ACCT is located at 111 W Hunting Park Ave and is open 365 days a year. Adoption hours are Monday-Friday; 1pm-8pm; Saturday and Sunday; 10am-5pm. To check the status of an animal, call 267-385-3800. Please visit the PSPCA website for more information. Don't forget to check out the weekly Animal Care & Control event at the Petsmart in Haldeman Plaza, where you can learn more about adoption and foster care, and meet some animals who need a good home. Check in every week with NEast Philly to see the cat and dog of the week.