Cancer survivor keeps the spirit of Elvis alive in Delaware
Bob Lougheed is a pancreatic cancer survivor. Now he and his band The Memphis Mafia are keeping the spirit of Elvis alive and giving back at the same time.
Bob Lougheed was diagnosed with pancreatic caner in 2007. After beating the cancer, a chance encounter started him on the path as an Elvis tribute artist.
It was Bob's sister that turned him onto Elvis music at around three or four years old. Bob and a buddy would try and emulate Elvis, his moves, his singing. In 1977, the year that Elvis passed, Bob performed in his high school's talent contest, as you guessed it, Elvis. "I won $25, but I had the powder blue suit and it was just a big thrill."
Bob put Elvis into the closet and went on with life. Fast forward through the years and Bob's life changed when he was diagnosed with pancreatic cancer.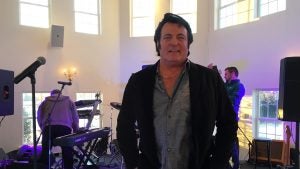 The survival rate was just 4% at the time of his diagnosis. "I got lucky, they found mine by accident. They found it early and I had a great doctor, a great surgeon at Fox chase Cancer Center in Philadelphia."
After his ordeal, Bob relocated to the Delaware beaches "to kind of take things easy," Lougheed said. Bob's life changed again, this time for the better, while hanging out with his brother at a local restaurant.
"It was just by chance that this lady heard me sing at Shuckers restaurant," Lougheed said. He was just hanging out with his brother, but the band was playing and Bob got up and sang. "Next thing you know this lady was hiring me to [perform at] a rehabilitation center."
She asked him how much he charged to perform as Elvis, but Bob didn't know how much, he had never done anything like that before. She asked what Elvis suit he would wear, but he didn't have one. "I'm looking at her, she goes, 'You don't have an Elvis suit?' I said, 'I'm just a guy at a bar.'" Bob suggested she not pay him, just rent the suit. She did and Bob still has the suit. "I still have it hanging in my closet, it's a great reminder of where it started and just how precious those days were."
That's how it began for Bob, coincidentally the date was January 8th, 2010, Elvis's birthday, and 33 years after winning his high school talent contest.
Now in his eighth year performing as Elvis with his band The Memphis Mafia, Bob is giving back, through his work with the Pancreatic Cancer Action Network  in Delaware. "We do marches, we do fundraising each year," Lougheed said.
All that work seems to be helping, "Survival rates [are] growing, but only because people are pushing, they're trying to raise more money for research and development and to find cures."
Lougheed also gives back through the music of Elvis as he continues to put on shows for audiences of all sizes. "I do a lot of children's hospitals, rehabilitation centers and it's nice to connect with people that you bring back a memory," Lougheed said.
He performs at rehabilitation centers and events like that almost every week. He calls performances at bigger venues the icing on the cake. "We played TD Bank Amphitheater, we had [a crowd of] 4,500. We do Ocean City, Maryland, Sun-Fest and Spring-Fest and we get three or four thousand people," Lougheed said. But it's not the size of the audience that is most important.
"When you go in to a facility and play to nine people and get everyone dancing and tapping their toes and maybe they weren't even awake for two days, but they're awake for that hour, that's important, that's really important."
What is it about Elvis that so many years after his death he is just as popular now, if not more so? "Elvis had it all, he had the charisma, he had the talent, he had the raw energy, he had that 'it' factor. I think people just have so many memories, good memories," Lougheed said.
It's perhaps those memories that keep people coming back to Elvis's music and Bob's shows. "We had a couple ladies come up and say 'You brought tears to my eyes and that song really came back because it was my dad's favorite song, it was my mom's favorite song.'" Bob says that's why so many people are Elvis fans, "Because it was my mom, my dad, my uncle."
Whatever it is, Bob sees people of all ages at his shows. "We have young girls, four, five, six years old, they come out and they know more songs than me and the band know."
"My band and I were just talking about it today, 40 years from today, Elvis stuff is still going to be going strong and probably stronger than it is today."
Bob isn't trying to copy Elvis, he just wants to put on a great show, just like the Elvis show he saw at the Spectrum in Philadelphia.
"You got the suit on, you put some hair dye in, you grow the chops out, that's half the battle," Lougheed said of his preparation. "From there it's just let it go and have fun and hopefully that comes across and people are entertained."
That's what Bob and the band strive for each show, not to be the best Elvis. "[There's] only one Elvis Presley."
And judging by the number of people that continue to come to the concerts, they are entertained, but don't call them a fan base.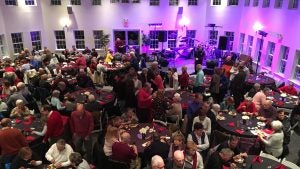 "Elvis has a fan base, I have a good, great list of friends." The night we met with Lougheed, there were about 200 in attendance, and one older couple, when they found out we were there to record the show, they wanted me to know how wonderful Bob was and that their friend who was wheelchair bound couldn't make it that night, but that they always came to Bob's shows.
In fact, Bob says that if people can't make a show, they tend to send notes to him apologizing and promising to be at the next show.
People were dancing in their seats, people were dancing in the back of the hall. The women were screaming for Bob/Elvis. It really was something to see. Both Paul, my cameraperson for the show and myself are Elvis fans, and I have said that it is the closest I will ever get to the real thing.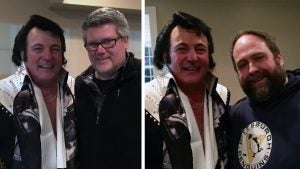 Bob says of this strange road he has been on that, "It has been a blessing, it really has. It's really meant so much to me in my life."
Lougheed credits his band The Memphis Mafia with making his shows a success. "[I] was lucky enough to get in with a great group of musicians that are just world class." Some band members have played for the likes of Willie Nelson and Merle Haggard. It was fun hanging backstage and listening to their stories of life on the road.
Lougheed will be the first to tell you though that the band does all the work. "I'm just very lucky. I'm just the guy up front having fun, they got to do all the hard work."
As for his time as Elvis, Lougheed says, "It's been a cool 8 years."
(Brian Drouin/WHYY)

(Brian Drouin/WHYY)

(Brian Drouin/WHYY)

(Brian Drouin/WHYY)

(Brian Drouin/WHYY)

(Brian Drouin/WHYY)
WHYY is your source for fact-based, in-depth journalism and information. As a nonprofit organization, we rely on financial support from readers like you. Please give today.