Boat parade ferries 'oyster babies' to new bay home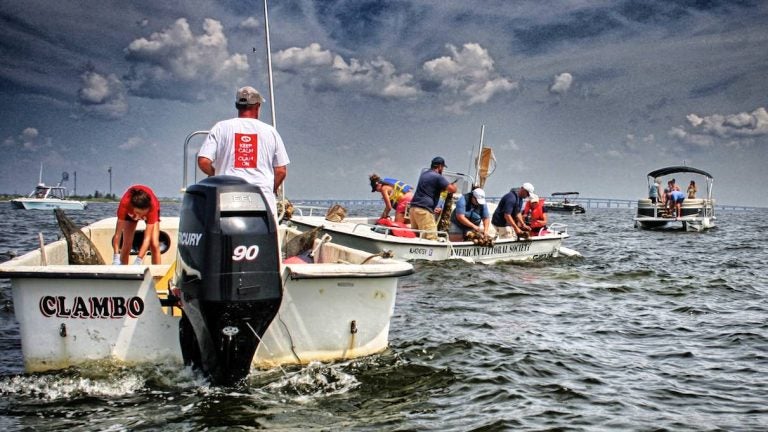 A new batch of oyster babies are adjusting to life in the Barnegat Bay after being deposited in a reef following a parade of boats on Thursday.
As part of the American Littoral Society's Operation Oyster, a project to increase New Jersey's oyster population in bays and tidal estuaries, the latest batch joins others in a reef that the organization restored off Berkeley Township's Good Luck Point in 2015.
"Decades of pollution, accelerated by rampant development, have decimated New Jersey's natural oyster population. Oysters help keep water clean and oyster reefs help protect the coastline," an American Littoral Society press release states.
The young oysters were grown in a tank with shells, which the larvae attach to and begin growing into oysters. In the Barnegat Bay, the oysters will play two important roles.
"They are nature's water filters, each one is able to clean up to 50 gallons of water a day. Oyster reefs also serve as speed bumps for waves during storms," according to the organization.
In 2015, the organization unveiled a pilot oyster shell recycling program in conjunction with the Old Causeway Steak and Oyster House in Manahawkin.
This program demonstrates how restaurants can turn oyster shells normally thrown out as waste into a recyclable resource used for restoring and enhancing fisheries through restoration of lost oyster reefs in Barnegat Bay, Captain Alek Modjeski, Habitat Restoration Director of the American Littoral Society, told WHYY in 2015.