Benjamin Rush State Park improvement project begins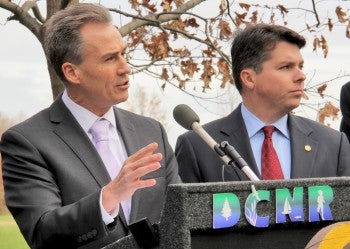 Pa. Sen. Mike Stack and Rep. Brendan Boyle joined the Pennsylvania Department of Conservation and Natural Resources Monday to break ground on the much-anticipated improvement project at Benjamin Rush State Park, the city's only state park.
Renovation plans include a new entrance drive and sign on Southampton Road; new parking spaces for the gardens, the model airplane field, and walkers and bikers; a bicycle and pedestrian trail; hose ribs for the gardeners; a water and sewer system; and a comfort station.
From the offices of Stack and Boyle:
"This city prides itself on the many parks that touch almost every community, but Benjamin Rush State Park is special," Stack said. "It's our sole state park, and it's mostly a quiet haven that the community passively uses. This improvement project will ensure that the community can continue to enjoy the park for years to come."
"I am very excited we have reached this point," Boyle said. "After years of hard work we are now about to commence a project that will benefit all who live in Northeast Philadelphia. The improvements to Ben Rush State Park will enable families to enjoy the park for years to come."
The 275-acre park, located off Roosevelt Boulevard north of Southampton Road, is home to community gardens and a radio-controlled airplane club. Because it is an undeveloped park, it is not used for recreational purposes.
Since its creation 35 years ago, the park has not seen any renovations. State and local officials have been working toward an improvement plan for a decade.