Beach-meets-city at new Festival Pier space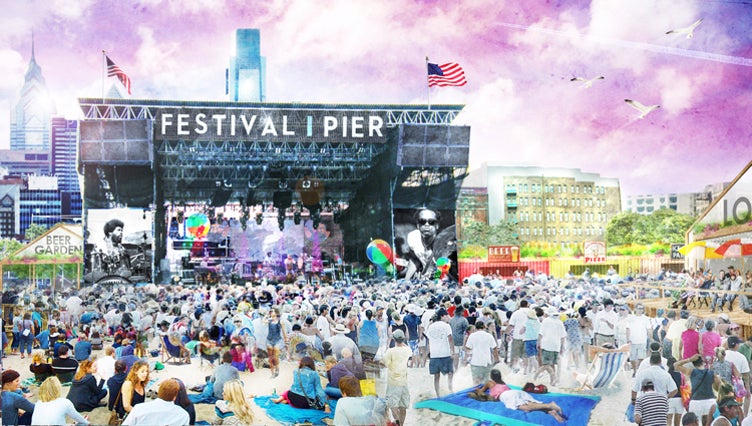 Festival Pier at Penn's Landing debuts its new Shore-inspired look and vibe with Friday's Wired Fest.
Groundswell Design Group principal David Fierabend describes the space as "an urban beach summer-time music venue, outfitted with a beach beer garden, 475 tons of sand, beach grasses, a boardwalk, and all the summer love of the Jersey Shore."
Groundswell's other local work includes DRWC's Winterfest space, centered around the Blue Cross River Rink and the new Spruce Street Harbor Park ; the coming restaurant and outdoor cafe space at FringeArts; the coming Independence Beer Garden at 6th and Market; and Morgan's Pier.
Groundswell revamped the concert venue with Live Nation, which operates it, and the quasi-city Central Delaware Riverfront Corporation, which owns the spot on which the venue perches.
"Unveiling the unbelievable redesign of Festival Pier is going to be one of our proudest moments in the 25 years of producing concerts on waterfront," said Geoff Gordon, Live Nation Philadelphia Regional President. "We're so excited to share this amazing venue with fans, artists and the city of Philadelphia."
Chef Michael Schulson (Izakaya, Sampan, Independence Beer Garden) has created over a dozen new menu options for the concert season.
Overhead rendering of the new Festivial Pier concert area. Rendering by Groundswell.

Some of the 475 tons of sand used in the Live Nation redo of Festival Pier. Photo courtesy Groundswell

Construction photo from revamping of Festival Pier stage area, photo courtesy Groundswell

Construction photo from Live Nation's Festival Pier re-do, photo courtesy Groundswell