August 19: School district cuts bus passes | Pat Deon's new powers | Philly's "concentrated gentrification" | Storefront challenge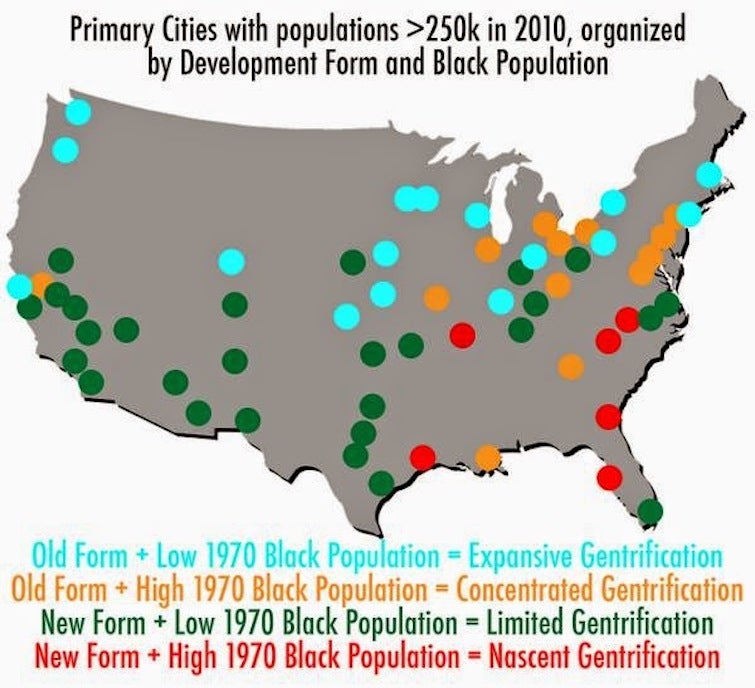 Pete Saunders thinks Philly can afford to have a more productive conversation about gentrification than New York or San Francisco. Breaking gentrification down into four different types, he argues that the economic pressures on cities that are physically and demographically similar to Philly (old form, high 1970s black population) are experiencing "concentrated gentrification" – fast changes in small pockets of the city (Point Breeze, Temple) but not the sort of metro-level land price inflation we see in NYC and SF. "[T]he gentrification debate is quite different in OFHB cities like Philadelphia and Atlanta, where seeking ways to more equitably spread the positive benefits of revitalization might lead such discussion."
Storefront Challenge applications are now being accepted. Any nominations? Who has your favorite Philly storefront? "Although its larger purpose involves local economic development via the beautification of retail spaces, the event was initially launched as an effort to bring wider attention to the Commerce Department's Storefront Improvement Program (SIP), which provides cash grants to help business owners improve their facades."
In a move that could take some pressure off the looming SEPTA strike, SEPTA's board gave Chairman Pat Deon the power to approve contracts, so he can approve the electrical workers' contract sooner than the next SEPTA board meeting. It's an important move in the context of SEPTA's other ongoing labor disputes, because the 16 other transit unions will negotiate on the basis of this contract. Paul Nussbaum explains the likely terms: "The terms of the tentative deal with IBEW Local 744, which represents the railroad electrical workers, are similar to those offered earlier: an immediate 11.5 percent raise, or about $3 an hour to $29.50 an hour, on average. The electricians' last contract ended in 2009."
Most of SEPTA's daily riders ride the bus (57%), but one obstacle to even higher mode share for buses is that there's still so much status anxiety about it, says Sandy Smith at Next City. Rail gets people most excited in politics, but there's a good argument that the way to much better transit service is all about cheap right-of-way changes and priority signaling for buses, not billion-dollar rail projects. These kinds of changes often face a higher political difficulty though, since bus riders are seen as low-status political players.
The Philadelphia School District will cut subsidized SEPTA transpasses for 7,500 high school students. "In order to save $3.8 million, high school students living within two miles of school will no longer receive subsidized SEPTA transpasses. The previous threshold was 1.5 miles."
You've heard about how Pennsylvania has about 6,000 "structurally deficient bridges," but that doesn't mean they're all unsafe to drive on, as Marielle Segarra explains: "If a bridge is structurally deficient, one or more of its major components — the roadway, the beams, the foundations, or some other part of the structure — is deteriorating. That could mean heavy rust or cracked concrete, for instance … Structurally deficient bridges will need repairs at some point, but they're not unsafe to drive across. If a bridge is unsafe, the state will close the structure until it can be repaired."
WHYY is your source for fact-based, in-depth journalism and information. As a nonprofit organization, we rely on financial support from readers like you. Please give today.