August 15: Worst South Philly intersection less bad | SEPTA strike less likely | Pop-up bike lanes | Real-time info and bus shelters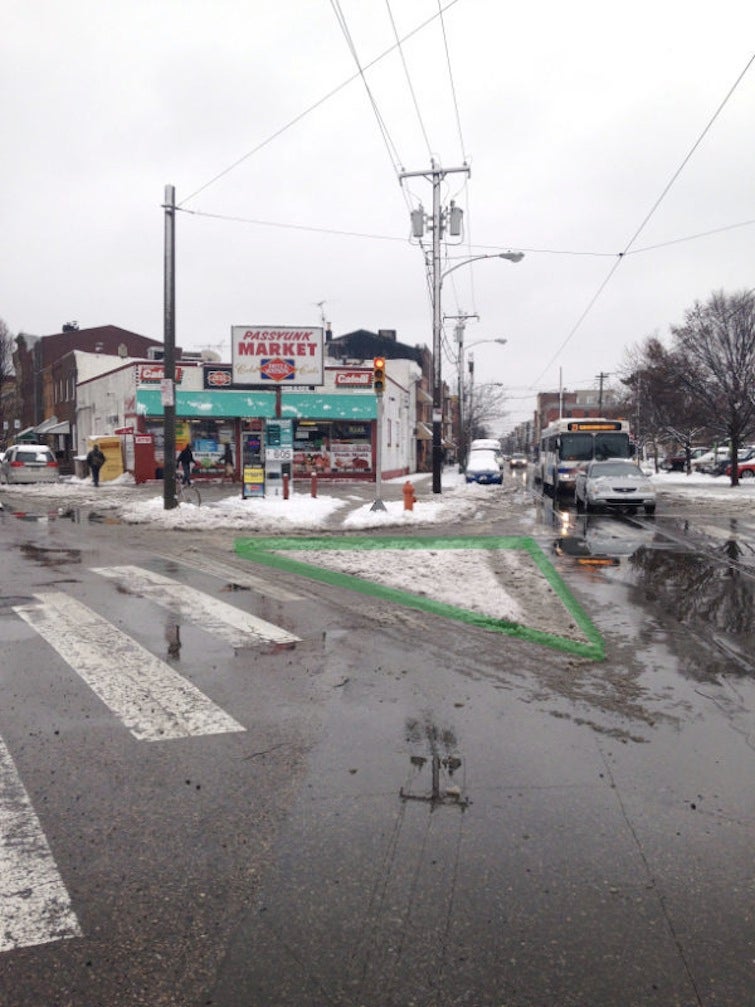 Despite its success in attracting about 50% higher ridership than the Night Owl buses, running the subways round the clock on weekends isn't bringing in enough money to cover costs, reports Randy LoBasso. Tokens and fares have brought in about $9,700 per weekend, while it costs about "$47,000 per weekend to operate the trains all night, when it was costing $13,000 per weekend with the buses, a difference of $34,000." That could change when Philadelphia's 450,000 college students arrive on campus soon, hence the extension of the pilot, but Randy makes a good case that there's no point sweating the operating subsidy.
On second thought, city leaders will fork over some taxpayer dollars to the DNC to attract the 2016 political convention. The current line is that taxpayer dollars will only be spent on logistical support but it's worth it for the "significant" return on investment. Calculating the actual ROI on these conventions is often outsourced to PR flacks for the political parties, so if City Council is serious about shifting away from hunch-based budgeting, this would be a great opportunity to show their math.
The worst intersection in South Philly is in the process of getting some curb extensions and other traffic calming interventions. It's not getting the traffic islands that the "sneckdowns" recommended for this area, and after viewing the plan a couple months ago, I believe the crosswalk on the east side will still be much too long to be safe, but overall it should be a significant safety improvement. No word on when the tangle of trolley tracks, which seriously injured experienced cyclist Katie Monroe at the Bike Coalition, will be paved over.
Tourists will soon have real-time info on when the next Philly Phlash trolley is coming, but when will resident bus riders get real-time info on when the next bus is coming? CityLab unpacks three reasons why real-time info is so valuable for getting people to use the transit system. The fate of this issue here is bound together with the issue of modern bus and trolley shelters – one of the incomplete agenda items from Next Great City's 2007 platform, which could crop up in the 2015 campaign.
It's looking more and more like there won't be a SEPTA strike this winter. SEPTA management has reached a tentative agreement with their regional rail electrical workers. "The sticking points in contract talks have been pay raises and health care costs. Williams declined to comment on the specifics of the agreement, but she said that it "follow[s] our pattern, bargaining contracts that we have had with our other unions."
We haven't seen this in Philly, but activists in a few other cities have been setting up one-day pop-up protected bike lane demos this summer using cheap materials to prove the concept. Philly doesn't have any true protected bike lanes (we have a very nice, short trail on the Delaware) and bike infrastructure planning here has undergone a noticeable scale-down in ambition as advocates have run up against the limits imposed by the city's parking entitlement politics. Perhaps some protected lane demos are just the thing to move the issue forward. What streets would you test protected lanes on?
WHYY is your source for fact-based, in-depth journalism and information. As a nonprofit organization, we rely on financial support from readers like you. Please give today.