August 13: Permanent Woodland Green ped plaza | Bull case for Philly multifamily | Revel Casino's lesson for community development | What Philly really offers the DNC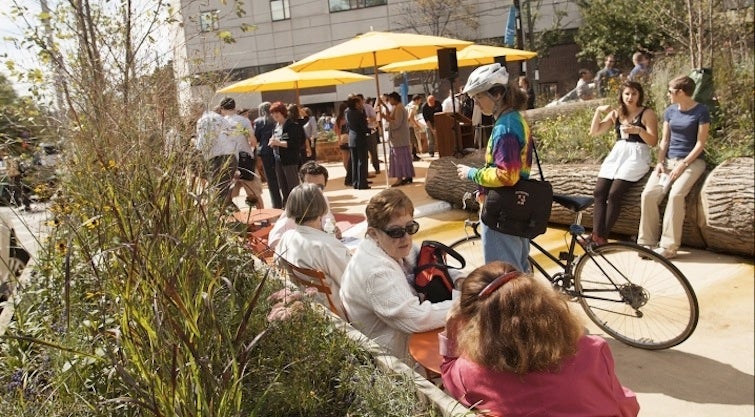 Reality check on the apartment "overbuilding" talking point that pops up from time to time on local real estate blogs: Daniel Kline of Delancey Street Capital says he's not investing in Philly multifamily because there are "huge amounts of rental supply coming on line that will push rents down here." Kline sees a combination of rising land prices and rising occupancy rates pushing down yields in the near term. But Spencer Yablon at CBRE expects the dip in occupancy rates will be brief. "'It feels like you have a lot of construction right now, but it's far less consturction historically than a lot of other markets. We don't feel we're overbuilt.' Occupancy rates could drop a bit short-term as new buildings open, 'but the fundamentals are solid. We have a ways to go.'"
Cape May architect Michael Calafati says the short-lived publicly-funded Revel Casino in Atlantic City is a textbook example of everything that is bad about casinos, and why they don't work as local economic development: ""It's a hermetically sealed . . . big-box structure that sort of sits on the Boardwalk and doesn't necessarily interact with what is around it the way the former grand hotels of Atlantic City once did, like the Dennis Hotel or later the Claridge."
Philly is looking like a frontrunner for the 2016 Democratic National Convention. The bill of goods local boosters are selling to the DNC to make the case for Philly are disappointingly focused on the Revolutionary political history and tourist traps. The biggest selling point for Philly is probably that the Convention Center is very close to authentically-fun areas of the city that are frequented by locals and replete with nice restaurants and bars which delegates will enjoy cavorting at for the week. More pop-up beer gardens, less Liberty Bell, in other words.
For a taste of next year's Philly ride-share controversy today, you can't do better than Kim Lyons's coverage at the Pittsburgh Post-Gazette. The latest turn in the protectionist political drama playing out in Pennsylvania's second-largest city is that drivers working with e-hailing companies Uber and Lyft aren't allowed to pick up passengers at the airport.
The Woodland Green pedestrian plaza at 42nd and Woodland – one of my favorites – has gone away but will come back to life as a permanent plaza in tandem with some Transit First improvements to the Rt 11 trolley line. "According to UCD, as the City rebuilds Woodland Green into a permanent fixture over the next few months, the project will include simple improvements like new traffic signals and priority signals for the trolley."
President Obama signed the Highway Trust Fund patch into law, setting things up for a likely-Republican Senate majority to write a new transportation funding bill next May. Is it time for urbanists to learn to love transportation devolution? Here's an interesting argument from Chuck Marohn at Strong Towns that we'd get more urbanist policy outcomes by devolving funding responsibility down to state or city governments.
WHYY is your source for fact-based, in-depth journalism and information. As a nonprofit organization, we rely on financial support from readers like you. Please give today.