As March on Harrisburg approaches, lawmakers take stock of gift laws
Gift laws vary widely by state, but critics like March on Harrisburg deride Pennsylvania's as being one of the loosest in the country.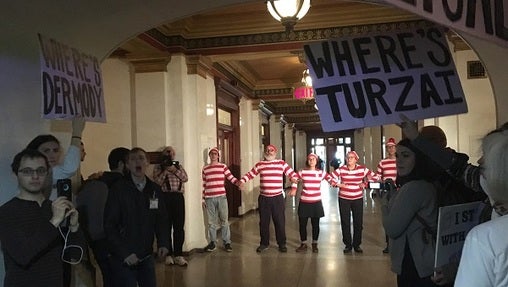 When Michael Pollack first began lobbying for state lawmakers to stop accepting gifts, he said he was met with "a lot of hostility."
"When you go in and you tell a legislator that what they're doing day in and day out is wrong, that kind of rocks their worldview," he said. "They wake up in the morning and they look in the mirror and they tell themselves a story to get through the day, and that story does not involve them doing something terribly wrong."
Pollack is a Philadelphia-based rabbi, and he's also one of the organizers of March on Harrisburg. The group formed in the lead-up to the 2016 presidential election with the goal of getting bills passed that would restructure Pennsylvania's redistricting process, register voters automatically, and ban gifts.
As the name suggests, the group has held two marches on the Capitol — one from Philadelphia, and another starting in Lancaster.
As Pollack spoke over the phone, he and a lean group of members were passing through Wernersville, roughly the halfway mark in their third march, a 105-mile trip.
They're due to arrive on Monday, and they plan to focus on the gift ban — which Pollack sees as legal bribery.
"It's changing a bit," Pollack said of the conversation on the issue. "People are kind of more open to it, they've reflected on it for a few years, have thought it through, and we're making progress."
Gift laws vary widely by state, but critics like March on Harrisburg deride Pennsylvania's as being one of the loosest in the country.
Lawmakers are banned from accepting or giving any gifts in exchange for political action, but beyond that they can accept whatever they want — from plane rides to gold watches — so long as they report any gift worth more than $250, and hospitality or lodging worth more than $650.
For years, small groups of lawmakers have been attempting to tighten the policy with little success. Their bills — which would have to move out of the House and Senate's State Government Committees — have rarely gotten much play on the floor.
But this session, Dauphin County Republican Mike Folmer, who chairs the Senate committee, has said he at least wants to have a hearing.
Fred Sembach, Folmer's chief of staff, said the senator is hoping to work gift-related legislation into a larger overhaul of the commonwealth's Ethics Act, which Sembach noted, hasn't been updated in years.
It would likely include issues like campaign finance, and Sembach cautioned, Folmer wants to take it slow.
"Our goal is to give all bills due consideration," he said. "When we do deliberation, we want to get people on both sides … like voting issues, the devil is in the details and we'll want to make sure that we flesh everything out properly."
Fellow Republican Senator Lisa Baker, of Luzerne County, said she doesn't think lawmakers need to be too tentative on gifts — noting she hears from a lot of people in her district who are dismayed their representatives write off so many expenses.
"My constituents pay their own way," she said.
Baker, who chairs her chamber's Judiciary Committee, is sponsoring two gift bills. One, which she calls a milder option, would ban cash gifts — acceptance of which is already discouraged internally by both the House and Senate.
The other would ban all gifts — including meals, travel, and lodging — except ones worth $50 or less that don't come from lobbyists. Those would be capped at $250 per year. Baker also included exceptions like meals at charity, campaign, or other similar public events.
"Nothing in these two gift ban bills, I don't believe, would stand in the way of anyone doing their jobs effectively," she said.
Baker's bills aren't the only ones flying around the legislature.
Democratic Senator Larry Farnese, of Philadelphia, has one that would require lawmakers to report gifts from friends on their disclosure forms. And over in the House, Bucks County Democrat Tina Davis and Philadelphia Republican Tom Murt are pushing a version that would, similarly to Baker's, put an outright ban on most handouts.
Although Pollack and the rest of March on Harrisburg say they are seeing progress and have gotten good feedback from both the House and Senate's relevant lawmakers, they don't have vocal support from all quarters.
House Democratic Leader Frank Dermody, for one, has opposed gift bans in the past–arguing that they would be cumbersome and that the commonwealth's current disclosure requirements and ban on pay-for-play is–when followed–enough.
Dermody didn't comment to say whether his views have shifted.
Meanwhile, lawmakers have just completed yet another round of disclosures to the state Ethics Commission. They were due May 1 and are expected to be public in the coming weeks.
WHYY is your source for fact-based, in-depth journalism and information. As a nonprofit organization, we rely on financial support from readers like you. Please give today.