As demonstrations slow, activists inspired by George Floyd protests pivot to take on the bureaucracy
Racial justice advocates are still pushing for concrete change in cities like Lebanon, Pa. — in the now-virtual halls of local government.
Listen
5:35
In early June, 24-year-old Amaury Abreu stood before hundreds of demonstrators in front of the municipal building in Lebanon, Pa., calling through a megaphone for the crowd to kneel in protest over police brutality and the killing of George Floyd.
"What are we doing with our breath?" he bellowed. "Are we staying silent? And supporting systems of oppression?"
More than two months later, Abreu and others are still pushing for concrete change in the city of 26,000 between Harrisburg and Reading — not necessarily in the streets, but in the now-virtual halls of local government. 
One major obstacle, they say, is representation.
"Lebanon is almost majority Hispanic. Yet, we don't have any type of Hispanic commission in the city," Abreu said. 
Most government leaders in the city and county are white – school boards too. Abreu says too many local leaders are failing to serve the whole community.  
"When people in power have the ability to empower other people but they don't do that, that's an issue," Abreu said. 
Abreu criticized Lebanon Mayor Sherry Capello for posting a video on social media after the protest that asked for donations to support the town fireworks show, but wrote nothing there about racism. 
Capello, who declined to be interviewed for this article, did speak at the June protest, offering condolences to Floyd's family. She directed people to community message boards placed on the sidewalk, where she said they could "share concerns or write a person's name down in memory."
"We're looking at this activity as an opportunity for constructive community engagement and we hope you do as well. And they'll be more of that in the future," she said. 
As another example of the disconnect between leadership and people of color, Jamari "J" Davis, a mortgage loan officer from Lebanon, cited an op-ed District Attorney Pierre Hess Graf wrote condemning riots and violence against police.
"Now she's the police's boss, so she has to say all that," Davis said. "But not one time do you mention the why – we can talk about the effect but not the cause."
"She didn't even mention [George Floyd's] name," added Amanda Davis-Buie, Davis' sister.
'Aha moment'
Amaury Abreu says Floyd's death has brought the cause of racial justice to the forefront. He admits racism has not always been at the front of his mind. Growing up in the Dominican Republic, where he said race was less "taboo," he experienced advantages for having light skin. Since George Floyd's death, newly energized activists like Abreu are teaming up with those who have been working for change for years. 
A group of facilitators, including Abreu and Davis-Buie, held an anti-racism seminar through Lebanon's Sexual Assault Resource and Counseling Center. 
Davis-Buie was happy to see that more than just the usual suspects were listening, but she still holds reservations.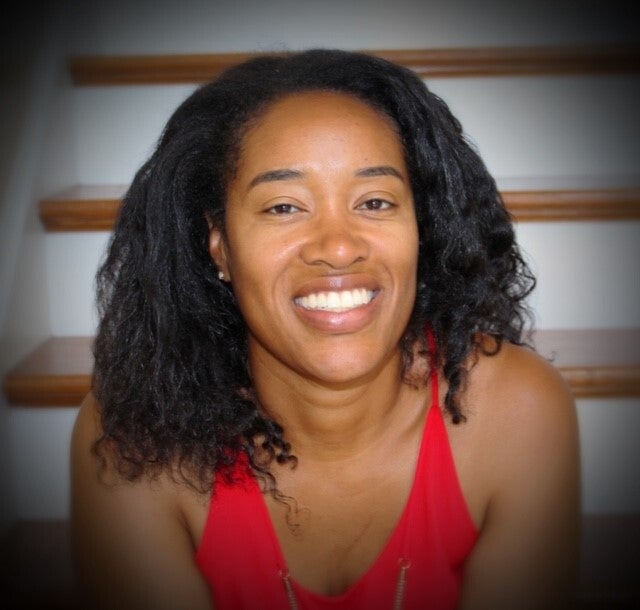 "I'm 50/50 with it. I think you have a nice amount of people who come to check a box, and say, 'I did this, I'm good.' And I think we have people who come because they want to know; they want to learn," she said.
Davis-Buie is a psychotherapist who lives in Lebanon but mainly works in Dauphin County. As a Black woman, she could not see her business thriving in her hometown. Her brother says he has also found less support inside the county for his goal of helping people of color build wealth.
In June, as the anti-racism training was winding down, Davis-Buie said she was surprised by the community's willingness to learn.
"If you would have told me three weeks ago that we were going to be having Taking Action for Anti-Racism Seminars, I would have laughed at you," she said. "And if you told me they were going to fill up basically overnight, I would have laughed even harder."
The group created the workshop in about ten days, hoping to channel the willingness to talk about racism into action. About 80 people participated, a majority from the area, though some signed on from Australia, Minneapolis, and Chicago. Davis-Buie said the seminar, which is slated to continue in partnership with a church and another nonprofit in the county, pushes attendees past what she calls "white dissonance."
"So even if they are sitting there to check a box, it's going to be impossible for them to sit through all three parts and not have some type of 'aha' moment," she said.
Making allies, 'getting glares'
Most of the people who attended the virtual workshop were white, including Mayor Capello and Police Chief Todd Breiner.
Davis-Buie wishes even more local decision-makers would have been there.
"They are the ones who sit in the back office and say, 'okay, this is what we're going to do and this is how it's going to happen.' Those are the ones that I really want to reach," she said. "Those are the ones that I need to make sure you have a clear understanding. You can't fight a battle if you don't understand what the issue is."
The seminar seemed to especially impact Amy Keller, the city's lone Democratic councilmember. 
"As a white woman of privilege, I wasn't aware of some of those things that were brought up, so it opened my eyes," she said.
Everyone who participated was asked to plan action steps to undertake in seven days, seven weeks, and seven months to fight racism. From there, Keller became a key ally pushing for the police transparency many activists were seeking. She honed in on trying to get the city's police manual, so she could review use-of-force restrictions and compare them against the national 8 Can't Wait campaign, which proponents say reduces incidents of police brutality.
"First I have to know what the policies are, so we can't really do anything without having to review them," Keller said in June. "So I'm just trying to get access to them right now, the first step, but it's a little difficult getting going here."
Keller asked for the policies in a city council meeting held over video conference. Her connection was glitchy, so she had to ask multiple times. Mayor Capello said she would not be able to provide what she called the "tactical" policies, saying releasing those could threaten officer or public safety. 
Keller filed a right-to-know request to get the document. She said putting scrutiny on the police force has meant she's had to step out of her comfort zone.
"We [my partner and I] donate to the police. We really respect them. I drive by and I wave to them, and well, lately, I've been getting glares," she said. "They know who I am, and they know what I've asked for, and they're not happy. I wish they would understand it's not that I have an issue with the job they're doing personally. But I've heard some people of color in the community who do say there are some racial biases."
On July 7, about two weeks later, the city posted the police manual, whiting out the tactical sections. Keller met with the mayor and police chief to comb through the details and said afterwards she was satisfied that — at least in terms of policy — the city had the right safeguards in place. The 200-page, redacted document may prove a starting point for a more detailed conversation about policing in Lebanon.
Around the same time, the mayor released a statement with a number of "commitments to racial equity." The police department does not use chokeholds, the statement read. Officers will now be obligated to intervene to stop excessive force. Police will undergo new, annual de-escalation trainings with a focus on mental health, and the chief will inform the mayor of all complaints against officers.
Capello has also pledged to host an in-person town hall on policing. A date, though, has yet to be chosen due to the 25-person cap on indoor events in place to mitigate the spread of coronavirus.
Get more Pennsylvania stories that matter
Next steps
A group including Keller, Davis, and Davis-Buie are moving forward on their own timetable.  They began meeting in early August to discuss their next steps in anti-racism work – getting more people of color on local boards and in political offices was a major theme.
Davis-Buie said these recent steps on policing are a start, but she would like to see more detail and more serious commitment.
"I personally think they are pacifiers. That's how I feel about it," she said. "'So yep, we did what you wanted, now leave us alone.' I think actions speak louder than words, even words that are posted online."
Amaury Abreu considers getting the police handbook a minor victory, but he plans to keep pushing. He is already on to the next thing.
At a recent outdoor food-distribution and COVID-testing site in Lebanon, Abreu made his way down a line of cars, greeting people in Spanish and English and asking if they were registered to vote. He wore a mask and gown and carried a clipboard with a stack of registration forms and mail-in ballot applications. A couple drivers took forms for the rest of the family to fill out later.
Abreu can't vote himself. He moved to the U.S. five years ago, and he is in the process of applying for citizenship. But he now signs on to online council meetings every month, bringing up everything from local art to housing code enforcement.
"It's just fun, to be honest," he said.
He says he's most interested in setting an example for how more people can become engaged.
"We have the front thing that we are trying to tackle, but the reality is, it goes deeper than that," he said, "like, who's watching, who's getting inspired, who has the resources and is like, 'Whoa, these people are working on this — we want to help them, we want to empower them.'"
---
Alanna Elder produced this story as part of the America Amplified initiative using community engagement to inform and strengthen local, regional and national journalism. America Amplified is a public media initiative funded by the Corporation for Public Broadcasting. Alanna talked to people who are trying to make change from the top, in a relatively small, diverse community where power is concentrated among white people. She wanted to represent the slower work that was happening in city government and behind the scenes, months after a protest that drew hundreds to the streets of Lebanon, Pa. 
Q: What did the people you talked to say about the experience of being interviewed for public radio?
The people I talked to were aware of the social or professional consequences that talking to me could bring down on them. One had received warnings that their reputations would suffer if they continued to be so vocal; another was used to being shut out of some groups for speaking out; all said they felt a responsibility to step out anyway. An interview was just one more thing they could do that might raise awareness of the challenges in Lebanon and the country as a whole. It sounds like that kind of calculation also came up in the workshop, which focused on taking an active approach to anti-racism. I heard some participants were concerned about the repercussions they could face at work for being more vocal.
Q: What surprised you about this type of community engagement?
I was most surprised at how patient people were with having multiple interviews over the course of a couple of months, as they were trying to accomplish something quickly. I also got a glimpse into the challenge of disentangling personality differences or miscommunication, politics, and systemic forces like racism in straightforward conversations about local government. For example, any combination of these could cause tension in a council meeting, so understanding people's motivations and reflections is important.
Q: What lessons do you have for others who want to do the same?
Something I struggled with in doing this story was finding a balance between the details of local politics I was learning and the broader strokes that would be relevant to a wider audience. When I say relevant I don't mean in terms of interests or understanding, but geography. Considering those who are being represented and those who are listening is important in any story, but I think community engagement work can make that more challenging, especially if you are like me and have a tendency to get in the weeds. The lesson I'm learning is to think about what the story means from different perspectives throughout the process, and to stay in communication with sources about that process, where appropriate.
WHYY is your source for fact-based, in-depth journalism and information. As a nonprofit organization, we rely on financial support from readers like you. Please give today.