Artist simulates outer space for Anne Frank Elementary students [video]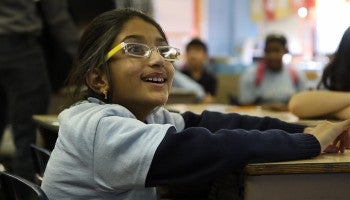 At first, Astronaut Tim is little more than a floating head appearing on a computer monitor.
"So, I'm here, in the International Space Station," he says.
A class of fourth-graders at Anne Frank Elementary School in Bustleton were talking with Astronaut Tim via Skype. When he backs away from his webcam, he appears to be floating in midair, kicking his legs beneath him.
Every time, it's a "wow" moment.
Astronaut Tim, aka Tim Belknap, is not really an astronaut, and he's not really in space. He's in the Tyler School of Art gallery at Temple University. The artist, who specializes in kinetic sculpture, built a mock space pod without a fourth wall. A steel armature suspends his 240-pound frame, held aloft by cables hooked into a customized harness he wears under a jumpsuit.