Art project asks 9th Street Market vendors to get into each other's business
The relationship between Italians and Mexicans in the Italian Market, as described by Raúl Aguilar, owner of Los Amigos, a 7-year-old meat market in 9th and Montrose streets, goes like this: "Nosotros no nos metemos con ellos y ellos no se meten con nosotros," meaning, they don't get into each other's business.
That's the dynamic that artist Jon Rubin and curator Theresa Rose are trying to disturb with a Mural Arts public art project called 9th Street Stock Exchange where nine products from nine participating stores quite literally get into each other's business, rotating every week from now until December. Round white signs outside of participating businesses show what can be found inside. The artists hope to make these goods more visible by decontexualizing the items.
"Instead of working in competition or in parallel, they're working in concert," said Rubin, who is co-founder and director of Conflict Kitchen, a restaurant in Pittsburgh that only serves food from countries with which the United States is in conflict with. "And I think the byproduct of that, theoretically, might be relationships."
There are 89 businesses listed as active members of the 9th Street Italian Market Association website, and although many have Italian names, there's also El Pueblo Mini Mart, Al Zaytouna, Restaurant Neuf, and Dan Khang Trading. Rubin lives in Pittsburgh, where he teaches in the School of Art at Carnegie Mellon University, but he grew up in Philadelphia, and says he and Rose wanted to embrace the complexities that exist in the market.
"The most obvious, social, economic dynamic is the difference between north of Washington [Avenue], having the more established, mostly Italian business, and south of Washington, having newer businesses, mostly Spanish speaking, often from Mexico, but also from other countries in South America," Rubin told PlanPhilly. "And that you can really sense and feel that division between north and south."
Aguilar isn't participating in the project (it doesn't include food businesses because of licensing issues) but he thinks it will be useful. He said proprietors from different ethnic groups don't even say hi to each other. Karla Castro, 24, who sells at Alejandra Boutique, said that going to each other's store is considered suspicious, as if they would be trying to compare prices or steal ideas. In recent weeks, the tension among tenants has peaked with the increasingly divisive proposal to turn the market area into a Business Improvement District or BID, currently being considered by City Council. The 9th Street Stock Exchange project aims to tear down those walls by encouraging business owners and customers to get to know each other, selling each other products on their own stores.
"This is such a timely project because it makes people cooperate with each other and maybe someone they thought of as other, is actually now in their store," said Rose, who received the Knight Arts Challenge award in 2013 and has been working on this project for three years.
Take Eva Hernández, 42, who open her Mexican Chocolate Arts and Crafts store at 1169 S. 9th Street six months ago, and Mariella Esposito, 64, a co-owner of Fante's Kitchen Shop who has worked in the market since 1970. They hadn't meet until they started working on this project. Last week Hernández had shelves of mums from Betty Ann's Italian Market Florist outside her window, and Esposito was selling vintage crime novels from Molly's Books and Records.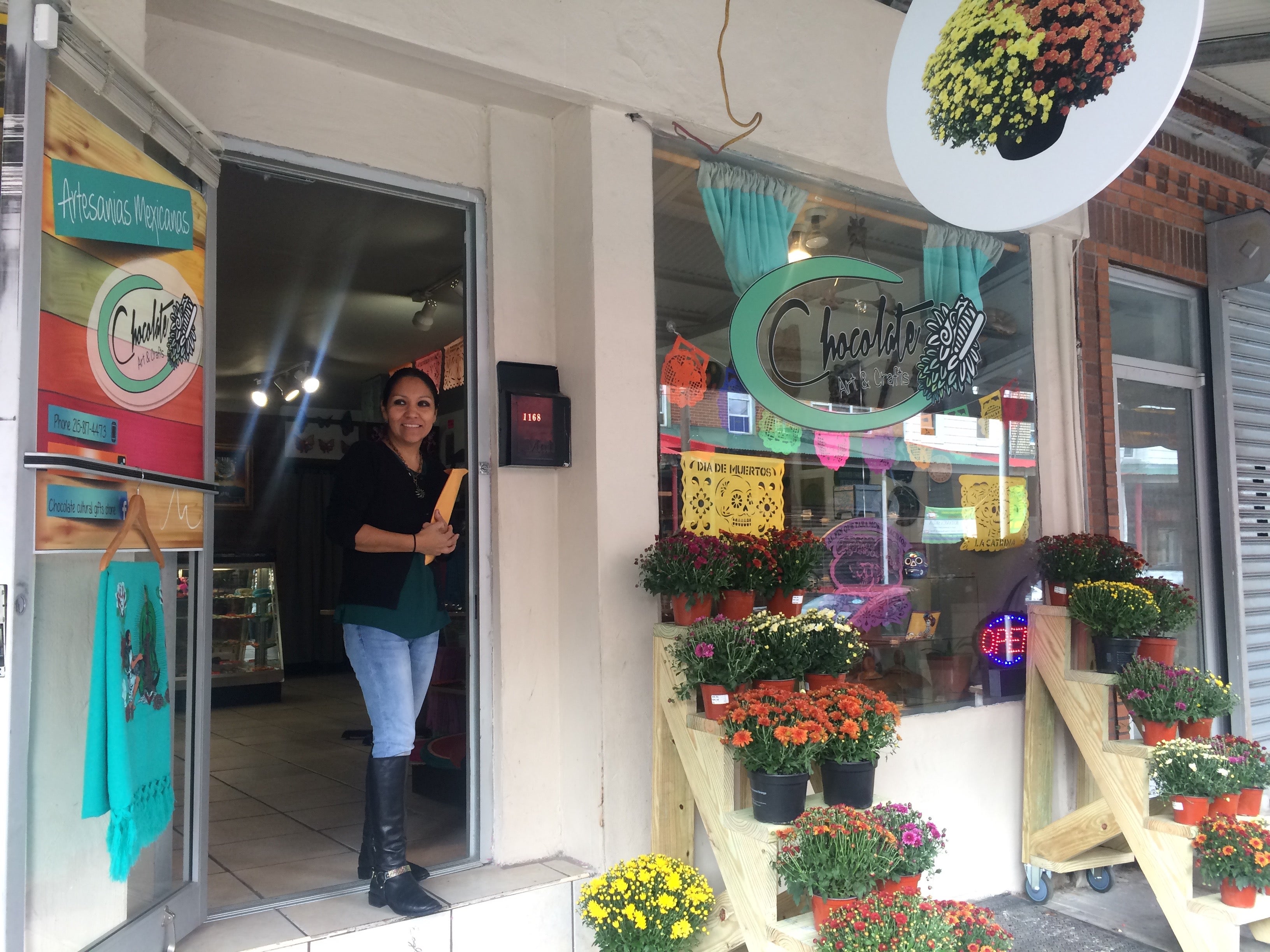 "It's an interesting concept for the people that shop," Esposito said. "There are people that come to my store that might never go next door or down the street, so they see what other business have to offer. I think it's an ingenious way for people to actually get to know 9th Street a little bit better."
Esposito also said the project has made her get out of her store, walk down the street and go say hello to people she didn't have a relationship with before. "We all come to work and we kind of keep our nose to the grind, and now you really get a chance to actually run out. So this is actually really nice."
Hernández thinks this is an excellent idea. "There are not many communication channels between us, and because I'm new, I didn't even know someone sold flowers here," she said in Spanish. "This project seems really beneficial for everyone."
Esposito said that although there's a merchant association and a general spirit of collaboration, there are some who stand aside "being Italian and being hard headed" and are reticent to integrate. "And also some of the stand owners are behaving like their fathers, the father they use to fight with, and have these mannerisms inculcated into them that they've not been able to let go," Esposito said.
Rubin is particularly interested in constructing empathy among old and new generations of immigrants in the market, hoping that those whose grandparents started a business recognize the similar conditions that the newcomers are in.
"No one has to change their business practice," Rubin said. "They just have to be open to someone else identity entering into theirs, and their identity entering into someone else's. And to me, that's a very political act."
9th Street Stock Exchange map

(Catalina Jaramillo / PlanPhilly)

(Catalina Jaramillo / PlanPhilly)

(Catalina Jaramillo / PlanPhilly )

(Catalina Jaramillo / PlanPhilly )
The 9th Street Stock Exchange project began on October 12 and will run through December 7 along South 9th Street between Christian and Federal Streets in South Philadelphia. To get a better understanding of the project, Mural Arts is offering guided $5 tours, in Spanish and English, on October 30, November 20 and December 4 (this one with the artist present) and only in English on November 13.
WHYY is your source for fact-based, in-depth journalism and information. As a nonprofit organization, we rely on financial support from readers like you. Please give today.