Archives of radio show illuminate Philly's love affair with reggae of '80s and '90s
Recordings of the "Caribbean World Rhythms" radio show bring back the bright, sun-splashed sounds of reggae.
Listen
7:13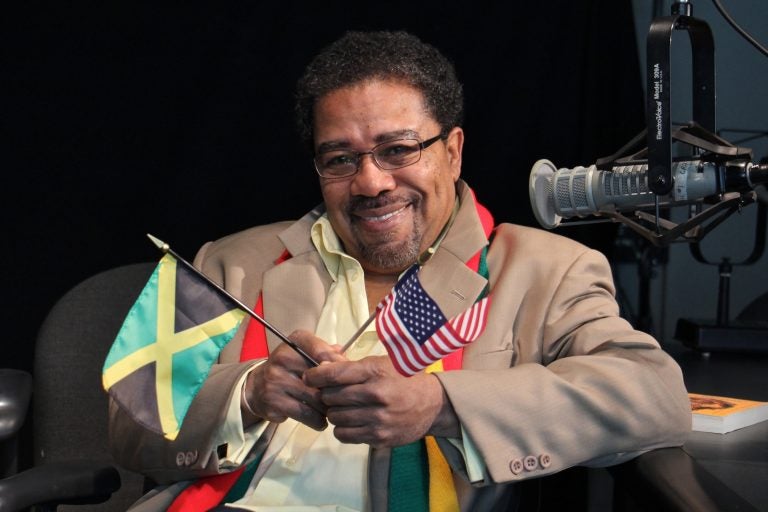 During this long, slow transition from winter to spring in the Northeast, just thinking about steamy weather on a tropical island with coconut drink in hand makes me feel better. Now stay with me on this as I take you to Jamaica — via the 1989 recordings of a radio show that used to air in Philadelphia.
Terry Lee Barrett hosted the "Caribbean World Rhythms" radio show in the late '80s and early '90s on public radio station WRTI-FM. His show took us onstage, backstage, and deep within the crowds of reggae lovers as he played the music of big rhythm heavy hitters. He also interviewed many of them. Terry's show ended about 30 years ago, but the sun still shines in his archival recordings.
—
What's it like to listen back to your radio show now that you've dusted it off all these years later? You refer to it as "radio reggae time machine."
Yes, indeed. Oh my God, it's great fun. Not a month goes by that people aren't asking me about that show. It was just a hot time for reggae music and the people were digging it. They were jamming.
One of the archival sessions that you do seem most proud of is your trip to Jamaica for the Reggae Sun Splash Music Festival at the Bob Marley center in Montego Bay in August 1989.
What a wonderful time I had in Jamaica in '89!
What was going on with reggae at the time?
Well, reggae was huge around the world. I mean the conscious vibe, the love songs, the freedom songs took over the world.
But do you remember a certain kind of vibe from reggae and '89 in particular?
Oh yeah, in '89 you know again it was a lot of roots reggae — Third World, Marcia Griffiths, The Wailers, of course. And Ziggy Marley had a major record … "Conscious Party" actually won a Grammy in '89.
How did reggae reflect culture and world politics at that time?
Well, there is always a consciousness about reggae music, talking about the political realities of the day. Freeing Nelson Mandela was a major subject and the downtrodden. Trying to get out of the system of "politricks" is always a subject that a lot of conscious radio deals with. It's something that relates to everyone.
You spoke with some of reggae's great performers during the life of your show.
Ziggy Marley, Third World, Marcia Griffiths, David Hines of Steel Pulse, Sugar Minott, The Mighty Diamonds, Shine Head.
Who did you like interviewing the most?
Oh, I really liked William "Bunny Rugs" Clarke, the lead singer of the Third World, which did a called "Now that We Found Love." It was one of their biggest songs, a Kenny Gamble/Leon Huff song.
Philadelphia was truly connected to the genre in the late '80s, early '90s.
Well, the Philadelphia Sound was a major force around the world. And Delaware Avenue blew up in the '90s. There were a bunch of new venues like Maui and Bahama Bay and Rock Lobster. They were all going reggae.
And you were there as a DJ.
I was there. It was like a Vegas strip.
You were born in Kingston, Jamaica. You grew up in Philadelphia and your father is the late Rev. Dr. Leonard Barrett who wrote the book, "The Rastafarians."
The classic study.
The classic study on the subject of Rastafarianism. It's an Afrocentric, religious and social movement based in Jamaica. You're now working on a film in honor of him.
It's a superhero family, fantasy set in Jamaica with a big Philadelphia tie-in. It's called "Kata The Iron Thorn," semi-autobiographical, about a person like myself being called back to Jamaica. And I'm thinking I'm going back to take care of my father's effects. My father passed away in the story, but I'm told when I get there that that's not why they called me down there. They say there's a witch who is getting ready to do some damage. And I have to stop her. I'm like, "Why me?"
I love it. Why not you! Terry, on your show you used to do something called Lovers Rock — Love music hour. Let's play something from that segment. Your choice.
"Waiting in Vain," Bob Marley.
That's my favorite reggae song.
That's everyone's favorite song.
I'm a walking cliche.  Thanks for spreading some warm reggae vibes with us today.
Thank you.
—
Terry Lee Barrett's "Audio Time Machine Parts I and II" are available on SoundCloud.
WHYY is your source for fact-based, in-depth journalism and information. As a nonprofit organization, we rely on financial support from readers like you. Please give today.