Parent receives letter detailing St. Josephat's closure plan [updated June 28]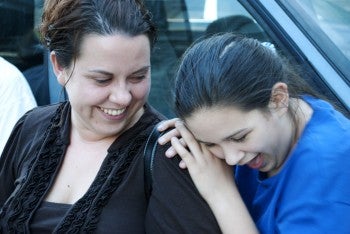 Updated, June 28 — "I received a letter in the mail today from St. Josaphat's stating that the school is definitely closing," parent Cathy Browning wrote in an email to NEast Philly, "and that we must report to the school on one of the following dates between 9:30 a.m. and 11:30 a.m. to get our registration fee refunded: July 3, 5, 10, 11 or 12. It was stressed in the letter that refunds would only be given on these days at these times."
NEast Philly is awaiting comment from the school.
Updated, June 15 — Parent Cathy Browning tells NEast Philly as of today, the last day of school, nothing has been communicated by the administration about the school's future.
"Just found out another interesting fact…if we pull our kids out of the school prior to the school officially announcing that they are closing then we forfeit the $100 registration fee we have paid for each child regardless of the outcome."
Original report, June 12 — Seeking support for her child's education, Cathy Browning sent NEast Philly a letter explaining the desperate situation at St. Josaphat's Ukrainian Catholic School in Tacony, at 4521 Longshore Ave.
"We are seeking support/financial assistance from the community in attaining this goal," the letter read. "The closing of this school would be a tremendous and devastating loss to the local community."
St. Josaphat's offers a Catholic educations for students ranging from pre-kindergarten through eighth grade. it's a small school, averaging 25 to 30 students per grade.
Recently, the parents received startling news from the head of the church, Rev. Father Ihor Bloschynskyy. At a PTA meeting, members were informed of the school's possible closure at the end of the 2011-2012 school year.
Parents Jason Izzi and Cherrie Riser attended the meeting, which they described as sudden and confusing. Izzi demanded answers from the committee, but said the teachers could not talk.
"The teachers were not allowed to talk at all and I reminded we pay them and need to know," Izzi said. Riser explained that finally four or five teachers addressed the group against the reverend's wishes.
"Even the teachers don't feel like – not all of them, but half – feel unwanted by the school next year," Riser said. "They're concerned if they're ever going to be wanted back."
Bloshynskyy refused to comment on the stability of the school and referred all questions to Principal Christina McIntyre, who also declined to comment.
"I will tell you, that at this point, we are extremely frustrated with the lack and refusal of communication from the school," Browning said. "All other schools in our area have their first tuition payments for the upcoming school year due this week, and unfortunately, because of the fact that St. Josaphat's has not been forthcoming with any information on the school's future, a lot of parents who were originally planning to stay have since removed their children and registered them elsewhere. Just knowing that makes the school's future look even more grim."
Browning said on her daughter's last day of Pre-K Friday, no notice was sent home about the school's fate. Grades K through eight will finish this week. She said even if the school stays open, low enrollment could raise tuition by $1,000 per student.
"He's not only doing the kids wrong, but he's doing the teachers wrong," Izzi said of Bloshynskyy. "They're not going to be able to find jobs."
Izzi and Riser said they were told the issues were a lack of enrollment and lack of funds, which Browning's letter also spoke to.
"I work for Miller Lite and I know my company would donate things to the school for a raffle, donate beer for beef and beers, but the father didn't seem interested," Izzi said. "We even had another parent spend weeks creating a plan for Bingo at the school to raise money and that was rejected."
St. Josephat's closure would come during a difficult time for Philadelphia's Catholic education system. Though the school belongs to the Ukrainian Catholic Archeparchy, not the Roman Catholic Archdiocese, St. Josphat's faces similar challenges to those of the archdiocese.
Our Lady of Consolation, a nearby Roman Catholic K-8 elementary school finishing up its final operating year, was one of nearly 50 schools recommended for consolidation or closure by the Archdiocese of Philadelphia this year.
Both parishes began providing worship to specific immigrants. Our Lady offered worship to Italians, while St. Josaphat's offered worship to Ukrainians. Two other neighborhood Catholic schools – St. Leo's and St. Bernard's – have already shut their doors.
Statistics from the archdiocese demonstrate a 21 percent enrollment decrease at Consolation between 2006 and 2011. The percent of capacity filled dropped from 91 percent to 63 percent in that same time and Sunday Mass attendance also fell 20 percent
While statistics for St. Josaphat's were undocumented by the archeparchy, the school has faced similar declines.
"As of the last meeting they had 96 enrolled students for the last year, which is not a good number," Browning said of St. Josaphat's. "They're looking at needing 125 to 130."
Statistics were the last concern for Izzi, who worried about the future of his child Aidan's education.
"We called St. Tim's [in Mayfair] and at first they said they had no room, and then they said they'd make room," he said. "But then I'm thinking, 'he's coming out of a class of 16 going into a class of 40.' How's that going to affect him?"
Aidan, a first-grader at St. Josaphat's, explained he would be sad to leave the school, but was even more worried that he would end up in public school. Izzi dissuaded these worries, criticizing the local Philadelphia public schools.
"I went to Catholic school and I do believe that Catholic education is the way to go," Izzi said. "It's a kid's only hope of making something of themself."
Browning encouraged awareness about the school and described St. Josaphat's as a beacon of hope for those in the community eager for Catholic education.
"We're not part of the archdiocese but we do follow the same curriculum," Browning said. "I don't know what to do other than try to rally the community to help save the school."
Erin Dungee and Laura Robb are students reporting for Philadelphia Neighborhoods, the publication of Temple University's Multimedia Urban Reporting Lab.