A century after deaths, Native American kids buried at Pa. boarding school to return home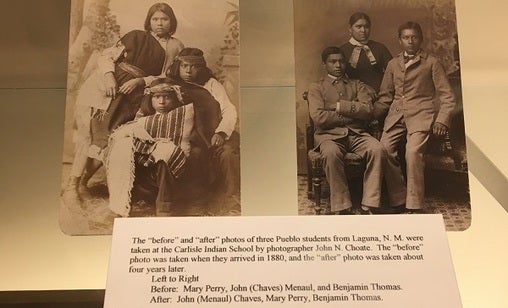 The remains of four Native American children who died over 100 years ago at the government-run Carlisle Indian Industrial School in Pennsylvania were being disinterred Thursday so they can start the long journey home.
The U.S. Army started the process Thursday at the cemetery on the grounds of the Carlisle Barracks, which also houses the U.S. Army War College. The exhumations are expected to wrap up in early July.
The children being exhumed include 10-year-old Little Plume, of the Northern Arapaho; George Ell, also known as George Eli, of the Blackfeet Nation; Herbert Little Hawk, also known as Herbert J. Littlehawk and as Good Boy, of the Oglala Sioux; and Her Pipe Woman, also known as Dora Brave Bull, of the Standing Rock Sioux. The remains will be transferred to the children's descendants in Wyoming, Montana, North Dakota and South Dakota, who requested the exhumations.
"The Army's commitment remains steadfast to the four Native American families whose sacrifice is known to only a few. Our objective is to reunite the families with their children in a manner of utmost dignity and respect," said Karen Durham-Aguilera, Executive Director of Army National Military Cemeteries.
The first children were disinterred last year at the request of a delegation of Northern Arapaho tribe members. The grave thought to contain Little Plume, also called Hayes Vanderbilt Friday, didn't match his age. Last year's disinterment results combined with newly discovered information and research supports confidence in a different gravesite for Little Plume, the Army said.
The remains of 15-year-old Little Chief, also known as Dickens Nor, and 14-year-old Horse, also called Horace Washington, were returned to the Northern Arapaho last year. They were reburied in Wyoming's Wind River Reservation.
In the early 1880s the children attended the school founded by an Army officer where they were forced students to cut their braids, dress in uniforms, speak English and adopt European names.
It's unclear how they died, although infectious disease and harsh conditions caused other deaths at the school. More than 10,000 children were taught at the school.
WHYY is your source for fact-based, in-depth journalism and information. As a nonprofit organization, we rely on financial support from readers like you. Please give today.