A bold vision for 30th Street Station District unveiled, but can reality meet the ambitions?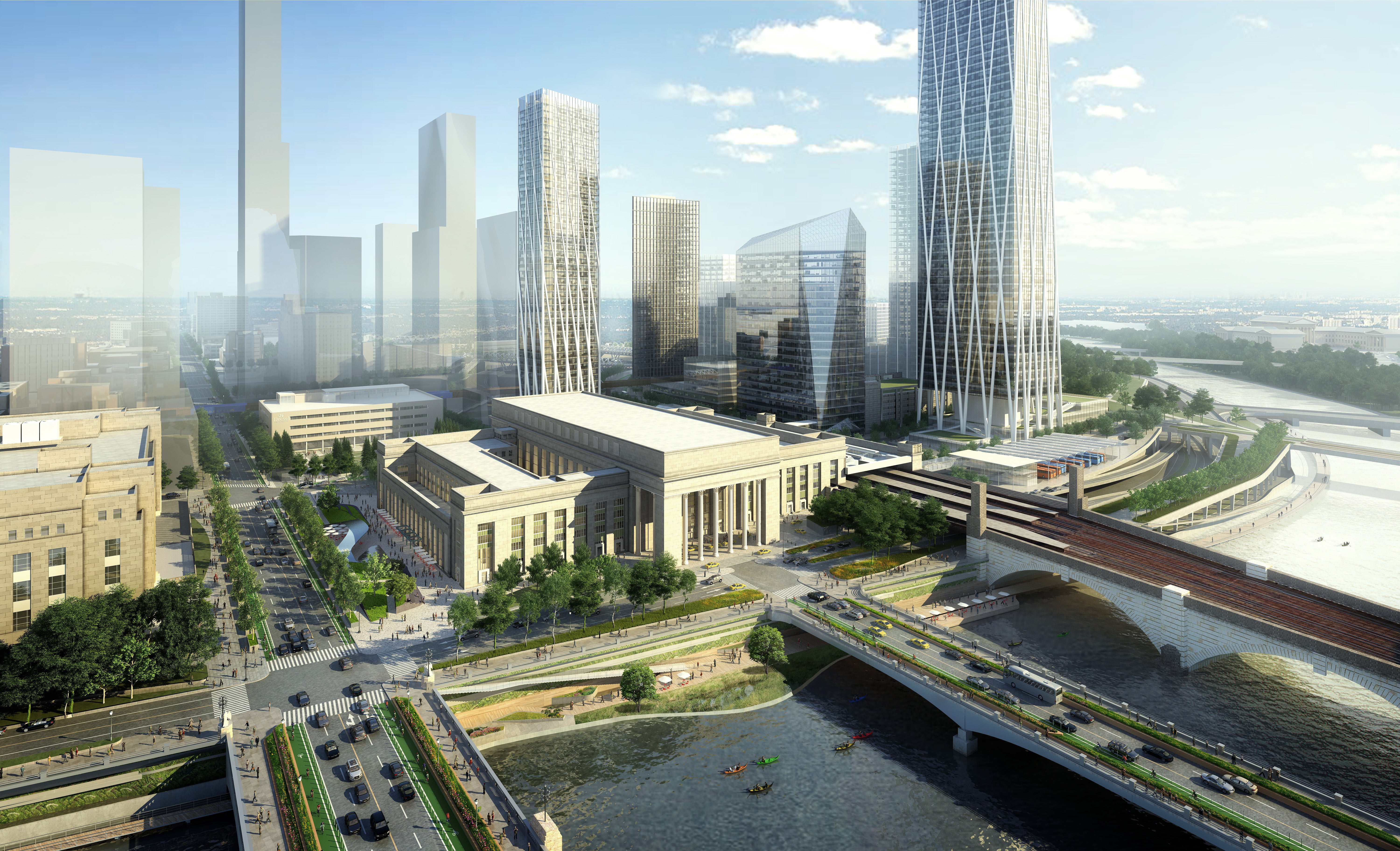 "Go West, young man."
So exhorted Horace Greeley 150 years ago, borrowing those words from another writer to embrace and celebrate American manifest destiny.
They are words the Pennsylvania Railroad took to heart, albeit it locally, when it replaced Broad Street Station as the city's most important rail hub with a massive neoclassical marvel along 30th Street, expecting the city to shift westward with it. Call it Philadelphia's manifest destiny.
It never came to be. While the city's business district shifted slightly west, to present day Center City, it never moved quite as far as the Pennsy executives foresaw.
That's about to change, if the institutional partners behind the recently unveiled 30th Street Station District Plan have their way. "We [are] embarking on a journey to fulfill the original plan from the visionaries of the city and the Pennsylvania Railroad, who sought to create a new center of gravity for the City of Philadelphia," said Jerry Sweeney, CEO of Brandywine Realty Trust, one of the master plan's principals.
"This plan is about a comprehensive vision for the future of… 30th Street Station and the district that surrounds it," said Stephen Gardner, executive vice president of Amtrak. "It's looking forward to creating the kind of passenger station and intermodal center the city needs to grow [and] to launch a transformative new neighborhood to bring economic growth."
The master plan calls for $2 billion in public infrastructure spending to improve the 175-acre area surrounding 30th Street Station and the station itself, which would spark another $4.5 billion in private real estate development. The vision spans 35 years, calling for smaller improvements at the start—improved retail at the station, expanding University City District's Porch into a plaza that wraps around the entirety of the station, and reopening the long-shuttered pedestrian tunnel between the station and SEPTA's subway and trolley lines—followed by progressively larger projects, like an intercity bus terminal next to the Cira Center's parking lot (requiring the relocation of an on-ramp to I-76) and most ambitious of all: capping 50-70 acres of the rail yards located just north of the station.
If you've followed PlanPhilly's coverage of the planning process, none of these details are particularly new.
The planning team put together a five-minute infomercial on the master plan featuring a veritable who's who of Philadelphia's built environment. A fuller look at the plan, including a rough timeline for the projects, can be found on the district plan's website.
The plan calls for 18 million square feet of new development, 40 acres of green space, two new bridges over the Schuylkill River—including one pedestrian and bicycle bridge—and a waterfront promenade east of the station. Planners estimate that the new mixed-use neighborhood would generate 40,000 new permanent jobs, along with 22,000 construction jobs, and become home to 8,000 to 10,000 permanent residents.
Credit for putting all this into motion goes to Drexel President John Fry, who approached Amtrak a few years ago with a vision for building a booming, dynamic neighborhood full of innovative businesses between his campus and Center City. Fry and Amtrak brought SEPTA and PennDOT on board, and identified Brandywine Realty Trust as a private developer.
(30th Street Station District Plan)

(30th Street Station District Plan)

(30th Street Station District Plan)
IF YOU BUILD IT, THEY WILL COME… AND THEN YOU CAN BUILD SOME MORE
This isn't Drexel and Brandywine's only set of grand plans for the area. In March, the pair announced the 14-acre, $3.5 billion Schuylkill Yards project just west of the station. While the two projects are technically separate, they were developed in conjunction and their fates are intertwined.
Fry described Schuylkill Yards as a "downpayment" on the 30th Street Station District Plan's ambitious capping plan. "The private sector is priming the pump for this."
"Jerry [Sweeney, CEO of Brandywine] and our team are prepared to invest upwards of $3 billion just to get really the first phase of this done," said Fry, referring to the Schuylkill Yards.
According to the master plan's timeline, work on capping the rail yards wouldn't begin for another 12 years, giving the plan's backers time to raise the $2 billion in public funds required for all of the new infrastructure.
"[This] can be a huge economic catalyst for the city," said Sweeney. "It's really incumbent upon the civic and business leadership in the City of Philadelphia to make the case to the state and federal agencies that the economic equation here is compelling."
As of late, you could call the crane University City's (un)official neighborhood bird. "In the last decade, [there has been] over $10 billion in private institutional investment in University City," said Sweeney. "When we start looking at public/private financing models, the predicate is here to more than justify the $2 billion investment."
Schuylkill Yards isn't just a multi-billion dollar proposal for 6-to 8-million square feet of new development: both Fry and Sweeney have sworn to build that development inclusively, benefitting the existing residents in the nearby neighborhoods of Powelton and Mantua.
Schuylkill Yard's first phase will be a 1.3 acre park next to 30th Street Station, replacing a moribund plaza in front of the old Bulletin Building. Work should begin on that this fall, and early next year Brandywine hopes to begin design work for a new skyscraper next to it.
While Brandywine and Drexel haven't yet established their inclusivity and equitable development policies for Schuylkill Yards, they have raised the prospect of requiring tenants to meet certain local hiring or purchasing minimums. Whether such limitations will be economically viable remains to be seen. If they aren't, then the principals will face a difficult choice: renege on their inclusivity promises and face the ire of betrayed neighbors and politicians, or scale back their ambitions in the face of weaker demand for office spaces with such restrictions, and risk the success of both the Schuylkill Yards and 30th Street Station District plans.
(30th Street Station District Plan)

(30th Street Station District Plan)

(30th Street Station District Plan)
WHAT'S $2 BILLION AMONG FRIENDS, ANYWAY?
While all of the principals gathered at the unveiling said $6.5 billion for the capping and new skyscrapers was a lot of money, it's a relatively cheap price tag. A similar capping project in New York City, Hudson Yards, carries a $20 billion price tag, and that project covers just 26 acres of rail yards compared to 30th Street Station's 50 to 70 acres. Can we trust that number?
Yes, said Natalie Shieh, project director for the 30th Street Station district plan. The engineering challenges at Philadelphia's rail yards aren't as daunting as those facing Hudson Yards. Not all of the rail lines being covered are fully active as with Hudson Yards, and the geography isn't as challenging, said Shieh.
While the 30th Street Station master plan's total price tag is less than Hudson Yards, the estimated public contribution is double: Hudson Yards only used $1 billion in taxpayer funds.
It's still too early to say exactly what kind of financing the capping project could see, although it would seem ripe for tax-increment financing and a business improvement district.
WAIT WAIT… DON'T TELL ME (THAT THIS MIGHT NOT HAPPEN)
The 30th Street Station District Plan is undoubtedly the most ambitious serious infrastructure and development proposal Philadelphia has seen since Ed Bacon tore down the Chinese Wall. But its vision is a long-term one, 35 years, and a lot can happen in three decades.
When the Pennsylvania Railroad built 30th Street Station in 1933, it was still one of the largest corporations in the world. As Brandywine's Sweeney said, the Pennsy executives thought 30th Street Station would transform Philadelphia, and draw the city's core closer to the Schuylkill River.
But thirty-five years after 30th Street Station opened, the Pennsylvania Railroad had folded, merging with a New York City rival in a desperate attempt to stave off bankruptcy. It didn't work. Two years later, the company was no more, and its grand plans for 30th Street Station went unfulfilled.
Will Brandywine, Drexel, Amtrak, SEPTA, and PennDOT be able to succeed where the Pennsylvania Railroad failed? Only time will tell.