Postcard from Minneapolis
July 8, 2009
Previous postcards: China, San Francisco, Germany, Pittsburgh, New Orleans, New York City, Boston, San Antonio

By Thomas J. Walsh
For PlanPhilly
MINNEAPOLIS – In a town more known for its months of snow and ice, the first thing you notice about Minneapolis is that you are constantly running into bodies of water. Minnesota's state nickname is "Land of 10,000 Lakes," and upon approach to Minneapolis-St. Paul International Airport, it seems as if about 2,000 of them can be spotted through the cabin windows.
In fact, Minneapolis proper has 22 lakes over 59 square miles, according to Minneapolis Planning Director Barbara Sporlein. That's one for every 18,000 residents – not a bad ratio, especially since lakes within city limits can also justifiably be deemed open spaces, ones that will never be developed.
Arriving on a Saturday at about midday in late April (I was in town for the national conference of the American Planning Association), I had taken a walk and stumbled upon Loring Lake, a quiet spot amid the attractive Loring Park neighborhood. It was maybe a half-hour on foot from my hotel (The Marquette; I give it 3.5 out of 5 stars), amid the towers of downtown, and I was suitably impressed already, especially with the discovery of the large footbridge over Interstate 94 that connected me with the Minneapolis Sculpture Garden.
The Grand Rounds
It was at this early point in my travels that I first noticed the signs for the "Grand Rounds Scenic Byway," a public green corridor that circles and weaves its way through the city. Unfolding my map, it was also here that I realized that Loring Lake is practically a pond when compared to others in the city, such as Cedar Lake, Lake of the Isles and Lake Calhoun. Those are three of the lakes included in the "Chain of Lakes" – one of seven districts that make up the Grand Rounds.
Built in the 1930s as a Civilian Conservation Corps project, the 50-mile Grand Rounds is both grand in scale and concept, not confined to the normal interpretations of what constitutes appropriate city trails. There are roads that allow for car traffic on the Rounds (top speed: 25 miles per hour, and no big trucks allowed) as well as exquisite bike and jogging paths, making use of natural settings and gritty urban spaces. Of course, it helps that the city bought up all the land connecting the bigger lakes, ensuring that they all remain open to the public.
All this is burying the lead a bit, as we say in the trade, and if I sound a bit breathless, hey, guilty. After a year and a half of nearly full-time writing about city planning, zoning and waterfront redevelopment, no amount of prior reading prepared me for the true jewel of Minneapolis – the waterfront along the Mississippi River. But more on that in a minute.
Hennepin Ave.
Back over the footbridge, I made a quick refreshment stop at a table in front of Joe's Garage on Harmon Place (where the façade is a nifty take on the concept of "exposed brick"), before making my way back downtown via Hennepin Avenue, named for the county that contains the Twin Cities, which in turn was named after Father Louis Hennepin, the 17th Century explorer and missionary.
Hennepin Avenue is Minneapolis' major theater district, with a lively nightlife that includes the Warehouse District. Neko Case was playing at the State Theatre. Wandering around, criss-crossing the street, I ditched any pretense of not being a tourist and kept the camera out. After a few hours of hoofing it, I found Gluek's, a fourth-generation family bar and restaurant a half block down Sixth Street, not far from the Target Center (home of the NBA's Timberwolves) and suddenly I remembered that, oh yeah, I'm in the Midwest.
The 1902 building, cavernous yet cozy inside, was packed. A band played Western swing on a small stage in front of a beauty of a stained-glass window, and a glance at some of the plates full of protein-heavy fare being enjoyed was all I needed to decide to make camp, with my Star-Tribune and an alternative weekly, for dinner. Gluek's history is rooted in a brewery going back to 1855, and these days it still has its own brands. Settling in, I noticed the guy at the table next to me had an attractive reddish ale in front of him that was the size of his head. I thought, "When in Minneapolis…"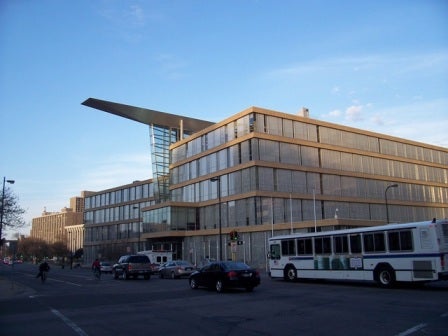 Leaving the restaurant while it was still daylight, I continued east and took in the exterior of the distinctive Minneapolis Central Library, designed by Cesar Pelli and completed in 2006, as daylight began to fade – making its visible interior spaces and its 90-ton "wing," which overhangs both sides of the building, even more dramatic. Translucent and majestic, the building is also green, with energy efficient windows and "drought resistant" ground cover.
I then came to the river and the Hennepin Avenue Bridge, the first time I ever saw the Mighty Mississippi on foot (that is, not blasting across it at 70 miles on hour on an interstate). Flowing through the heart of the Twin Cities, not far from the river's headwaters, the Mississippi is arguably at its Mightiest here – the Saint Anthony Falls, said to be the only waterfall on the entire expanse of the Mississippi (next year's APA conference, by the way – and not coincidentally – will be at the extreme southern end of the Big Muddy, in New Orleans).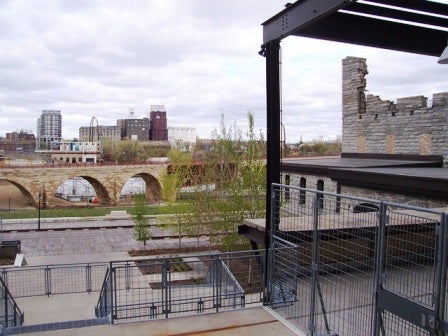 Minneapolis' history is married to that great rush and expanse of water, with mills lining both sides for a century or so. There is evidence aplenty of their dominance still remaining – in, around and through the areas bordering the river. And those mills, bridges, locks and rails that were once active with industry now greatly inform the design and ease of use inherent in the city's extraordinary waterfront recreation areas that would make any denizen of Fishtown – or Society Hill, or Pennsport – weep, instantly.
The waterfront
It's tough to know where to begin when describing Minneapolis' riverfront. In various places on the southwestern side it is known as the St. Anthony Falls Heritage Trail, Mill Ruins Park and other designations. The northeastern side (think of it, oh so very briefly, as our Camden) is largely residential, with Main Street running next to the river, separated by bluffs and parks. But I had only a cursory view on that side.
I walked from the Convention Center to the river one afternoon (about a half hour at a good clip), traversing some barren streetscapes along the way on the edge of town. Not surprisingly, this is where the Star-Trib buildings are, since once upon a time, newspapers needed rail access and room for presses and shipping. Like flour mills, come to think of it, only much dirtier. But I'm getting ahead of myself.
I snapped some pictures of the easy-to-use light rail line along Hiawatha Avenue and 5th Street, which brought me in from the airport for a smidgeon of the cost of a cab in about half a cab's time, and even less at rush hour.
Walking toward the river, along Park Avenue, I got my first good look at converted mills, now sporting private balconies for renters and condo owners. Some buildings have seamlessly tied residential space with offices, while others – many others – are long gone.
The Mill City Museum ("the best-smelling museum ever created;" arguable), a creative renovation and partial re-build of the old "Washburn A Mill" on South 2nd St., is well worth a visit, if only to take in the unique architectural detail and the view of the Mississippi from the top floor. Built in the 1880s and steadily increasing its capacity until it could eventually grind enough flour to make 12 million loaves of bread each day, the mill was rocked by a fatal explosion, rebuilt and finally closed in 1965, joining the other shuttered factories and mills that had fallen before it.
The place almost burned to the ground in 1991. Its remaining stone walls and interiors have been girded by steel and glass, with pleasant outdoor spaces. If you do venture in, absolutely do not miss the "Flour Tower" tour (even if it means that your particular group consists of you, your friend, and 35 third-graders), which takes you up and down in a large industrial elevator, featuring moving machinery in diorama-like settings on different floors with some accompanying video. Illustrating well the heat, labor and the abhorrent inhaled particles deep within those old monster mills, the tour makes one suddenly realize, "So, that's why all the beer and bratwurst!" And you'll soon understand why it was no accident that Minneapolis was also the artificial limb capital of the world during those times.
These days, though, the town is probably better known for its arts and theater scene. Tourism literature claims there are more theater seats per capita in Minneapolis and St. Paul than in any other American city besides New York City. (Art, too – the Walker Art Center, near the sculpture garden by Loring Park, has an international reputation, but time did not allow a visit.)
A real gem of a modern theater sits next door to the old mill. The Guthrie Theater is a big blue spaceship, designed by French architect Jean Nouvel and opened in 2006, with three theaters within its circular confines that compliment the nearby grindstones of the past. It also has a cantilevered lobby that juts out more than 170 feet towards the river bluffs.
An amazing sight from the Mill City Museum's rooftop is the Stone Arch Bridge, a remarkable former railroad connector, diagonally crossing, with a slight curve, the Mississippi. Built in 1883 by railroad tycoon James J. Hill for the Great Northern Railway, it is a National Historic Civil Engineering Landmark (up close, you can see why), and it is now a well-used pedestrian and bicycle bridge – a sort of original High Line, such as the recently opened, abandoned rail track suspended above New York City's east side – that serves commuters as well as recreational users. It alone would be a centerpiece for most cities' riverfront ambitions, but here, it is simply of-a-piece.
The Central Riverfront totals about 150 acres of parks and numerous parallel trails (in some spots, there are three distinct paths) for joggers, bikers, walkers and the occasional few who arrive just to be motionless for a while. There are wooden boardwalk-like planks for occasional vehicular uses, close to the redeveloped mills. There are many picnic areas, landmarks and monuments. Think of the stretch of Kelly Drive at its widest, northeast of Boathouse Row, and multiply it by a few dozen.
The aforementioned Mill Ruins Park sports 19th century mill foundation walls, with canals and "tailraces," some still in active use to regulate the flow of the river. Above that, extending in the opposite direction from the Guthrie, is Gold Medal Park (named for Gold Medal Flour), a 7.5-acre park with a 32-foot "viewing mound" for sweeping looks at the Mississippi as it bends toward St. Paul.
Much of the riverfront is the result of decades of work, but Gold Medal Park is proof that things can happen relatively quickly. It was the result of a public-private partnership (the city and a local park foundation). It now has more than 300 mature trees. It opened only two years ago. It used to be a parking lot.
There's also a model for Petty's Island, in the midst of the Delaware River north of Penn's Landing, here (most recently, Petty's was owned by Citgo oil company of Venezuela, but in April was bequeathed back New Jersey by Venezuelan President Hugo Chávez – though it is not exactly open to the public yet). In fairness, though, Nicollet Island Park, home to the Minneapolis Pops in summer, is much closer to the mainland than Petty's. Its lower end has a promenade with a view of the city's horseshoe-shaped dam, the first dam on the Mississippi when it was built in 1858. The larger park section has a pavilion built in 1893 as the William Bros. Boiler Works, and there is a restored residential area with 40-plus homes dating back to the 19th century.
Downtown
A big part of Minneapolis' plans in recent decades was evidently a battle plan – that is, shielding downtown pedestrians from the piercing, bitter cold with miles of walkways: 63 bridges extending over streets between buildings that cover 72 downtown blocks. If she plans it right, a modern-day Mary Tyler Moore could live, eat, shop, see concerts, visit friends, go to the Convention Center and go to work without ever having to don a parka (or one of those kicky woolen berets that Mary used to like to toss into the frigid air when the mood struck her – about once a week or so).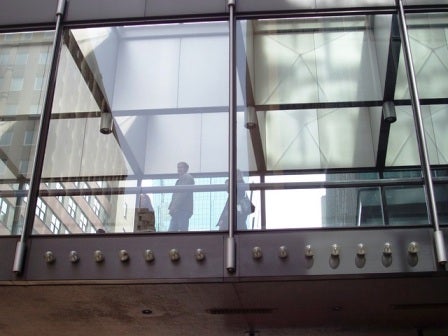 Again, this was late April, with nothing but a slight chill in the evenings, so I didn't care for them – they seemed from the outside to be somehow unattractive yet unobtrusive. But it's not my place to criticize. The average temperature in Minneapolis in January is 3 degrees Fahrenheit, jumping to double-digits (10 degrees) in February. I was assured by several locals that the skyways are much more architecturally appealing when your soul is entombed by ice and your face is immobilized by channeled, downtown wind gusts. Besides, those things may remind us of breezeways linking Atlantic City casinos to big, ugly parking garages, but here they are only for walking. And Minneapolis is nothing if not walkable.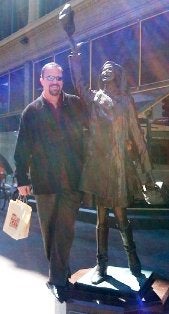 By the way, Mary Tyler Moore was indeed right where she's always been, forever a 20-something associate TV news producer for Mr. Grant, in bronze on the Nicollet Mall at 7th, in front of Macy's. The slightly embarrassing tourist snapshot here is by Philadelphia friend and fellow freelance scribe Joann Greco, who used her iPhone.
Eat Street
Breaking away from the conventioneers one day, I braved steady, cold rain in exchange for a tip on a good Mexican place for lunch, and wound up on a 17-block stretch of Nicollet Avenue that's been districted – seemingly by charming circumstance and not by design – as "Eat Street." The avenue, leading out of downtown, is a blur of mixed incomes, races, ages and ethnicities; of building styles, sizes, uses and smells.
That ain't all
Minneapolis in general seemed somewhat planning-savvy. How else to explain a weekly alternative newspaper – the Downtown Journal – that is predominantly about development and zoning issues? The paper's lead story from April 27 began as follows: "For an example of what happens when a group of developers has an idea for a site that has a half-dozen plans and a concerned neighborhood attached to it, read closely." (Done. Good piece, Cristof Traudes.)
But there's more, much more, to this gorgeous and very environmentally conscious city, which in the warmer months is also, quite literally, green. But I have to turn my attention to our Zoning Code Commission, and pack for my trip to Chicago, where (hopefully) the agenda will be all pleasure. Look for another installment of PlanPhilly's "Postcard" series from the Windy City later this summer.
I didn't even mention the sprawling University of Minnesota campus, where the funky surrounding neighborhood is called – I kid you not – Dinkytown (a Twin Cities lifer said he did not know the origins of the name, only that there are a half dozen or so theories). And that the Convention Center itself was convenient, easy to navigate, pretty with a campus-like feel, and familiar to Philly types, with its reddish brick exteriors.
Nor did I touch on St. Paul, where I was the beneficiary of a terrific bus tour hosted by a few local neighborhood advocates active in planning and zoning matters for that city. It was pouring rain for several hours on a Sunday afternoon, and they rode around with us like it was 75 and sunny.
The rest of this is fluffy and mostly positive.
"We have a long, rich history of planning, and that remains strong today," Sporlein told the APA attendees. "We have strong support for planning, by the city leadership, by the neighborhoods and the broader community." She also noted a strong regional planning function, which she characterized as "very unusual."
The local media – newspapers and TV – took note of the conventioneers, asking residents (politely; yes, Minnesotans did seem very nice, it's true) to put on their best face for the out-of-towners who have a lot to say about cities.
"Many count last year's Republican National Convention as the region's moment in the sun, but in its own quiet way, next week's American Planning Association (APA) conference could have just as great an impact on the Twin Cities' reputation," noted Finance and Commerce, a Minneapolis daily which sent reporters to many of the convention's keynote speeches and events. "With their collective microscope on the Twin Cities, these professionals aren't likely to leave without some impression of local parks, neighborhoods, transit and city leadership."
Whether it was intended for APA attendees' eyes or not, the paper also mentioned that Monocle magazine, a high-falutin' British publication, in June 2008 ranked Minneapolis as 19th among its "top 25 livable cities" in the world, one of only three American cities to make the list (Honolulu was 12th; Portland was 25th). Somewhere amid the public relations process, press releases had it that Minneapolis was one of the top 20 cities, which is not exactly a lie. But is it Minnesota-nice to exclude those other five towns, even if one is a Portland, one of the nation's greenest environmental competitors?
Speaking of magazine coverage, Minneapolis Mayor R.T. Rybak, a likeable middle-aged Democrat who charmed the APA crowd before the opening keynote, likes to tell a joke about a few honors the city has garnered in recent years from other publications that list the best and worst of cities in specialized categories. Among them, his town earned "most fun" city in America, the "cleanest city" in America, and "best city in which to sleep," he said. The only conclusion to draw from that combination, he said, was, "OK, you have a good time in bed here, but it's good clean fun."
Rybak, after bragging to attendees that he was the first mayor of a major city to endorse Barack Obama for president, mentioned something else that was perhaps the most impressive among the city's achievements – it is the first major American city to have recaptured all of its pre-World War II downtown population, he said.
If you've never been, go. The Twin Cities are sophisticated and metropolitan, and would make a nice staging area for outdoor vacations in the non-brutally cold months.
"I was pretty favorably impressed," said Gary Jastrzab, assistant executive director of the Philadelphia City Planning Commission, shortly after returning from the APA convention. "I love the light rail. I can understand why they are thinking of expanding it to St. Paul through the University of Minnesota."
Jastrzab, who attended with four other Planning Commission staffers, said he was surprised by the level of activity in the downtown area. "Some of that may have been because of the fact that there were 4,000 planners there, but the number of restaurants and nightlife activities for a city that is maybe a third the size of Philadelphia, in a region maybe half our size – I think maybe that was what surprised me the most."
And one other thing: "I'm told they shovel the snow off the bike paths," Jastrzab said, with the incredulousness that only a Philadelphian could express. "Who would've thought?"
Contact the reporter at thomaswalsh1@gmail.com.
ON THE WEB:
Minneapolis Riverfront District map (illustrated PDF file): http://www.minneapolis-riverfront.com/images/map_riverfront.pdf