Public gets a new view of Market East
Feb. 24
By Thomas J. Walsh and
Kellie Patrick Gates
For PlanPhilly
Broad plans for Market Street East, the inexplicably diminished commercial zone between 8th Street and City Hall, got their initial airing Tuesday night at a special presentation from the Philadelphia City Planning Commission, held at Thomas Jefferson University's Dorrance Hamilton Auditorium on Locust Street.
While the background hum has consistently been the controversy over the slots parlor slated to be moved into The Gallery's third floor, Planning Commission Executive Director Alan Greenberger and the main architect for the early-stage plans, Stan Eckstut, stressed a public realm set of principles to lay the groundwork for a new intermodal transit station and a newly concentrated Center City "Main Street" along 10th Street. The emphasis is on bringing people and business back to Market Street – casino or no casino.
Both men said that the 30,000-foot view of their intentions was to concentrate on a sense of place and overall improvement, rather than pinning hopes on any particular project – such as the infamous DisneyQuest entertainment googlaplex that was sucked into a sinkhole of hype at the southwest corner of 8th and Market; or the mythical Nordstrom department store, once the Great Retail Hope for the 1100 block of Market Street's south side. Or, these days, a Foxwoods casino.
Other principles cited as bedrock for the large-scale makeover include an expansion of Chinatown (south, to gain a Market Street presence, and northeast, for in-fill development toward a revitalized Franklin Square) and Thomas Jefferson University (perhaps north toward Market).
"The potential of a casino has made this planning effort more urgent," Greenberger said. The city had thought there would be more to talk about by now regarding the casino. "We initiated this planning process, and the intent was it would run parallel to what the casino's plan would be," Greenberger told PlanPhilly in an interview late Monday. "But actually the Planning Commission has gotten out ahead of the casino planning." (See below for more on Foxwoods.)
Foxwoods and the owners of The Gallery, Pennsylvania Real Estate Investment Trust (who were behind efforts for the Nordstrom a decade ago, by the way), have been sitting in on meetings with the Planning Commission and Eckstut. Greenberger and his staff have also been discussing the plans in private meetings with community and business leaders from nearby neighborhoods, including Chinatown, Center City and Washington Square West.
Philly's Hole in the Donut
An actual marketplace, East Market Street was an integral part of Philadelphia's colonial era. It had been the center of commerce in the city until the 1970s, when several department stores (Gimbels, Wanamaker's, Strawbridge's, Lit Brothers) went into serious decline as the city continued to lose factories, jobs and residents. The Gallery, part of a larger Market East redevelopment effort, closed itself off to the street.
"Obviously that strong presence has been lost over a series of decades," Greenberger said. "Not intentionally. … But I think everyone intuitively understands the weaknesses of that area."
For at least a decade, the area bounded roughly by 8th, 13th, Chestnut and Vine streets has been known to city officials and developers as "the hole in the donut." While much of the rest of Center City re-populated with young, upper-middle class professionals and empty nesters in new apartments and condominiums, Market Street remained virtually residence-free. The old Reading Railroad Headhouse has been handsomely restored within a Marriott, complete with a Hard Rock Café at 12th, but even that corner is bewildering to out-of-towners looking for either the Market East train station or the Pennsylvania Convention Center, blocks north, on Arch. Even 13th Street, long a degraded stretch south of Market, was given new life when Tony Goldman bought up a slew of properties and turned many into nightspots, restaurants and spruced-up rentals.
In fact, Greenberger, in the earlier interview, said there is hardly any notable landmark, for Philadelphians or visitors, with an East Market address, or an obvious entrance.
"If you think about what's happened over the last 30 years, Market Street has been almost systematically stripped of the presence of things that exist just behind it, all around," Greenberger said. The entrances to the Market East Station itself (along with the Greyhound Bus terminal at 10th) lurks on tiny Filbert Street. "Chinatown, robust and economically viable? Zero Market Street presence. Thomas Jefferson University, the second largest private employer in the city? No. The Convention Center? … Not really."
The Reading Terminal Market? Not even close. Even in the historic district, the main attractions on Independence Mall and at the Constitution Center sit blocks apart from Market. Perhaps the only new or restored notable building to embrace East Market Street, Greenberger suggested, is the Loews Hotel (the PSFS Building at 12th) and a few others west of it.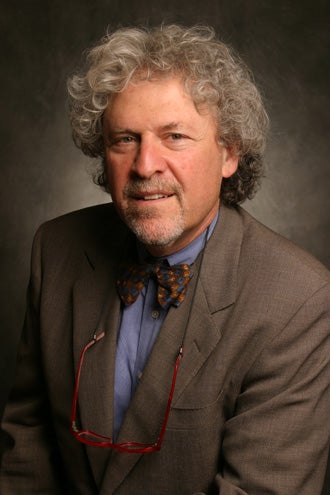 So Tuesday night was about the core of East Market only, said Eckstut, founding principal of Ehrenkrantz Eckstut & Kuhn Architects, based in New York. He told the crowd of about 200 or so that his firm, commissioned by the city, is about a third of the way through its process, with much more detail to come.
Later, he estimated that a city plan of this magnitude has roughly three to five years to find its way to firm traction, or it will very likely fail.
"It's important that we don't get consumed by casinos when we have such an extraordinary opportunity," said Eckstut, a native Philadelphian. "… Especially since so much has been accomplished in many other parts of Center City and this area still has the potential for change." While Greenberger pointed out its weaknesses, Eckstut talked upside. "I think there are many more strengths to build upon. Clearly the emphasis of all city design is on the public realm. … That's been our focus since day one."
The boundaries for Eckstut's vision are wide – from Sixth Street to Broad and from Vine Street to Walnut. Within that area, high-density, maximum growth efforts are meant to surge from all directions, with 10th and Market as the ideal center of a re-fashioned district. Its four corners are emphasized.
Guiding the plans is the concept of no one particular use, including and perhaps especially a casino, dominating the street life. Eckstut said the idea is to accommodate everyone and all uses, 24/7, the more the merrier, always active.
"The district is filled today with enormous variety," he said. "We look at the setting and what we see is just a lot of thriving areas" – Old City, Washington Square West, Chinatown, Market Street's western office corridor. "Every side is totally different from the rest. There is absolutely no uniformity, and we want to let this variety continue."
Eckstut said he feels the next definite investment in the area, the one most important first step, might very well not be the Foxwoods casino. Instead, it would be a decidedly less sexy, modernized and expanded intermodal center, connecting the subway system with the west end of the Market East commuter rail concourse and the bus stations – all below grade, ideally.
Show me the money
"You have already built the most expensive part," Eckstut said. "The thing we're missing is the facility and the environment for buses." Even if there is no casino, bus traffic is on the rise, Greenberger noted, to and from New York and Atlantic City and everywhere else. If Foxwoods does open, there will be buses galore, Eckstut said. So best to "make the bus experience a first class experience. … We have the opportunity to do a really world class intermodal center."
So, how much, ballpark? PlanPhilly asks this question a lot because citizens count on city officials to hold developers and high-minded architects accountable, albeit to a very limited degree, through the reporting of approximate costs.
So it was mildly refreshing that Eckstut hazarded a guess. He said his firm built something similar in Los Angeles eight years ago for about $150 million. In Houston, he's working on one with a budget of about $75 to $90 million. "But they're all different," he added. "We don't need to build a huge one here. But it should be beautiful, built to last forever and [have] not a piece of concrete."
Andy Altman, deputy mayor for planning and commerce, said its too early to know precisely how the plan for Market East will be funded, or if it would require a separate bond issue.
Financing will need to come from both private and public sources, he said, much of it facilitated by quasi-public agencies like the Redevelopment Authority and the Philadelphia Industrial Development Corporation. A Market East master plan can guide where such agencies put their money, and so it is "useful for me, from a Commerce perspective, as an important framework for investment," Altman said.
Altman also said Federal money might be available for those projects. The plan can also help when the city is working with private entities, he said, especially if they believe the overall vision is good for the neighborhoods, and are thus motivated to take steps to make it work.
Mostly, though, it's about leveraging what's already in place, Eckstut said. Market East has the most concentrated infrastructure of any section of the city, with all of that underground rail topped by buses and girdled by the highway system, namely the Vine Street Expressway, which, for better or worse, whips motorists into and away from the area north of Market Street in an almost gravitational pull. Along with efforts to further develop Chinatown, part of the plan would be to concentrate traffic, exiting I-676, more effectively along both 6th Street and 8th, while at the same time making those blocks more grid-like and city-like. Just how will that neat trick be pulled off? Stay tuned, the resident who asked was told.
Levy: Rip out the buses
Center City District chief executive Paul Levy, who was part of the earlier meetings with stakeholders, said he likes much of what he's heard so far.
The emphasis on 10th Street as a walkable spine for Chinatown, Thomas Jefferson, and Wash West and "the whole notion of connecting neighborhoods to the north and south is the right idea," he said. He's not certain there's been enough emphasis on an east-west connection, though, linking the Convention Center and hotels to Independence Mall.
Levy likes the intermodal transit idea, but is "skeptical" about a center located near The Gallery. The existing bus station is at best problematic, Levy said. "I think it should be removed and put out near 30th Street Station," he said. "The bus station currently creates major problems in terms of both Arch Street and Filbert Street."
The bus station ended up where it is by accident, anyway, he said. It used to be on West Market, but was moved when the pyramid-crowned Mellon Bank Center was built. While the current station is convenient to Market East Station, Levy said a 30th Street site would have that advantage, too – along with proximity to Amtrak.
Foxwoods: It's the economy, don't worry about it.
Asked earlier why Foxwoods' plans were stalled, Greenberger couldn't say for sure. "I think it's just the economy," he said. "They have to finance themselves, too. These days, any time there's a discussion about a project or development, casino or not, my impression is that every single thing – no matter how much market there is or how brilliant it is, there's a kind of prolonged discussion."
Casino projects from Atlantic City to Las Vegas have slowed down or stopped because of the frozen credit markets, and industry experts say it turns out casinos aren't recession-proof after all. But Foxwoods spokeswoman Maureen Garrity said it's not money that has kept Foxwoods from coming up with plans to show the city.
"The short answer would be we are still making progress, and still working with the landlord on lease negotiations," she said.
Garrity said nothing can really be designed for the prospective Foxwoods at The Gallery until Foxwoods reaches a lease agreement with PREIT. The design would need to be based on the space leased to the casino.
When asked if Foxwoods was having financial difficulties, like so many other gaming companies and tribes, she said, "We are confident that we will be able to build this project," adding that the investors are all still in place. As for relationships with banks for project loans, Garrity said, "I am not going into the details about the financing. But we are confident we will be able to move forward with the project."
Garrity said she did not know when a lease agreement would be reached with PREIT, but described the negotiations as "positive" and "moving forward."
Foxwoods and PREIT apparently have a carte blanche timeline. Since there's been an awful lot of talk about "sunset clauses" at Planning Commission public meetings during the past year, one attendee wondered why the city was behaving like a partnership with Foxwoods was a done deal. Quoting from a stack of documents in the crook of his arm, he got no relief or answer to his question.
Altman, asked afterward about the Foxwoods delay, said the city was proceeding with the Market East vision without a casino plan so as not to waste time. But "we can't really give Foxwoods a deadline," he said. "A deadline is a bit artificial. I think they are working hard at it. It just takes time to work through."
Levy said that if there is no casino, Market East still needs improvement. And even if Foxwoods opens there, everyone needs to realize that it would not be an endless source of revenue for projects, he added – other funding streams must be explored.
The money issue makes Levy implore the city to be cautious.
"Planners are not asked to figure out how to fund these things, which is fine," he said. "But the city has to be careful that it doesn't raise expectations about improvements without thinking about how to finance those solutions."
Jeff, now?
Jefferson University came up several times during the meeting as an example of an institution the city would like to see on Market Street. If Jefferson wanted to build a research tower with retail on the ground floor, Greenberger said, the city would likely be amenable.
Jefferson was also given kudos for developing 10th Street into a more vibrant avenue. And then there was the fact that we were all sitting in a new Jeff auditorium. Hmmm.
Asked if the city was in talks with Jefferson, Altman said yes – but only at the same level as it is with the rest of Philadelphia's "eds and meds." The city is talking to all of them about their expansion plans, he said.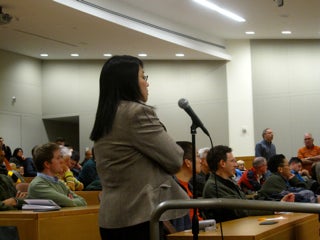 Keeping an eye on things
Greenberger made it plain before the presentation that there would be no casino plans to share, but as expected, anti-casino residents from Washington Square West, Chinatown and elsewhere made their presence and their opinions clear during the Q&A period following.
For Asian Americans United board member Helen Gym, the possible location of Foxwoods at The Gallery at Market East is just simply the elephant in the room, and the future of the area cannot be adequately discussed without dealing with it. Gym was among those stakeholders who met with the Planning Commission and Eckstut's firm. She again publicly expressed her displeasure with the process Tuesday night.
Greenberger reassured Gym and the others that there would be a public presentation of Foxwoods' plan when and if it comes to fruition.
Contact the reporters at thomaswalsh1@gmail.com or kelliespatrick@gmail.com.

WHYY is your source for fact-based, in-depth journalism and information. As a nonprofit organization, we rely on financial support from readers like you. Please give today.