Tonight: Planning Market East corridor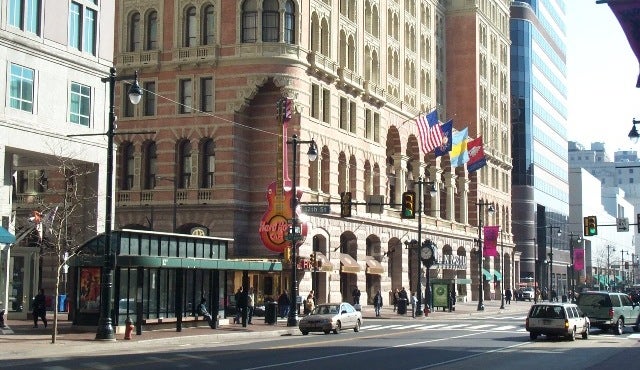 Feb. 21
By Kellie Patrick Gates
For PlanPhilly

If you're going to today's Planning Commission community meeting on preliminary findings for the Market Street East corridor, don't expect to see any concrete plans.
You will hear about several ideas for the area – including the development of a transportation center that would better organize bus traffic and help link buses to other forms of transit, such as regional rail and the subway system.
"It's not a presentation of results," Planning Commission Executive Director Alan Greenberger said. "It's a presentation of what we have heard from community people and business groups, and an attempt to present the principles we think will create a basis for coming up with a plan."
Another likely topic is how best to play up the businesses, neighborhoods and institutions that already exist nearby, but don't really have a discernable presence on Market Street.
Greenberger said these are some of the design principles that city staff and the consultants hired to help them devise a long-range plan for Market East have come up with so far. They've also been discussing these issues in private meetings with community and business leaders from nearby neighborhoods, including Chinatown, Center City and Washington Square West.
At the recent Planning Commission meeting, Greenberger stressed that Tuesday's meeting will not include a casino presentation, and he urged everyone who heard him to spread the word.
"The subject will come up, but it will be peripheral to the whole thing. The principles are much bigger than the casino itself," he said Friday. The city has directed its consultant to consider the fate of Market Street both with and without a casino. "It clearly represents a bias that says, even if a casino is there, it will not just be about them," he said. "Our interest is in not having it dominated by a casino – we think there's a lot more to Market Street than a casino."
But for Asian Americans United board member Helen Gym, the possible location of Foxwoods at The Gallery at Market East is the elephant in the room, and the future of the area cannot be adequately discussed without dealing with it. Gym was among those stakeholders who met with the Commission and consultant, Ehrenkrantz Eckstut & Kuhn Architects of New York.
Gym said she was frustrated by the request to look at the long-range plans without details about the casino's effect. Especially, she said, since some of the ideas that were being discussed seemed to only be necessary if Foxwoods goes up at The Gallery.
"If you looked at some of what they are proposing – things like the idea of making 8th street a central transit line from 676 and creating a bus depot on Filbert Street – it really is all about a casino on Market Street," she said in an interview Friday.
EE&K is the main consultant working on the long-range plan for Market East. They have a not-to-exceed contract for about $250,000, Greenberger said.
Greenberger said Friday that an inter-modal transit hub and an examination of how to improve the 8th Street route are important to the city's long-range plans whether or not The Gallery becomes home to a casino.
"We think that dealing with buses and making a stronger set of connections between the kind of transit that exists there now is worthwhile no matter what," he said. But the degree of the changes and the location of the inter-modal transit hub could differ if a casino comes to the neighborhood, he said.
The area around Market East is already traveled by many buses, including Greyhound and other private companies, buses to New York and the Jersey Shore, New Jersey Transit, PATCO and SEPTA. A casino would bring more, Greenberger said.
"Buses, if there are too many, tend to be unfriendly neighbors to pedestrians on the street," he said. And so one of the design principles being discussed is a more coordinated way of dealing with buses – maybe building an inter-modal depot of sorts where commuters could switch from buses to rail without having to cross the street.
"What we know in the world of transit is the harder the interconnections are, the less likely they are to be used," he said.
"We think that dealing with buses and making a stronger set of connections between the kind of transit that exists there now is worthwhile no matter what," he said.
While Tuesday's meeting will focus on the Market East corridor, Greenberger said the city is looking at improving transit connections everywhere. He gave the example of switching between regional rail and the subway at 30th Street Station. "You have to cross traffic and go back in. Why is there not a direct, weather-protected way to do that?"
In fact, Greenberger said, there used to be one – a tunnel. "It was kind of squirrelly, with twists and turns," he said. It was closed and the entryway into 30th Street Station covered over, he said, likely due to safety concerns.
Examining how traffic moves into the neighborhood along 8th Street also will be done with or without a casino, he said. "Eighth Street is generally the way in now, and so you'd want to examine how that's working and make it as good as it can be," he said. Sixth Street is another, less obvious route in, he said. Improvements could be as simple as better signage to help drivers get to their destination or parking, he said. But there's also a need to look at the capacity of the street, and also at how attractive it is.
Greenberger said the city and EEK have done some brainstorming about the things that give life and a sense of place to a street or city, and they discovered that almost all of it exists "somewhere in the vicinity of Market Street, but not with a Market Street address."
For example, he said, the Regional Rail Station is right there, but where is the big entrance on Market Street? Reading Terminal Market's real front door is on Arch Street, he said. The Gallery's doors are mostly inside, in typical mall fashion. And even the Pennsylvania Convention Center doesn't have much of a presence on Market.
"Everybody needs to be on Market Street in a way," Greenberger said. "Market Street needs to be an address with a lot of different uses."
Being on Market Street doesn't mean moving entire buildings, it just means giving them a Market Street presence, he said. Greenberger pointed to the way theaters get themselves onto Broadway with marquees. The working part of a theater is a huge box, Greenberger said, and nobody wants to look at that. But the marquees provide a big presence while taking up relatively little space, he said, and they show people where to go.
Greenberger said Market Street might also be enlivened with more private residences and some sort of signature for the vibrant neighborhoods located nearby – perhaps something akin to Chinatown's Friendship Arch.
Gym said her organization would love to see residences on Market Street. "No one denies we think it could be a great address, that's a given," she said. But it's impossible for her and many others to talk about those possibilities without fully addressing the casino question.
Her wishes for Tuesday night? "I would hope that the city would present an honest proposal about the impact of a casino in an urban center – an estimate of the cost, consequences, impact on communities. That would be a start."
Studies will happen, Greenberger said. "Certainly there are studies that very much relate to the potential presence of a casino that will be done, especially relating to traffic and access," he said. Studies will also examine safety issues and gaming addiction. "Economic impact is harder to measure," he said when asked if that would also be studied. "But it's a piece trying to be understood."
None of those studies will be part of the Tuesday discussion, Greenberger said. People need to think of the session like one of the principle-building sessions that PennPraxis held prior to the creation of the plan for the Central Delaware waterfront, he said – it's about broad topics and goals.
Other principles the city has in mind: High density and preservation of the historic character. "If you look at buildings like Macy's, Wanamakers, and the Federal Building at 9th and Market, they all have a traditional masonry style and lots of windows," he said. "They are all eight or nine stories or less, and that presents a pattern of scale and character."
So far, most of the stakeholders seem to like the big principles, although some are anxious to get more specific plans, Greenberger said.
Tuesday's meeting, to be held at 7 p.m. in the Dorrance Hamilton Auditorium at Jefferson University, 1001 Locust Street, is a chance for everyone else to weigh in, Greenberger said. He promised the input will be included in the plans that eventually result.
Contact the reporter at kelliespatrick@gmail.
WHYY is your source for fact-based, in-depth journalism and information. As a nonprofit organization, we rely on financial support from readers like you. Please give today.