After GoFundMe scam, N.J. lawmaker seeks tougher penalty for crowdfunding swindlers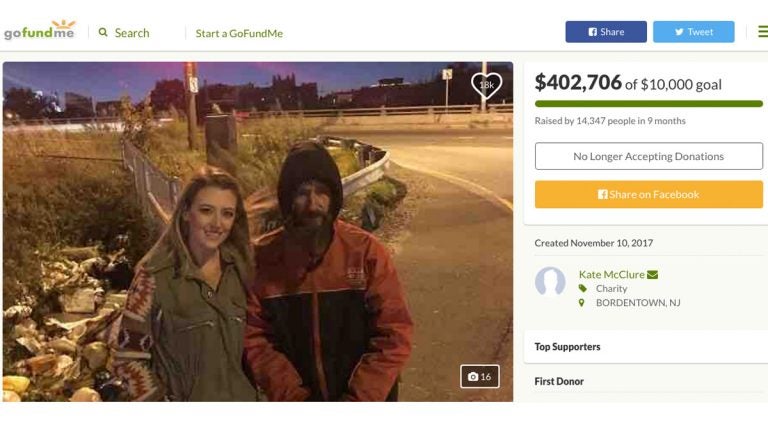 When Danny Clayton first heard the story about a down-on-his-luck veteran using his last $20 to help a woman who had run out of gas in Philadelphia, he was moved.
Clayton, who lives in Milwaukee, found the GoFundMe page set up to benefit homeless vet Johnny Bobbitt — and he donated $25.
"This one just fit the profile of something that was easy to toss some money at," Clayton said.
The only problem? The story was a lie.
Bobbitt and South Jersey couple Mark D'Amico and Katelyn McClure had fabricated the feel-good tale, prosecutors have now said, to trick the public into donating to a crowdfunding campaign on the website.
"I fell for it, hook, line, and sinker," said Clayton.
By the time Burlington County prosecutors filed charges against the three in November, Clayton and hundreds of other kind people had already donated more than $400,000 to the campaign, money that was spent on a BMW, a trip to Las Vegas, and high-end handbags.
All three are facing conspiracy and theft by deception charges.
Now a New Jersey lawmaker hopes to increase penalties for scammers who deceive the public by using fake crowdfunding campaigns for profit.
"I wanted to send the message that this will not be a slap on the wrist," said Assemblyman Ron Dancer, R-Monmouth. "Anyone that commits a fundraising crime online — in the future, if this legislation is signed into law — they will not only do time, but they're going to pay for crime in more ways than one."
Under Dancer's legislation, perpetrators would have to repay all contributions in full and fork over an additional fine of $500 per contribution.
(GoFundMe pledged to return any donations that were given to the Bobbitt campaign. Clayton said he got his $25 back.)
Dancer also said the bill would bump up any crime involving crowdfunding by a degree.
"People here in this state, we are very charitable," he said. "Don't deceive us."
Still, Clayton said the whole episode has not soured him on helping others.
"I guess I'd still rather be kind of hopeful in life and think that things like this really do happen," said Clayton, who has continued to donate to GoFundMe campaigns even after learning of the New Jersey fraud.
"I threw another $25 at something else and felt just as good."