Legal sports betting now a sliver of $6 billion in Super Bowl wagers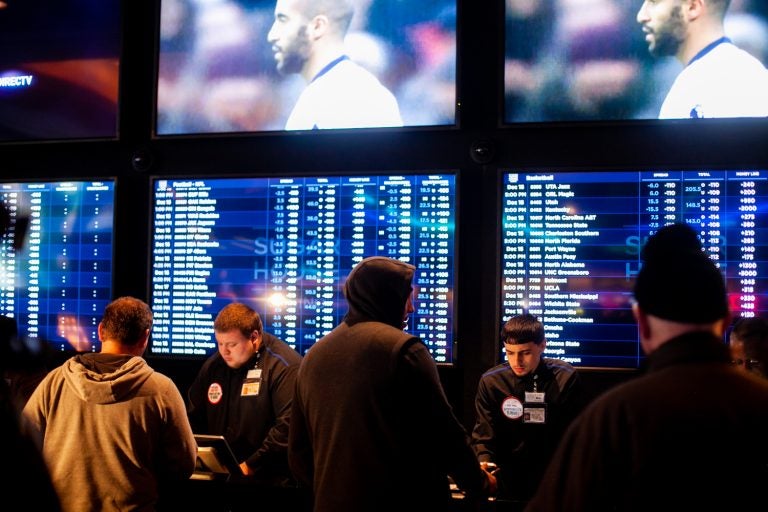 Super Bowl Sunday is here. That means beer, greasy takeout, and whole lot of sports betting — an estimated $6 billion worth of wagers, according to the American Association of Gambling.
The overwhelming majority of those bets — well over 90 percent  — will be placed illegally. The rest will be completed above board, including, for the first time, in the entire region.
Organizations that help problem gamblers in Pennsylvania, New Jersey and Delaware say the change has not altered their outreach strategy on what's typically the biggest day for sports betting each year.
"Any day for a compulsive gambler could be a terrible day. There may just be a little more impetus to gamble during the Super Bowl," said William Gavin, spokesman for Greater Delaware Valley Intergroup, which organizes Gamblers Anonymous meetings in Pennsylvania and Delaware.
The Garden State authorized sports betting in mid-June.
Residents can now make wagers at 10 casinos and racetracks there. People can also place bets online.
Neva Pryor, executive director of the Council on Compulsive Gambling of New Jersey, said people with a problem should steer clear of the big game so they aren't tempted to bet. They may also want to consider taking drastic measures, she said, such as blocking themselves from gambling websites or banning themselves from casinos and racetracks.
"They can self-exclude for a certain period of time and also for a lifetime," she said. "That means they're shut down on the internet. And if they walk into a brick-and-mortar and win or are seen, then they might be given a citation or asked to leave because then they're seen as trespassing."
Arlene Simon, Pryor's counterpart in Delaware, the first state after Nevada to authorize single-game sports betting, said there is always an uptick in calls for help on Super Bowl Sunday.
But her message remains the same: Bet with your head. If you're a compulsive gambler in Delaware, Simon said it's best to call her organization's 24-hour hotline if you feel the urge to put money on the game.
"And we'll be there to help you along the way," said Simon, who leads the Delaware Council on Gambling Problems. The Council can be reached at 888-850-888.
Pennsylvania, which officially launched sports betting in November, has six sites where people can make wagers. Similar to Delaware, there is no online gambling yet.
Residents who need help can call the Council on Compulsive Gambling of Pennsylvania at 800-848-1880.
Pryor's organization can be reached at 800-GAMBLER. 8
WHYY is your source for fact-based, in-depth journalism and information. As a nonprofit organization, we rely on financial support from readers like you. Please give today.