Sanditon: Season 2 Preview
☕  Get the tea on your favorite PBS dramas with our recap newsletter, Here for the Drama. Subscribe for free. 💌
Dear reader,
The sea breeze in our hair, the wind whistling around the cliffs, the sounds of — heartbreak? Oh, you're in the right place. You must be here for the drama.
I'm Christine, member communication specialist and Austen aficionado. I've read and watched Pride and Prejudice, Sense and Sensibility and Emma more times than I can possibly count. Elizabeth, Elinor, Emma: women who are strong, independent, not afraid to mince words and certainly not without their flaws — these are woman I can relate to. And with this exploration of Austen's unfinished novel, now I can count Charlotte among them too.
So I'm thrilled to be joining you on this visit back to Sanditon and provide you with recaps, insight, extra features and — above all else — opinions and predictions! There are six episodes of Sanditon Season 2, so I'll be in your inbox for the next six Monday mornings. I can't wait!
With that being said: Our bags are packed, our hats are tied — and we're heading back to our favorite seaside retreat, what our pal Tom Parker calls "civilization indeed." We've been waiting on pins and needles for more from "the ton" after Charlotte left heartbroken. And from the looks of it, she's going to have plenty of love interests to heal that broken heart. Shall we take an early poll, readers: Will it be wealthy Alexander Colbourne or confident Colonel Francis Lennox? Go ahead, tell me what you think, and I'll share next week.
I'm quite ready for more romances and wouldn't mind a bit of scandal either. And there are a few old friends I'm looking forward to seeing again: Esther and Babbington, to check in on their first year of marriage; Arthur, who assured us after the ball that he had no plans to ever marry; and Tom and Mary, with fingers crossed that Sanditon has grown and succeeded while we've been away. (Looking for a full character recap? Keep scrolling past the P.S.)
Reader, I also have a lot of questions. Who are these two men already vying for Charlotte's heart? What sort of trouble is Alison going to get into in her first summer in Sanditon? Why have soldiers chosen our resort as their latest camp? Has Sidney found happiness with Eliza?
Well, we'll know soon enough. The Sanditon Flyer awaits us.
Til then,
Christine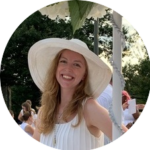 P.S. Join me in predicting what will happen on our first visit back to Sanditon. Keep track with this bingo card while you're watching the premiere on Sunday. My bet's on "cliffside walk" as the first mark. Oh and — keep reading until the end of this email for what I'll be serving during the premiere.