Here for the Drama: Sanditon, Season 2 Episode 1
☕  Get the tea on your favorite PBS dramas with our recap newsletter, Here for the Drama. Subscribe for free. 💌
Dear reader,
Before you read any further, I must warn you that there are major spoilers ahead if you haven't watched Episode 1. Incredibly major.
Readers, deep breath.
They killed off Sidney in the first scene?
Exhale if you haven't yet. Sure, we needed to be certain that Sidney won't be returning to Sanditon. But… couldn't he have been busy in London and traveling and, you know, alive? I'm tempted to end my letter right here.
Oh, just kidding. I have so much more to say. To begin with, yes, last season's love interests are quickly written off: Sidney has died of yellow fever in Antigua and Young Stringer is a master architect in London. Sidney's death is unexpected, to say the least, but even more surprises are tied up with it — no one knows why Sidney was in Antigua. It seems there is a mystery afoot.
On the leading lady front, Georgiana is leading a sugar boycott to protest slavery in the West Indies. Esther is visiting Lady Denham, worrying her aunt about the state of her marriage until we learn the true reason of her visit: she's recovering from a miscarriage. I'm looking forward to following both of these storylines.
Meanwhile, Charlotte's younger sister Alison is making quick work of Sanditon. She's already promenaded through the soldier's camp, stolen a carriage with Georgiana and made it quite clear that she's here to find husbands for her and Charlotte, so Charlotte doesn't have to marry "sensible Ralph."
Reader, let's talk about the men. First, Colonel Lennox, who visits the Parker residence to check up on Charlotte after she saves a kid who ran into the middle of a parade (of course). He seems nice but… we know better when it comes to soldiers in Austen works. And speaking of soldiers I'm skeptical of, how about Edward? He says he's a different man now, but I do not believe it for one second.
And then there's Colbourne. A "miser and a recluse" — perfect — whose daughter it was that Charlotte saved. Colbourne is wealthy, solitary, brooding — and looking for a governess. Cue Charlotte, who announces that she never wants to marry. Literally everyone around her is shocked and appalled. "It's a last resort" to become a governess, and yet, here we are, at Charlotte's interview with Colbourne. It goes exceedingly badly, as Charlotte says women should be educated and independent. But when she leaves, Colbourne's dog follows her out, so Colbourne changes his mind and offers her the position (but not a ride home; oh yes, we noticed that, sir).
Colbourne is quite possibly a classic Austen hero, while Lennox may be an Austen villian. (100% of you agreed last week that Charlotte's opinions of the two men will reverse as their true characters are revealed.) But Sanditon is nothing if not filled with surprises. So: a death under mysterious circumstances, loads of single soldiers marching around "the ton" and our four headstrong young women — Charlotte, Georgiana, Esther and Alison — stirring up emotions everywhere they go. Who's ready for more?
Til then,
Christine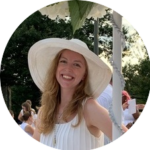 P.S. I've been thinking a lot about the relationship between Charlotte and Alison: their close sisterhood and fierce loyalty to each other. It's in line with other sisters we know from Austen: Elizabeth and Jane, Elinor and Marianne, perhaps you could say Emma and Harriet. Who do you think Charlotte and Alison will most resemble?