'Black Suns' captures rare solar eclipse images
A film documents the work and adventure of African American astrophysicists.
Listen
6:04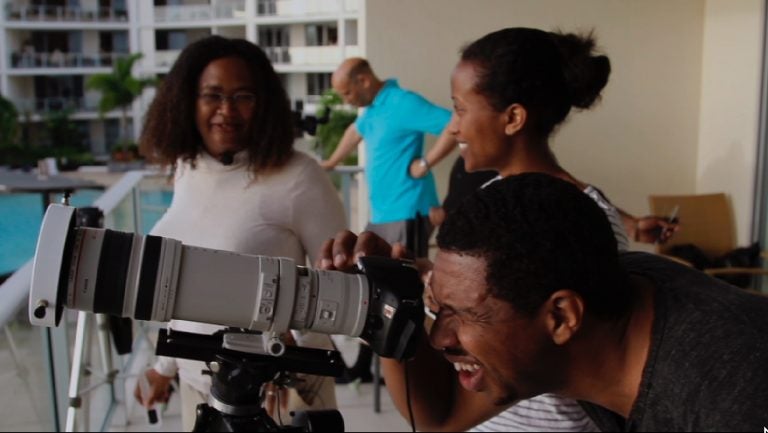 Imagine you're a scientist, and you can only study your subject of choice at rare moments in time — and you have to travel all over the world to catch a glimpse.
That's your life when you're studying aspects of the sun visible only during a solar eclipse.
Astrophysicist Jarita Holbrook made a film about eclipse-chasing scientists called "Black Suns: An Astrophysics Adventure."
She teaches in South Africa at the University of the Western Cape. Along the way, she's traveled to see eclipses in Ghana, Australia and Japan.
"I think that your body can't believe what it's seeing. And so you have sort of a physiological response to it. I think it's akin to if you've been living in the city and you go to the country and you see a full dark sky for the first time and you're like, oh my gosh, all these stars. There's a sense of wonder and awe," she says.
"And everything goes twilight because the sun is blocked out, so the temperature cools down. And it gets quiet, and it gets a little bit dark, and the birds and animals tend to rest — they think it's nighttime. So it's quite an experience."
The film idea came after Holbrook was on an science adventure with astrophysicists Alphonse Sterling and Hakeem Oluseyi.
"Hakeem, he's so big and boisterous and loud, and then Alphonse is so quiet and exact. It was just hysterical watching them work together, and I thought at the time, wow this would make a really nice film, to follow these two," she says. "They're both African American men. They have very different backgrounds, but they're colleagues, and they both study the corona of the sun."
That's the outermost part of the sun's atmosphere.
Sterling studies the visible surface of the sun, the photosphere. During a solar eclipse, the moon slides over the sun's surface, taking away the blinding brightness, and that allows him to better see his subject.
Oluseyi studies the solar corona. His latest eclipse quest: to measure how many electrons were in the corona — and he needed to see the entire corona.
"So that's why they chase [eclipses], because they have these two things that they need to get, but you can only get it with a total solar eclipse," Holbrook says.
They have to be in the right place, at the right time. Their equipment has to work. The weather has to cooperate.
And often the window to capture the data you need literally lasts for only a minute.
Holbrook, who is executive producer and host of the film, says she made the movie to capture the fun and excitement of astronomy — and to spotlight the people doing the work.
There have been perhaps 120 African American astrophysicist in the history of the United States, she says. But in one of the scenes in her film, five African American astrophysicists are gathered together on a balcony, looking at the sun.
"You have never seen this before. This is like history making. We do exist, and we do really interesting science. We'd like to have more African Americans come into astrophysics and into the physical sciences," Holbrook says.
WHYY is your source for fact-based, in-depth journalism and information. As a nonprofit organization, we rely on financial support from readers like you. Please give today.