What can Philadelphia do about the lack of sustainable access to safe drinking water?
Listen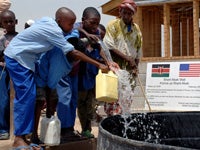 Hour 2
The Millennium Development Goals are eight international development goals that 192 United Nations member states and at least 23 international organizations have agreed to achieve by the year 2015. One of the most important goals is cutting in half, by the year 2015, the proportion of people without sustainable access to safe drinking water and basic sanitation. But it's a big job: About 2.6 billion people – half the developing world – lack even a simple 'improved' latrine and 1.1 billion people has no access to any type of improved drinking source of water. That directly results in about 1.6 million people dying every year from diarrhoeal diseases (including cholera) attributable to lack of access to safe drinking water and basic sanitation, 90% of them are children under 5, mostly in developing countries. Today's guests on Radio Times are working on that problem. Stan Laskowski was a longtime regional administrator for the Environmental Protection Agency; now he leads the Philadelphia Global Water Initiative. One of the Initiative partner agencies is Aldo Magazzeni's Traveling Mercies foundation, which builds safe-water infrastructure in areas ravaged by war, poverty and natural disaster.
Photo Credit: Courtesy: U.S. Navy.
Listen:
[audio: 110909_110630.mp3]