Woman shot in Deputy Fire Chief's home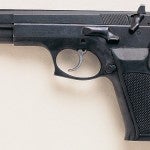 A home invasion in Rhawnhurst became more than that yesterday morning when a woman broke into the home of the city's Deputy Fire Chief.
Reports say an unidentified 38-year-old woman entered the home of Robert Wilkins on the 1700-block of Hoffnagle Street while Wilkins was asleep. Startled, Wilkins went downstairs to find the woman had broken in through a front door, and fired his gun four times.
Though the suspect tried to escape, she was shot and was rushed to Aria Health-Torresdale in critical condition.