Wilmington forges partnership to revitalize Riverside housing project
The northeast section of Wilmington is dominated by public housing and an overcrowded prison.  Only a handful of businesses thrive, while violence and drug dealing are a way of life for many.
On Tuesday, officials announced an ambitious plan to reverse the neighborhood's fortunes. Mayor Mike Purzycki, who has been hinting at the idea recently, told about 75 government officials, community leaders and residents that he envisions a $100 million redevelopment that hinges on obtaining federal housing dollars. The state has kicked in $1 million, and Purzycki said he anticipates the city also putting $1 million into a project that could take several years but will be monitored and evaluated continually.
The Riverside housing project was built more than 60 years ago. The low-slung brick buildings are occupied by many of the city's poorest residents. And its decay and ramshackle appearance stand in stark contrast to another Wilmington Housing Authority complex —Eastlake — that was torn down and rebuilt several years ago.
But the government officials and neighborhood leaders who convened at Kingswood Community Center, on the edge of Riverside's 300 units, declared that a new era is dawning.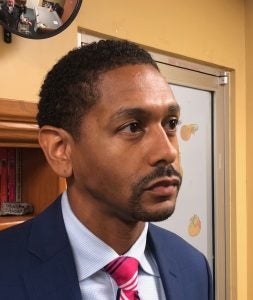 The city has partnered with an Atlanta nonprofit called Purpose Built Communities to develop a coordinated plan for revitalizing the long-neglected area. The group, whose founders include investment magnate Warren Buffet, has assisted 18 such projects across the country.
The agency's experts will provide free consulting to a group called REACH Riverside.
The Wilmington Housing Authority's new director, John Hill, said the goals include razing and rebuilding the 300-unit neighborhood with mixed-income housing; adding a high school to the Eastside Charter elementary school; expanding the Kingswood center's early learning and other programs; and eventually filling nearby vacant businesses.
Under the deal signed Tuesday, community health will be a focus as well, with facilities such as a "grocery store or YMCA or parks and green space as well as health and wellness programs."
Hill, who came to Wilmington from Las Vegas three months ago, lauded the state, city and nonprofit for coming together to help the city's poorest residents.
"This is a momentous occasion that can be celebrated by our community,'' Hill said to cheers. "This is one more step in making Wilmington a premiere city in America."
Kingswood executive director Logan Herring will lead REACH Riverside.
Neighborhoods like Riverside have been neglected intentionally, positioned in a place where they can no longer allow community members to attain upward mobility, Herring said.
"That's been intentional because of federal policies, structural racism. We have to call it out and make sure we say what it is," he said. "What I envision is the opportunity for every family to experience the American dream and that's what's been intentionally left behind in these communities."
Riverside resident Jeania Watson said she and fellow tenants have sensed momentum building for a rebirth. She credits Hill and other local officials, who insisted Tuesday that residents will be key to the master plan they want to create and implement.
"People have heard before that change was coming,'' Watson said of previous empty promises.
"But recently, since the new director has come, a lot of physical changes have taken place. It definitely gives people hope because it definitely was a hopeless situation."
WHYY is your source for fact-based, in-depth journalism and information. As a nonprofit organization, we rely on financial support from readers like you. Please give today.