Will Rebuild help or hamper the Office of Economic Opportunity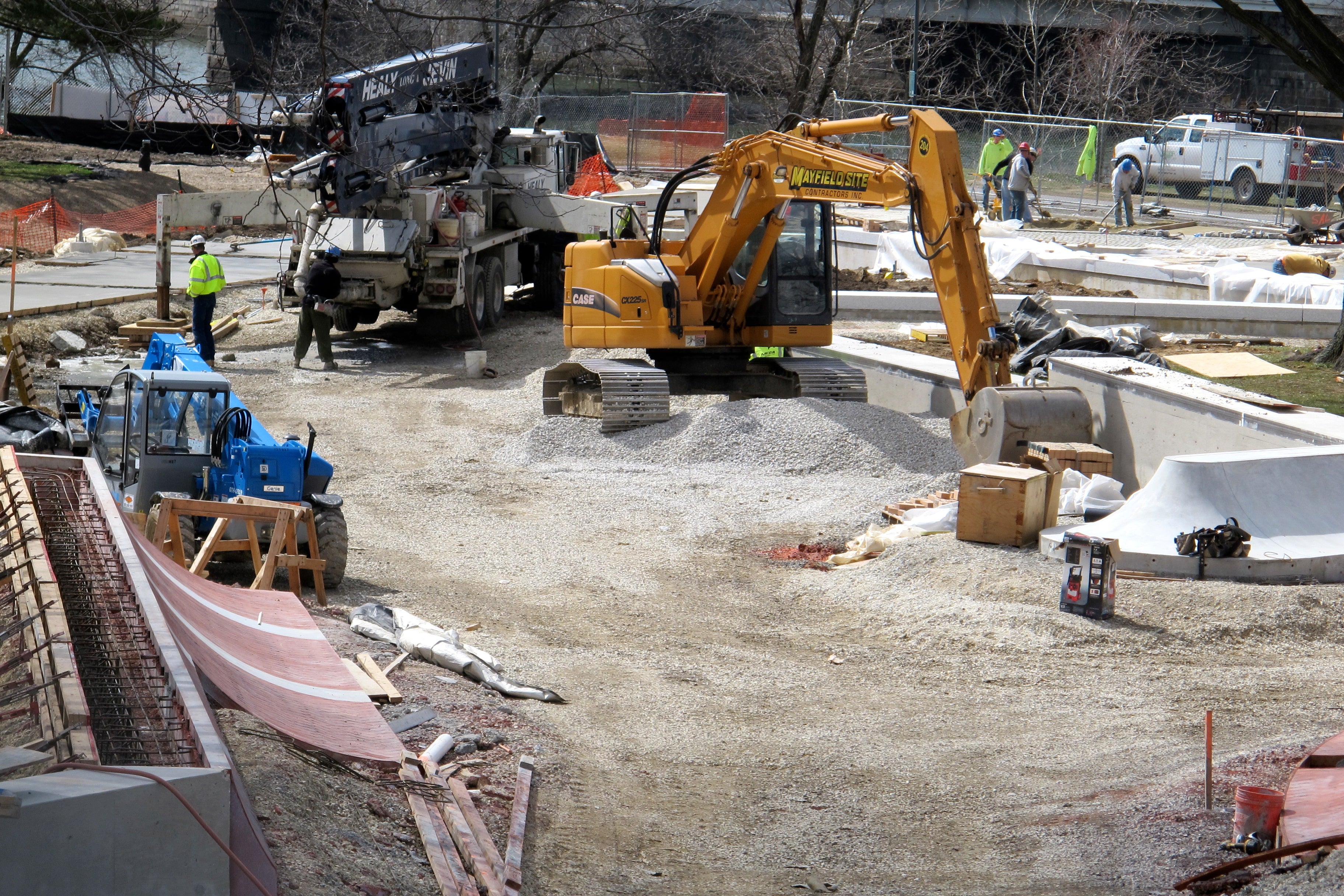 When Mayor Michael Nutter created the Office of Economic Opportunity (OEO) in 2008, the announcement was met with muted fanfare. Arriving on the heels of its disappointing predecessor, the Minority Business Enterprise Council, there was reason to think another bureaucratic office wasn't the solution to the intractable problem of diversifying the recipients of public contracts. In short time, those doubters were silenced when OEO played a role in temporarily disbarring a company with a $196-million city contract for fabricating its minority participation numbers, and forcing it to pay a seven-figure penalty to the city.
That was in 2012. Since then, there has not been another headline-worthy instance of OEO or the city flexing its muscles to the same degree. The city's track record on enforcing standards on construction jobs has concerned several members of City Council in the leadup to Rebuild, Mayor Jim Kenney's $500 million project to rehabilitate public spaces, which has placed equity at the center of its mission.
During hearings on Rebuild in June, Councilman Bobby Henon raised the issue of enforcing city contractor requirements: "The city has been very lenient or understanding or liberal when it comes to disbarring contractors … There are a lot of contractors in the City of Philadelphia who should be disbarred right now as we speak," he said.
While Henon was speaking more globally about reasons that contractors should be disbarred — like those who owe back taxes or have improper permitting — Councilwoman Maria Quiñones-Sánchez zeroed in on firms skirting diversity numbers. "Until people get disbarred, we're going to keep playing this game."
For every public contract worth more than $100,000, City Hall requires an Economic Opportunity Plan (EOP) detailing how the primary contractor will utilize minority-, women-, and disabled-owned businesses, typically as subcontractors. The city's overall goal is to award 35 percent of all public contract dollars, starting with FY2017, to businesses with owners from underrepresented groups within Philadelphia's overwhelmingly white-male construction industry. (That goal, according to Commerce Director Harold Epps, is "an objective which was set with full knowledge that it would take us some time to achieve.")
Historically, Philadelphia has struggled to crack down on end-arounds to the minority contractor requirements, such as businesses using "passthrough" subcontractors that are owned by women or minorities but don't actually complete the work; rather, after they're paid nominal fees in exchange for using their name on an EOP, the passthroughs simply subcontract the work again to a firm owned by a white male.
Fundamentally, Rebuild is an experiment aimed at improving how the city deploys capital resources in the future: How it can engage with communities better; how it can leverage public contracts to get more women and minorities into the labor unions, and; how it can spend tax dollars more equitably and ensure that city contracts are being awarded to legitimate women-, minority-, and disabled-owned businesses.
The latter dovetails closely with OEO's mission. Yet the plans for Rebuild call for hiring a third-party agency to monitor the diversity of workers on Rebuild sites, rather than entrusting that responsibility (and those resources) to OEO, as some Council members would have done. "We missed a huge opportunity to invest and build this critically important city agency," said Councilwoman Cindy Bass. "I cannot understand why we have a city-funded agency that we are bypassing, while hiring an outside source to do what is essentially the exact same job.[It is] a complete waste of tax dollars."
The administration contends that due to current staffing levels at OEO, it wouldn't have been realistic to expect the 14-person office — even with additional temporary employees — to fulfill the massive task of monitoring diversity requirements during Rebuild, all the while keeping up with its normal day-to-day activities. And, the administration suggests, using a third-party monitor could provide a much richer case study that, in turn, could instruct how OEO operates. "Any lessons we learn through Rebuild can provide the added benefit of informing OEO's work moving forward," said David Gould, deputy director of community engagement and communications on Rebuild.
Differing opinions aside, the statements from both Bass and Gould tacitly acknowledge that OEO, at little fault of its own, has not lived up to the lofty expectations set by Nutter almost a decade ago. In part, Nutter's 2008 executive order described OEO's responsibilities as:
"[M]onitor awarded City Contracts containing M/W/DSBE commitments and may perform post award compliance reviews to ensure that Bidders are complying with the goals and objectives of this Executive Order. Such reviews may include site visits to a Bidder's office, other place of business and/or job site to ascertain whether a Bidder has satisfied its M/W/DSBE commitments made under a City Contract." [Emphasis added.]
May is the operative word. Though the city has been slowly but steadily increasing the percentage of city contracts going to minority firms — up from 28.1 percent in fiscal year 2013 to 30.7 in 2016, according to the most recent OEO disparity study — the enforcement role envisioned for OEO has not entirely come to fruition. An Econsult analysis released last year suggests that 44 percent of the big-budget city construction projects (those over $250,000) had zero minority workers on the job site.
Currently, OEO doesn't have the autonomy to enforce minority participation on job sites nor does it have the staffing capabilities to monitor projects across the city. "We're going to be adding two staff members in the next two quarters who will be charged with being our boots on the ground," said Iola Harper, head of OEO. "We could supplement what Rebuild does, but we certainly couldn't take on the task of monitoring everything." But even if OEO had an army of monitors, it would still lack the power to come down on non-compliant contractors as a city agency. "The legal team of the city has to actually work on the punishment," Harper said, referring to the already stretched thin city solicitor's office.
Part of the reason why the administration has defended its "project user" structure all along — in which nonprofits will be managing most of the Rebuild projects rather than the city's procurement departments — is the belief that it will lend to more expediency in cancelling the contracts of companies that don't live up to the diversity goals (the benchmark for Rebuild is higher than the city's diversity contracting goal; Rebuild aims to achieve 45 percent of all workers on sites being minorities and women). And if those nonprofits follow through on cancelling contracts, OEO could be a crucial backstop. The office maintains a registry of 2,737 MWDSBEs (at last count) that are eligible to do work with the city. During Rebuild, it will play a role in connecting project users with MWDSBEs that can serve as contractors and subcontractors.
That's not to say OEO hasn't already played a role in Rebuild. The 45-percent minority benchmark mentioned above was a direct result of the Fiscal Year 2016 Disparity Report by OEO, which tracks, on an annual basis, the amount of money and labor hours going to MWDSBEs on city contracts. OEO will also serve on an EOP Oversight Committee for Rebuild, which, Gould said,"will hold public meetings to provide an opportunity for Rebuild to report out on Rebuild's workforce and business diversity programs as well as progress towards diversity and participation goals."
Whether it's OEO or another party who carries the stick on Rebuild — and beyond — everyone seems to agree that the city's past reluctance to punish contractors has compromised the credibility of its diversity efforts in the procurement process. "All of the contractors know that we're not going to cancel the contracts, so they don't comply," said Councilwoman Quiñones-Sánchez.
While compliance on Rebuild is important, there's $10 billion worth of capital projects in the pipeline, Quiñones-Sánchez noted. That's when the capacity of OEO will truly prove pivotal: to create more equity with that larger pie.
"It's one thing for OEO to be a repository of data," she said. "It's another thing to be a hammer of enforcement."
WHYY is your source for fact-based, in-depth journalism and information. As a nonprofit organization, we rely on financial support from readers like you. Please give today.