Why is a nonprofit with Local 98 ties helping plan a Delaware waterfront plaza?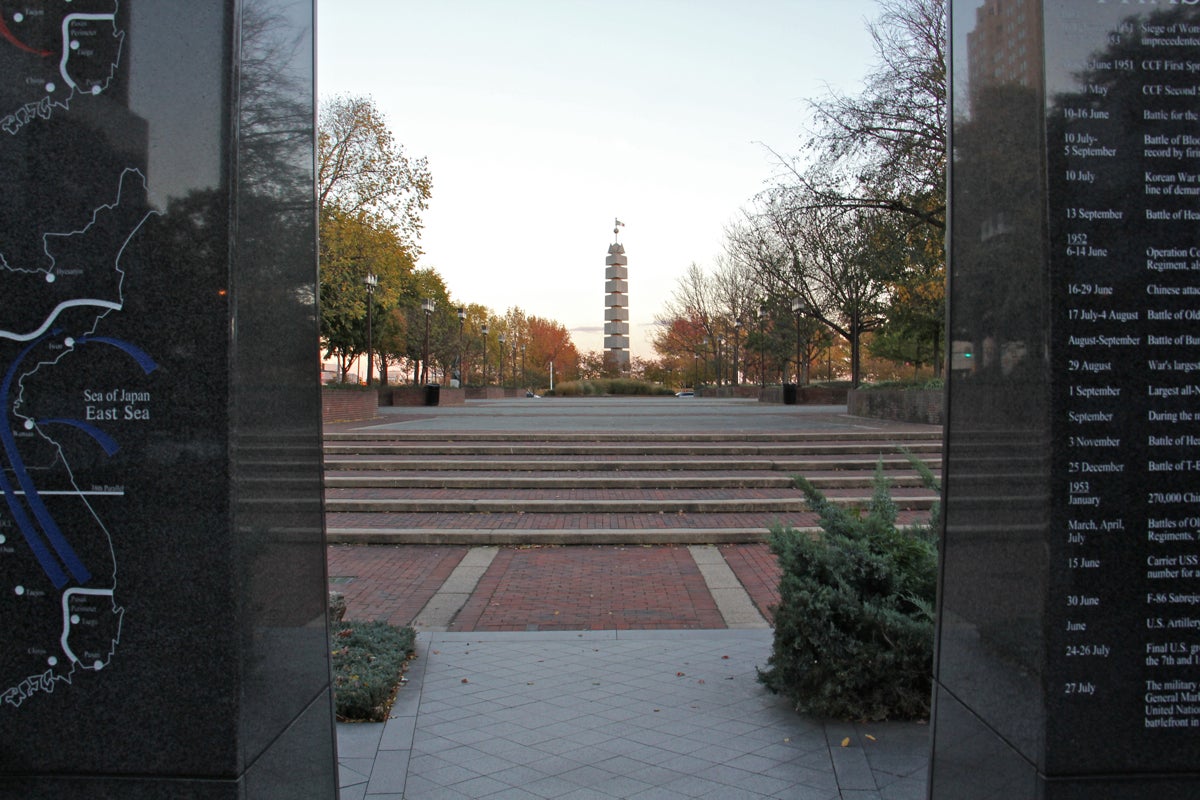 The Delaware River Waterfront Corporation (DRWC) is eying a major revamp for a poorly used public plaza at a key waterfront access point, in the shadow of the Society Hill Towers and the popular Spruce Street Harbor Park.
The nonprofit steward of the Delaware waterfront is currently seeking public input for a plan to redesign Foglietta Plaza, an austere jumble of brick staircases and raised planters on a cap over I-95, at Dock Street and Columbus Boulevard.
Host to two major war memorials at a strategic location – the only at-grade connection to the waterfront between Queen and Race streets – the plaza today is a mostly barren and forgettable expanse. DRWC wants to transform the current hardscaping into a softer, greener park that will double as a new home for several historic sculptures that have been mothballed for more than a decade.
"Our process was to say, 'This plaza is central to the waterfront, but it's barely used.' We're always interested in that area and how to make better connections," said Tom Corcoran, president of DRWC. "And the Association of Public Art had a great collection of sculptures that used to be on display where Spruce Street Harbor Park is today."
The sculptures were originally part of the International Sculpture Garden, an attraction built for the Bicentennial celebration, and were eyed for reuse under the 2011 Master Plan for the Central Delaware. The plaza itself was originally built by PennDOT towards the end of the 1970s and later named for former Congressman Tom Foglietta.
DRWC recently won a $750,000 planning grant from the William Penn Foundation's "New Audiences/New Places" initiative, which aims to encourage "unconventional ways of viewing public art," according to Corcoran.
Matt Ruben, chair of the Central Delaware Advocacy Group, sees the project as a huge opportunity to make Foglietta Plaza something far better than it is today. "This is about making the plaza more like a transit way to get from the neighborhood to the water," he said.*
The grant will pay for community outreach efforts and engineering surveys of the highway cap's structural integrity, paving the way for future reconstruction. DRWC issued a request for proposals this summer, later engaging landscape architecture firm OLIN along with Urban Engineers to handle the preliminary phase of the project, ideally to make a plaza redo shovel ready.
Though the planning process is in its early days, it has already revealed the tangled web of ownership and overlapping jurisdictional authority that have long complicated efforts to redevelop the city's Delaware waterfront.
Foglietta Plaza aerial | DRWC RFP, 2016 (DRWC RFP)

Foglietta Plaza design concept by Seiler Drury Architecture | DRWC RFP, 2016

Foglietta Plaza design concept by Hargreaves | DRWC RFP, 2016
"The proposal itself is less complex than all the parties involved," said Rosanne Loesch, President of the Society Hill Civic Association, which was briefed on the project at a community meeting in October.
PennDOT and the city jointly own the plaza and highway cap, while an obscure nonprofit called the Interstate Land Management Corporation (ILMC) handles plaza maintenance through a joint-use lease agreement.
DRWC recently acknowledged that ILMC would be brought in as a partner on the plaza redesign project. While ILMC has long maintained certain PennDOT properties below, above, and around I-95 for decades, the group has little planning or construction experience – and is controlled in part by associates of the International Brotherhood of Electrical Workers Local 98 leader John Dougherty.
Corcoran characterized his group's relationship with ILMC as cordial, and said he had invited the group to participate in the Foglietta plaza redesign.
"They have an interest in the plaza. It would have been irresponsible not to include them," he said.
But the other stakeholders, PennDOT and the city, were notably absent from the first public planning session, held on October 6th. And sources familiar with waterfront planning efforts offered a different version of events – that DRWC and ILMC had a long and adversarial relationship. That ILMC had demanded a partnership on this most recent project, the final costs of which may run into the tens of millions of dollars. That their feud had nearly gone to court, until a deal was brokered. DRWC did not comment on those allegations.
What is certain is that ILMC, one way or another, is now a partner in a major civic planning process for a public plaza that occupies nearly a full city block.
"The Central Delaware is nothing but a balkanized series of entities and agencies and private landowners who all claim ownership over their piece of turf," said Harris Steinberg, Executive Director of the Lindy Institute for Urban Innovation. As director of PennPraxis Steinberg led the civic visioning process for the Central Delaware Waterfront ten years ago. "DRWC is running up against that sort of 'old Philadelphia,' non-transparent entity that claims it's got a turf without seeing bigger picture."
The Philadelphia City Planning Commission, however, appears to have no involvement or planning oversight at this stage of a significant public space intervention. It punted questions to the Art Commission, which has binding design review power over public space projects.
"It's very, very early in the redesign process for Foglietta Plaza and so it is unclear if it would go to the Art Commission, and so at this point DRWC would be the only folks who would have substantive information on the topic," said Paul Chrystie, speaking on behalf of the commission.
ILMC, a 501(c)4, was incorporated in 1992 for the purpose of channeling money to neighborhood groups in areas affected by the installation of new highway ramps between the Ben Franklin and Walt Whitman bridges. The nonprofit was entrusted with the maintenance and operation of a series of parking lots near the highway, which generate revenue for ILMC and seven associated civic groups.
But ILMC would ultimately be charged with the maintenance of some 65-acres of land – the median strips adjacent to I-95, Foglietta Plaza, and a string of adjacent memorial gardens. These include memorials for Marines killed in the 1983 bombings in Beirut, Vietnam veterans, Korean War veterans, as well as the nearby Irish Memorial.
But the group has struggled to balance its budget in recent years, culminating with the ejection of its former executive director. Now many of these areas have fallen into disrepair: public lighting has burnt out in places and benches have worn.
Most recently Ed Kirlin a former political operative for Local 98, was brought in to direct the group. Kirlin's consultancy was central to a 2007 ethics investigation into anonymous fliers depicting Michael Nutter and Bob Brady as anti-Catholic.
John Dougherty himself once sat on the board of ILMC, although Jim Moylan, the union boss's chiropractor, chairs the group today. Moylan was the Kenney administration's now-former pick to run the Zoning Board of Adjustment, who left after it emerged he was among the subjects of an ongoing FBI investigation into the operations of Local 98. ILMC is headquartered inside the offices of the Pennsport Civic Association, a civic group formerly chaired by Moylan and other Dougherty associates.
The politicized nature of the group has also drawn attention from planners as well as good government groups.
"[ILMC] has always been a relatively moribund organization, one that almost seems like a pass-through. Now this public space question emerges and they poke up their head. But it seems like the group was never designed to play that role," said David Thornburg, from the Committee of Seventy, a government watchdog.
The alleged deal over the Foglietta Plaza project involved DRWC promising to help make up for ILMC's deferred maintenance of the plaza areas around the Irish immigrant and Vietnam Veterans memorials adjacent to Foglietta. But Kirlin offered only ambiguous answers to questions about the relationship between his group, DRWC, and the current plaza project.
"It serves no useful purpose to air what differences we may have had, or didn't have," he said. "There's a meaningful collaboration now to determine what the highest and best use for what Foglietta Plaza could be."
Kirlin noted in earlier interviews that his organization provides many benefits to community groups and was instrumental in the creation of many of the memorials in the vicinity of Foglietta Plaza. Although it has no website and does not obviously advertise its board meeting dates, ILMC's board does include appointees from the Mayor's Office, the Department of Public Property, Chamber of Commerce and representatives from various civic groups as a form of oversight.
Perhaps to its credit, attendees said ILMC has remained mostly silent at planning meetings. Kirlin offered only general input on the redesign project.
"We have one shot at this. Whatever it is, it should be world class, adhere to the contemplative nature of existing memorials, draw visitors, yet be a tranquil space conducive to meaningful programs and events. On that we are all agreed," he wrote, in an email to PlanPhilly.
(Emma Lee / WHYY)

(Emma Lee / WHYY)
Ruben, from CDAG, reiterated that ILMC has mainly expressed concerns about maintaining the "tranquility" of the current war memorials.
"ILMC is very concerned about the surrounding war memorials being respected. They're more interested in spaces that are contemplative," he said. "We just want the process to play out in as open and transparent a way as possible. And I hope everyone can come to a consensus of what they want that's in the spirit of the master plan."
Neighbors expressed less concerned about ILMC's background or the current process than the feeling that they're simply being invited to hear about plans from organizations with that have long ago agreed upon a vision for the riverfront community's backyard.
"[DRWC] came to the board a year ago with a similar idea. Everyone agrees Foglietta Plaza needs something more than it has now," said Loesch, of the Society Hill Civic. "But at our recent meeting, one person said, 'Why are we starting with the sculpture garden when we could start with a clean slate?'"
*Disclosure: Matt Ruben sits on PlanPhilly's advisory committee.
WHYY is your source for fact-based, in-depth journalism and information. As a nonprofit organization, we rely on financial support from readers like you. Please give today.