Weekly Entertainment Guide – 'Train Driver,' Eastern State's Pop-Up Museum, and 'Mourning Becomes Electra'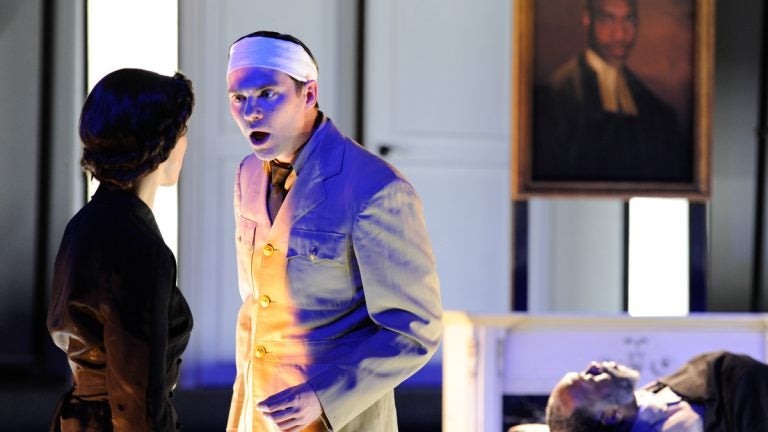 Looking for something to do this week? WHYY's Robin Bloom has some recommendations on what's happening around the Philadelphia region. Here are her picks:
Onstage
Lantern Theater Company's "The Train Driver"
Lantern Theater Company explores the legacy of apartheid with the Philadelphia premiere of "The Train Driver," one of Athol Fugard's newest plays, through May 4. Described by the award-winning South African playwright as his own "truth and reconciliation," the play tells the story of a driver of a train who is forced to come to grips with the death of a woman and her baby who stepped in front of his train. Starring veteran Philadelphia actor Peter DeLaurier as Roelf, Kirk Wendell Brown (making his Lantern debut) as Simon, and directed by Matt Pfeiffer, the production closes Lantern's 20th anniversary season, St. Stephen's Theater, 10th & Ludlow Streets, Philadelphia. Special events include Post Show discussions on April 18, 20, and 27 and open captioning performances May 2 & 3.
Quintessence Theatre Group's "Mourning Becomes Electra"
Quintessence Theatre Group, dedicated to adapting and performing epic works of classic literature and drama for the contemporary stage, presents the unforgettable, well-known classic "Mourning Becomes Electra" by Eugene O'Neill. The universal tragedy retells Aeschylus' Oresteia in all three parts. Directed by Alexander Burns and starring Janis Dardaris, Mattie Hawkinson, Josh Carpenter, Robert Jason Jackson, Andrew Breving, Alan Brincks, Terence Gleeson, and Erin Mulgrew through April 27 in the Sedgwick Theater – the 1928 art deco movie palace – 7137 Germantown Avenue, Mt. Airy. Show runs approximately 4 hours with two 15 minute intermissions. Related programming includes post-show discussion with cast and director on April 20 and Monday evening readings of Aeschylus' Oresteia, 7pm.
Inis Nua's "Midsummer [a play with songs]"
Inis Nua Theatre Company continues its tradition of presenting contemporary plays from Ireland, England, Scotland, and Wales with the Philadelphia premiere of "Midsummer [a play with songs]," by David Greig and Gordon McIntyre, through April 27. The fast-paced and wild story of a one night stand that unexpectedly turns into much more, premiered at Scotland's Traverse Theatre in 2008 and was performed at the Edinburgh Fringe Festival in 2009. Celebrating the solstice in the true Shakespearean style, the production is directed by Kate Galvin and stars Philadelphia favorites Charlie DelMarcelle and Liz Filios at Off-Broad Street Theater in the First Baptist Church, 1636 Sansom Street, Philadelphia. Related events include "Setting the Scene," a 6pm pre-show exploration of the play's themes with special guests, April 16 and 23.
"National Water Dance" at Race Street Pier
"National Water Dance," the countrywide movement designed to bring awareness to water conservation through dance and music, is Saturday, April 12. Enjoy it in Philadelphia as dancers from Temple University, including faculty member Merían Soto, join together in a movement choir (a community of people dancing together for a common purpose), Saturday, April 12, 10am on the Race Street Pier. The free, family-friendly environmental performance is choreographed by Colleen Hooper with live music by the Jon Katz Trio, Race Street and N. Columbus Boulevard, Philadelphia.
"Hummingbird's Tour (an end of life comedy)" at Bucks County Playhouse
"Hummingbird's Tour (an end of life comedy)," comes to the Bucks County Playhouse April 16-20. The new play that was developed in front of an invited audience in a retrofitted barn in Upper Bucks County, has been brought to New Hope, PA for its first run with an ensemble cast from New York and Los Angeles. Directed by John Augustine, the witty and moving production takes a playful look at life and benefits Fonkoze, an organization that serves poor women in rural Haiti, 70 S. Main Street.
Philly Festivals
The Philadelphia Film Society presents "PFF: Spring Showcase," a new extension of the Philadelphia Film Festival, April 11-17, offering a collection of new films including summer releases, films screening through the international film festival circuit, and the films of 2014 Oscar Winner for Best Director, Alfonso Cuarón, at the PFS Theater at the Roxy, 2023 Sansom Street, Philadelphia. Pictured: Cuarón's A Little Princess.
For one day only, poetry will be everywhere! This Saturday, April 12 is "Philly Poetry Day," as brand new poets, experienced poets, poetry lovers, and anyone at all can organize a reading of their own work or that of someone else, anywhere in Philadelphia. Dozens of events will pop up in cafes, street corners, parks, staircases, malls, book shops, museums, pizza shops and more.
The Manayunk StrEAT Food Festival is Saturday, April 12, 11am-5pm, as Main Street is lined with some of Philadelphia's best food trucks, gourmet food vendors and local farmers' markets, food-centric arts and crafts, live music and more, to kick off the Manayunk Restaurant Week beginning Sunday, April 13.
The Free Library of Philadelphia hosts the 8th annual Philadelphia Book Festival, April 13-19, featuring Barbara Ehrenreich (pictured), Debbie Macomber, Pat and Gina Neely, Amy Ignatow, and more, now expanded to include every library location in the city during National Library Week.
Art Appreciation
International Orchid Show and Sale
The Academy of Natural Sciences of Drexel University hosts the Southeastern Pennsylvania Orchid Society International Orchid Show and Sale, Friday through Sunday, April 11-13. Celebrate the arrival of spring with exhibits of exotic and common varieties of orchids and shop vendors from Japan, Malaysia, Taiwan, Brazil, Ecuador, and the United States. Free lectures and guided tours of the show and the Academy's world-renowned botanical collection are also offered, 1900 Benjamin Franklin Parkway, Philadelphia.
Eastern State Penitentiary's Pop-Up Museum
Get a glimpse into the inmate experience at Eastern State Penitentiary with the 2nd annual Pop-Up Museum, April 12-22. Titled "Sin and Salvation," the exhibit offers rarely seen artifacts that were unable to be displayed previously due to the lack of museum-quality climate control inside the historic prison. Eastern State was designed to inspire penitence in the heart of its convicts and while some of the prisoners chose that route, others turned to forms of retaliation. For 11 days only, see objects of sin – extensive collection of "shanks," inmate-crafted weapons, "agitator cards," wanted posters, and of salvation – an ornate chalice, a chaplain's suitcase (pictured), original photos of religious services and celebrations inside the chapel, and more, 22nd and Fairmount Avenue, Philadelphia. Included with museum admission. While there, take the "Voices of Eastern State" Audio Tour, narrated by actor Steve Buscemi.
Sacred Spaces: The Photography of Ahmet Ertug at Penn Museum
This weekend, the Penn Museum unveils the second phase of "Sacred Spaces: The Photography of Ahmet Ertug," a celebration of the renowned photographer's intimate photographs of prominent religious sites in his native Turkey. The powerful architecturally-driven pictures featured in "Heaven on Earth: Churches of Constantinople" invite visitors into the interiors of Istanbul's ancient and storied churches including the Hagia Sophia (pictured) and the Church of Christ at the Chora Monastery. This new long-term exhibition follows "Vaults of Heaven: Visions of Byzantium" (2011) and was originally organized by the Kelsey Museum of Archaeology at the University of Michigan and updated for this installation by guest curator Dr. Robert Ousterhout, Professor of the History of Art at University of Pennsylvania. On view from April 12 at the University of Pennsylvania Museum of Archaeology and Anthropology, 3260 South Street, Philadelphia. A free afternoon symposium "From Constantinople to Cappadocia" showcases scholarly work related to the exhibition, Sunday, April 13, 1pm-5pm. Bring the kids and enjoy the 2nd Sunday Family Workshop on Koi Kites, in honor of the Cherry Blossom Festival.
This Saturday, April 12 is "Slow Art Day," the global all-volunteer event that encourages art lovers all over the world to visit local museums and galleries and look at five works of art for 10 minutes, then, meet together over lunch to talk about their experience. Locally, the Brandywine River Museum of Art hosts a Slow Art Day from 11am-1pm. Pictured: George Washington at Yorktown by N.C. Wyeth, on display through May 18.
Music
Take a trip back to the days of 1920s-1930s jazz with the throwback ensemble Ghost Train Orchestra, Saturday, April 12, 7pm at the Annenberg Center. The group, called "Best of Jazz" by NPR, has revived the classic sound of the now-forgotten 1920s composers from Chicago and Harlem and offers a new take on the music of innovative 1930s jazz performers. Band members include composer and trumpet player Brian Carpenter, Andy Laster, alto saxophone, Dennis Lichtman, clarinet, Petr Cancura, tenor sax, Curtis Hasselbring, trombone, Ron Caswell, tuba, Mazz Swift, violin, Avi Bortnick, guitar, Michael Bates, bass, and Rob Garcia, drums.
Catch the eclectic sound of Arc Iris, performing on Thursday, April 17 at Boot & Saddle. The group, formed by Jocie Adams, draws from cabaret, classical, country, folk, Latin and pop styles and includes cello, flute, trumpet, drums, bass, keyboard, and pedal steel! Opening for Juana Molina, 8:30pm, doors open at 8pm, 1131 S. Broad Street, Philadelphia.
Black Lips brings their '50s rockabilly and '60s garage rock sound from their latest album Underneath the Rainbow to Union Transfer, Friday, April 18. Show starts at 8:30pm, with Natural Child opening, 1026 Spring Garden Street, Philadelphia.
Marissa Nicosia contributed reporting to this week's guide
To submit an event to be considered for the Weekly Entertainment Guide email Robin Bloom at artscalendar@whyy.org.
Like us on Facebook to add the Weekly Entertainment Guide to your News Feed.
WHYY is your source for fact-based, in-depth journalism and information. As a nonprofit organization, we rely on financial support from readers like you. Please give today.