Weekly Entertainment Guide – This is the Week That Is
Listen
Robin Bloom offers 16 things to do this week in the Philadelphia region!
What's Happening
Mural Arts Month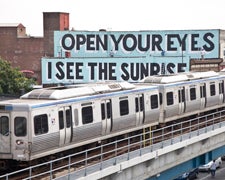 October is Mural Arts Month and Mural Arts Philadelphia celebrates its start as an anti-graffiti program to an international leader in community based public art. The organization – that has created 3600 works of public art – offers 30 events in 31 days, including panels, live art experiences, parties, mural dedications, special tours, and community celebrations. "Mural Arts Month: Roots and Risk" includes an opening night dance party, Friday, September 30 and John Bartram Jawn Concert and Arts Festival, October 16. Pictured: "Love Letter," by Stephen Powers, 2010, Market Street from 45th to 63rd, Philadelphia. Photo by Adam Wallacavage for Mural Arts Philadelphia.
Ciao Philadelphia
Ciao Philadelphia, a month-long celebration of Italian and Italian-American heritage in Philadelphia, kicks off September 29. The partnership between the Consulate General of Italy in Philadelphia and area organizations offers concerts, film screenings, wine tours, architectural tours, demonstrations, exhibitions, and performances including Art of Italy tours at the Philadelphia Museum of Art, Passyunk Passeggiata in South Philadelphia, the Columbus Day parade, and more.
The Revolutionary Germantown Festival
In the pre-dawn hours of October 4, 1777, General George Washington made a daring, but failed attempt to retake Philadelphia from the British by attacking their encampments, culminating in the battle of Germantown. The Revolutionary Germantown Festival commemorates the encounter this Saturday, October 1, a day of historic entertainment beginning at 10am with live presentations, guest re-enactors, merchants offering colonial replica crafts and souvenirs, beer garden, children's activities, and more at historic sites in Philadelphia's Germantown section, including the reenactment of the Battle of Germantown at Cliveden at noon and 3pm. The day closes with Grumblefest! at Grumblethorpe, a 1774 colonial German country seat, Germantown. Free. Photo courtesy of Historic Germantown.
Morris Arboretum's Fall Festival and Scarecrow Walk
Experience the beautiful autumn color at Morris Arboretum with the annual Fall Festival, Saturday and Sunday, October 1-2, 10am-3pm both days. Visit scarecrow walk (this year's theme is "Sense of Adventure," make a scarecrow, sample apples, paint a pumpkin, visit with animals from Elmwood Park Zoo, build a pumpkin patch out of LEGOs, and more, 100 East Northwestern Avenue, Chestnut Hill. Photo courtesy of Morris Arboretum. This event is rain or shine. Photo by Marie Ingegneri.
Midtown Village's Fall Festival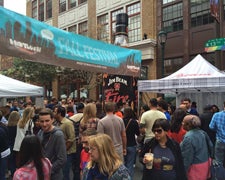 Midtown Village's 11th annual Fall Festival is Saturday, October 1, noon-8pm. The block party includes food, a beer garden, arts and crafts, shopping at the area's boutiques, children's activities and more, Chestnut Street between Broad Street and 12th, Philadelphia. Free. Rain or shine.
Roxtoberfest
The 4th annual Roxtoberfest, a Roxborough street festival, is Saturday, October 1, noon-6pm. Enjoy live music on the Showcase Stage by Kite and Keshka, Kicking Down Doors, Greg Sover (pictured), and more, along with food, crafts, a home brew beer competition, children's activities and more, Ridge Avenue between Green Lane and Leverington Avenue. Rain date is Sunday, October 8. Photo by Greg Schultz.
Collingswood Book Festival
Don't miss the 13th Annual Collingswood Book Festival, Saturday, October 1, 10am-4pm, as Haddon Avenue is filled with nationally recognized authors for adults and children including Steven Cook, Michael Solomonov, Matt Katz, Wendy Mass, Amy Ignatow, and many more as well as booksellers, storytellers, poetry readings, workshops, exhibitors, kid-friendly activities in Loompaland, and entertainment for all ages, Collingswood, New Jersey. Events leading up the festival include a banned book celebration, September 29, 4pm, and a pre-festival three mile fun run through historic Collingswood with Jen Miller, beginning at the Collingswood PATCO station on Saturday, October 1, 9:20am. All events are free. Rain or shine. In the event of rain, the festival moves inside to Collingswood High School, 424 Collings Avenue.
Wheaton Arts' Festival of Fine Craft
Wheaton Arts' Festival of Fine Craft is Saturday and Sunday, October 1-2, 10am−5pm both days, with over 130 juried artists, children's activities, demonstrations, musical entertainment, food, the annual glass pumpkin patch (pictured), and a beer and wine garden, 1501 Glasstown Road, Millville, New Jersey. Rain or shine.
Apple Butter Frolic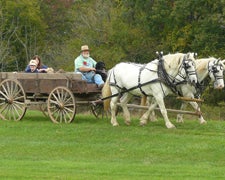 Get a glimpse of Mennonite life a century ago at the annual Apple Butter Frolic, Saturday October 1, 9:30am-4pm, with authentic Pennsylvanian German food, crafts and folk crafts demonstrations, silent auction, horse and wagon rides, and more at the Mennonite Heritage Center, 565 Yoder Road, Harleysville, Pennsylvania. Rain or shine.
Onstage
"Rizzo" at Philadelphia Theatre Company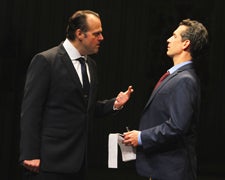 The larger than life Philadelphia mayor Frank Rizzo is the subject of Theatre Exile's re-mounted production, Rizzo, onstage through October 23 at Philadelphia Theatre Company. Award-winning playwright and South Philadelphia resident Bruce Graham based the play on Frank Rizzo: The Last Big Man in Big City America by ESPN's Sal Paolantonio. Rizzo, who rose from beat cop to Police Commissioner to mayor (from 1972-1980), is portrayed by Barrymore Award-winning actor Scott Greer. Greer reunites with the original cast including Damon Bonetti as the political beat reporter, Paul L. Nolan as Rizzo advisor and confidant Marty Weinberg, Amanda Schoonover, Robert DaPonte, and William Rahill. Set in a South Philadelphia row home and directed by Joe Canuso, Suzanne Roberts Theatre, Broad and Lombard Streets, Philadelphia. Related programs and events include Meet-the-Artists talkbacks, American Playwrights in Context, Politics 2016 Panel, Pro Football Talkback Night, Audience Feedback, Debate Night and a backstage tour. Photo by Paola Nogueras.
1812 Productions' "This is the Week That Is: The Election Special"
Keep up with election season by seeing 1812 Productions' annual political comedy This is the Week That Is: The Election Special. Written and performed by Dave Jadico, Alex Bechtel, Sean Close, Justin Jain, head news writer Don Montrey, and Jennifer Childs (who also directs), the show offers sharp satire and content that changes with the headlines. Special guests at select performances include journalist Chris Satullo, playwright R. Eric Thomas, and Malcolm Kenyatta, September 29 through November 7, Plays & Players Theatre, 1714 Delancey Street, Philadelphia. A bilingual performance with live translation and open captioning in Spanish takes place on October 19. Photo by Mark Garvin.
"The Mountaintop" at People's Light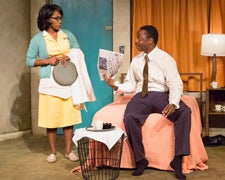 People's Light imagines the last night of Martin Luther King Jr.'s life with The Mountaintop by Katori Hall. The powerful drama that won the Olivier Award for Best New Play is a surreal portrayal of the legendary civil rights leader and deals with issues of race and equality that still resonate today. Directed by Steve H. Broadnax III and starring Patrese D. McClain and Bowman Wright, September 28 through October 30 on the Steinbright Stage, 39 Conestoga Road, Malvern, Pennsylvania. Related programs and events include Scoop on Wednesdays: History, Context, and Gossip, open caption performances, and an informal Q&A after every Thursday evening and Sunday matinee performance. Photo by Mark Garvin.
All That Jazz!
Friday Night Jazz at Woodmere Art Museum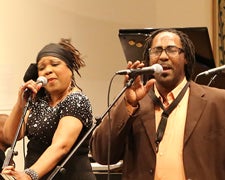 Woodmere Art Museum's Friday Night Jazz pays tribute to legends in jazz, in partnership with LifeLine Music Coalition and WRTI. The season opens on September 30, 6pm, with "Chicken Bone Beach…The Black Music Experience in Atlantic City," a concert that captures the sounds of the 1940s and 50s when leading black musicians such as Pearl Bailey, Ray Charles, Billy Eckstine, and Sammy Davis, Jr. provided entertainment during summer evenings. Wine and cheese included with ticket, 9201 Germantown Avenue, Philadelphia. Photo courtesy of Woodmere Art Museum.
Decades: Ladies of Jazz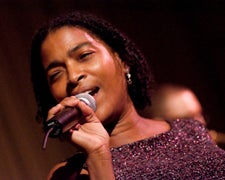 Decades: Ladies of Jazz, a tribute to the legendary jazz hits of the 1930s to 1950s, takes place Saturday, October 1, 7pm at the Philadelphia Ethical Society, 1903 South Rittenhouse Square, Philadelphia. Vocalists Rhenda Fearrington (pictured), Shakera Jones and Julie Charnet are accompanied by Adam Faulk on piano, Nimrod Speaks on bass, Jon Ball on drums, and Tim Price on saxophone.
Jazz at Lincoln Center Presents: Ladies Sing the Blues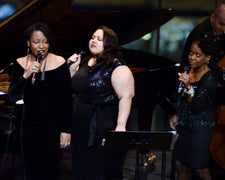 Annenberg Center Live celebrates 1920s blues divas Bessie Smith, Mamie Smith, Ma Rainey, and Ethel Waters with Jazz at Lincoln Center Presents: Ladies Sing the Blues, Saturday, October 1, 8pm. Vocalists Catherine Russell, Brianna Thomas, and Charenee Wade are backed by a seven piece band, Annenberg Center for the Performing Arts, 3680 Walnut Street, Philadelphia. Photo by Frank Stewart.
Jazz 100: Celebrating the Centennial Birthdays of Dizzy, Ella, Mongo, and Monk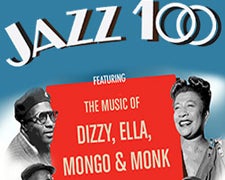 All born in 1917, the legendary jazz performers Thelonious Monk, Mongo Santamaria, Dizzy Gillespie, and Ella Fitzgerald, are honored in McCarter Theatre's Jazz 100: Celebrating the Centennial Birthdays of Dizzy, Ella, Mongo, and Monk program, Saturday, October 1, 8pm. Panamanian pianist Danilo Pérez leads an esteemed group of performers including vocalist Lizz Wright, Chris Potter (tenor sax), Avishai Cohen (trumpet), Wycliffe Gordon (trombone), Roman Diaz (percussion), Ben Street (bass), and Adam Cruz (drums), 91 University Place, Princeton, New Jersey.
Each week, the Entertainment Guide spotlights interesting local arts offerings happening now, including music, dance, theater, museums, special exhibitions and other arts events from across the region.
To submit an event to be considered, email Robin Bloom at artscalendar@whyy.org.