Weekly Entertainment Guide – Jurassic World
Robin Bloom offers suggestions for holiday fun.
Take advantage of free meter parking in Philadelphia on Thanksgiving and after 11am on Saturdays, starting after Thanksgiving through New Year's.
What's Happening
Philadelphia's annual Thanksgiving Day Parade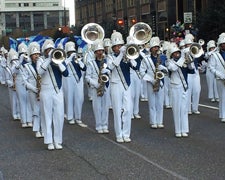 Philadelphia's annual Thanksgiving Day Parade, in its 97th year as the oldest Thanksgiving Day parade in the country, is Thursday, November 24 beginning at 8:30 a.m. at 20th and JFK Boulevard to the Ben Franklin Parkway, concluding at Eakins Oval in front of the Art Museum. Special guests include Ginger Zee, Drew Lachey, Estelle, DJ Kool, Jo Dee Messina, the cast of "The King and I" and "Mamma Mia!," Santa and Mrs. Claus and many more. Photo by Tom MacDonald/WHYY.
"Jurassic World: The Exhibition" at the Franklin Institute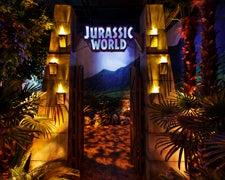 The gates of Jurassic World: The Exhibition open Friday, November 25 at the Franklin Institute, allowing visitors to get up close and personal with towering prehistoric creatures. Produced by Imagine Exhibitions and NBCUniversal Brand Development, the exhibit, based on the blockbuster movie of the same name, extends the filmgoers' experience with lifelike animatronic dinosaurs designed by The Creature Technology Company. Created in close collaboration with renowned paleontologist Jack Horner, the show includes interactive educational elements drawn from the real-world science of dinosaur DNA plus hands-on educational and science-based interactives including a Gentle Giants Petting Zoo and creation lab. The U.S. debut marks the worldwide premiere of an all-new experience, Inside the Raptor Training Paddock, through April 23, 222 North 20th Street, Philadelphia. Photo by James Thomas.
The Annual Christmas Village in Philadelphia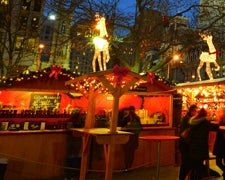 The annual Christmas Village in Philadelphia returns in a new location at Philadelphia's City Hall on Thanksgiving Day, through December 24. The outdoor German holiday market features vendors in wooden booths offering international seasonal arts and crafts, gifts, ornaments, food and more as well as live performances of local choirs and bands, 1400 JFK Boulevard. Free admission. The grand opening ceremony is Sunday, November 27, 3 p.m. and the Lantern Parade is Wednesday, November 30, 5:15 p.m. Photo by Russ Brown Photography.
Macy's Grand Court Light Show
Macy's Grand Court Light Show returns the day after Thanksgiving through December 31. The show runs every day of the week (except Christmas Day) on every even hour from 10 a.m.-8 p.m. Best viewing times are Monday through Thursday. Also, children's activities, photos with Santa, and of course, the Dickens Village, 13th and Market Streets, Philadelphia.
Wild Wizarding Weekend at Academy of Natural Sciences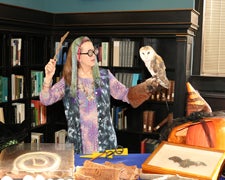 Celebrate the release of the Harry Potter film series spin-off "Fantastic Beasts and Where to Find Them" with Wild Wizarding Weekend at the Academy of Natural Sciences of Drexel University, November 25-27. Wear a costume at the door to receive a discount and take part in wand making, castle classes, magical myths and more spell-binding fun along with live animal shows, crafts, and more. Visit the original "fantastical" beast, the T. rex in the Dinosaurs Unearthed exhibit, on view through January 16, 1900 Benjamin Franklin Parkway, Philadelphia. Photo by Mike Servedio/ANS.
Comcast Holiday Spectacular
The Comcast Holiday Spectacular returns to the Comcast Center through January 1, shown on the state-of-the-art Comcast Experience Video Wall, one of the largest LED screens in the world, spanning 83.3 feet wide by 25.4 feet high, capturing the essence of the holidays with performances by the Pennsylvania Ballet. 15 minute shows begin at the top of every hour, 10 a.m.-8 p.m. daily (except for weekdays at 5pm), 1701 John F. Kennedy Boulevard, Philadelphia. Free.
National Constitution Center's Thanksgiving Weekend Celebration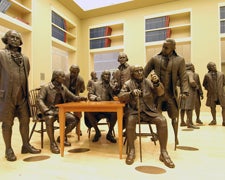 The National Constitution Center's Thanksgiving Weekend Celebration offers visitors the opportunity to learn about the history of the American holiday, which was approved as a national holiday by Congress the same day the articles that would eventually become the first amendments to the Constitution were passed. Check out the "History of Thanksgiving" show, Bill of Rights Show, Founding Fathers, seasonal crafts, a Soldier Mail Call station (to write and send letters of gratitude to men and women serving overseas or who have served), and more, Friday, November 25 through Sunday, November 27 (with extended hours on November 25), 525 Arch Street, Philadelphia. Included with museum admission.
Santa Express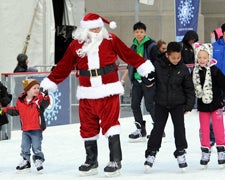 All aboard the Santa Express as SEPTA's specially decorated Christmas trains bring the merry man from the North Pole to Philadelphia's Dilworth Park on Friday, November 25. Join in a festive parade to the Rothman Institute Ice Rink, open every day now through February. Check website for train times. Also, enjoy Wintergarden, featuring twinkling lights and colorful plantings on willow-branch archways, evergreens, trees, perennials, shrubs, and topiary sculptures from 32 area gardens on the west side of Philadelphia's City Hall.The Tree Lighting at the Philadelphia Museum of Art is Wednesday, November 23, 4-6:30 p.m. The Philly Holiday Tree Lighting Celebration takes place Saturday, November 26, 5 p.m.-7p.m. Manayunk's Holiday Showcase Lighting is Saturday, November 26, 5 p.m., and the Christmas Tree Lighting in Rittenhouse Square is Tuesday, November 29, 5 p.m.
Franklin Square's Holiday Festival
Stop by Franklin Square for the Holiday Festival and Electrical Spectacle: Holiday Light Show, 4 p.m.-8 p.m. daily, through December 31, as the park is transformed into a magical place with carols, dancing snowflakes, holiday music and more. Two alternating shows every 30 minutes. Friday, November 25, 4 p.m.-8 p.m. is a family night with crafts, activities and more including the arrival of Santa at 5 p.m. Enjoy Milk and Cookies with Santa and Jingle and Mingle with Santa, Saturday, November 26, and Seasonal Sounds on Sunday, November 27, 6th and Race Streets, Philadelphia. Photo by Jeff Fusco.
Holiday Garden Railway Display at Morris Arboretum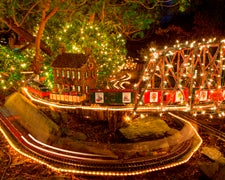 The Morris Arboretum's popular Holiday Garden Railway Display returns November 25 with a quarter mile of track featuring seven loops and tunnels with fifteen different rail lines and two cable cars, nine bridges (including a trestle bridge you can walk under), and bustling model trains. The display and buildings are all made of natural materials (bark, leaves, twigs, hollow logs, mosses, acorns, dried flowers, seeds and stones) to form a miniature landscape with rivers and buildings that are exact replicas of the original including Independence Hall and other Philadelphia-area landmarks, all decorated for the holidays through December 31. Opening celebration takes place Saturday, November 26, 1 p.m.-3 p.m., with carolers, crafts and more. Back this year is Friday Night Lights, an opportunity to enjoy the display at night on Fridays in December, 100 Northwestern Avenue in Chestnut Hill. Photo by Mark Stehle.
A Brandywine Christmas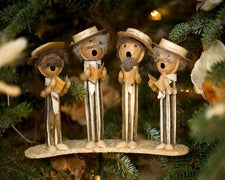 The Brandywine River Museum of Art's annual tradition of A Brandywine Christmas returns November 25 through January 8 with the O-gauge model train display, featuring nearly 2,000 feet of track, trees decorated with thousands of "critter" ornaments, and antique dolls from the museum's collection. Related programming and events include carols concerts, The Polar Express Read-Aloud Pajama Night, Children's Christmas Party, Breakfast with the Trains, Christmas with the Dolls, the annual Critter Sale, December 1-4, ornaments and tabletop decorations made from natural materials, including dried flowers, pine cones, seeds, pods and berries, hand-crafted (pictured), 9:30 a.m.-5 p.m., U.S. Route 1, Chadds Ford, Pennsylvania. Photo by Carlos Alejandro.
Hagley Museum and Library's Thanksgiving Weekend Activities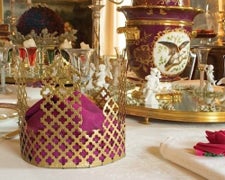 Hagley Museum and Library offers Thanksgiving weekend activities, a celebration of the food and traditions of the nineteenth century, Friday, November 25 through Sunday, November 27, 10 a.m.-5 p.m. Catch the "Sights, Sounds, and Smells" walking tour on November 26 on the gunpowder production process and the "Rocks and Roll Mills" tour on November 27 for an exploration of the geology of the Brandywine Valley and its effect on the milling industry. Opening this weekend is Holidays at Hagley, featuring the original du Pont family home specially decorated for the holiday season. This year's display, A Child's Delight, offers decorations of holidays past including toys, games, and dolls, including a case filled with small ceramic animals that belonged to some of the du Pont family children, through January 1 off Route 141 in Greenville, Delaware approximately 4 miles from downtown Wilmington.
Each week, the Entertainment Guide spotlights interesting local arts offerings happening now, including music, dance, theater, museums, special exhibitions and other arts events from across the region.
To submit an event to be considered, email Robin Bloom at artscalendar@whyy.org.
WHYY is your source for fact-based, in-depth journalism and information. As a nonprofit organization, we rely on financial support from readers like you. Please give today.