Weekly Entertainment Guide – Grace Kelly, Fringe Wilmington Festival and Halloween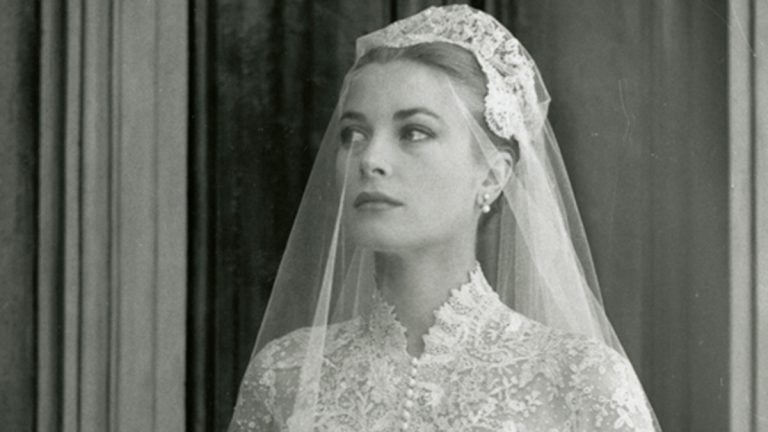 Looking for something to do this week? WHYY's Robin Bloom has some recommendations on what's happening in the Philadelphia region. Here are her picks:
From Philadelphia to Monaco: Grace Kelly – Beyond the Icon
Before she was an Academy Awarding-winning actress and muse of Alfred Hitchcock, before she was crowned Princess of Monaco, before she became a fashion icon, Grace Kelly was girl from Philadelphia, who began her acting career at the Bucks County Playhouse. Discover the world of Grace Kelly in the heart of where she grew up. The James A. Michener Art Museum presents "From Philadelphia to Monaco: Grace Kelly – Beyond the Icon," the only U.S. venue to display the exhibition, opening October 28 through January 26. Drawing from Kelly's personal objects housed in the archives of the Palace of Monaco and the Grimaldi Forum, including letters, photographs, awards, couture fashion, along with film clips, home movies, playbills, archival documents from the Palace of Monaco, and souvenirs from her acting career, 138 S. Pine Street, Doylestown, PA. In conjunction with the new exhibit "Local Mill Makes Good: Celebrating 75 Years of American Theater at the Bucks County Playhouse."
Chrysanthemum Festival at Longwood Gardens
Longwood Gardens' annual Chrysanthemum Festival is on view October 26 through November 24, offering more than 20,000 blooming mums, including the largest Thousand Bloom Mum in North America, which showcases more than 1100 yellow blooms for the first time. Also, see the Garden Railway, fountain shows and visit the Pumpkin Playground which features a giant pumpkin weighing more than 800 pounds, 1001 Longwood Road, Kennett Square, PA.
Lyric Fest's "A Magical Musical Menagerie"
Enter a world of cowboys, fairies, elves and other costumed characters with Lyric Fest's family concert "A Magical Musical Menagerie," Sunday, October 27, 3pm at Main Line Reform Temple, 410 Montgomery Avenue, Wynnewood, PA. Designed for families with children ages 3-12 and featuring "character" pieces from Carmen to the Valkyries, Don Quixote to Don Juan, Dorothy to the Grinch, classical songs, film classics, and more, including a Q&A with guest artists Rebecca Carr, Jeffrey Halili, Jessica Lennick, Chadwick Somers, Jason Switzer, and Chrystal Williams with Laura Ward on piano.
Fringe Wilmington Festival kicks off Wednesday, October 30 through Sunday, November 3, offering cinematic and live performances by over 200 local, regional and national artists at multiple venues. Events include a Preview party on Wednesday, October 30 at World Café Live at the Queen, Extreme Filmmaking Competition, and new this year is the Halloween Costume Ball at the Delaware Center for Contemporary Arts, Thursday, October 31, from 9pm-midnight.
The Philadelphia Orchestra's Philadelphia Commissions Micro-Festival
The Philadelphia Orchestra and Yannick Nézet-Séguin present a Philadelphia Commissions Micro-Festival, October 31 through November 2, a key initiative in the Music Director's second season to champion new music and highlight principal musicians. Performances feature commissioned solo works by three leading international composers. Harpist Elizabeth Hainen (pictured) premieres Tan Dun's Nu Shu: The Secret Songs of Women, Symphony for Micro Films, Harp, and Orchestra. Flutist Jeffrey Khaner debuts Behzad Ranjbaran's Flute Concerto, and Principal Bassoon Daniel Matsukawa unveils David Ludwig's Pictures from the Floating World. Three distinct programs over the course of three days, also including Rachmaninoff's Symphonic Dances, the composer's final composition, which he dedicated to The Philadelphia Orchestra in 1941. All composers will be in residence during the festival, Verizon Hall, Kimmel Center, Philadelphia. Celebrate Halloween with the Philadelphia Orchestra, Saturday, October 26, 11:30am with Cristian Macelaru conducting and Cirque de la Symphonie.
Fall theater season in full swing
"Once" at the Academy of Music
The Broadway tour of "Once" makes a stop in Philadelphia October 29 through November 10. Winner of eight 2012 Tony Awards including Best Musical, the show tells the love story of "Guy" and "Girl" on a set that is transformed into a Dublin pub, featuring an ensemble cast playing their own instruments onstage, at the Academy of Music, Broad Street, Philadelphia.
"Lend Me a Tenor" at Delaware Theatre Company
The popular farce "Lend Me a Tenor" arrives in Wilmington at Delaware Theatre Company for their 35th season. The first Broadway play by acclaimed playwright Ken Ludwig is set in a 1930s Cleveland hotel room and is full of mistaken identities, misunderstandings, mixed signals and doors! Directed by Bud Martin and starring John Plumpis, Sarah Litzsinger, Jonathan Silver, Eileen Cella, Tracie Giggins, Howie Brown, Marcia Hepps, and Tony Braithwaite (in his DTC debut). "Lend Me a Tenor" was originally produced by Andrew Lloyd Webber, has won 3 Tony Awards and has become an international sensation, onstage through November 3 at 200 Water Street.
"We are proud to Present…" at InterAct Theatre Company
The critically-acclaimed play "We are Proud to Present a Presentation about the Herero of Namibia, formerly known as Southwest Africa, from the German Sudwestafrika, between the years 1884-1915," by Jackie Sibblies Drury, makes its Philadelphia Debut at Interact Theatre Company. The inventive new play takes you inside the theatre-making process where six diverse actors try to create a work about an obscure 20th century genocide in Africa. What starts as an amicable workshop, quickly descends into a storm of competing egos and conflicting agendas. Directed by Pirronne Yousefzadeh, starring Aime Kelly, JaBen Early, Jamison Foreman, James Ijames, Kevin Meehan, and Miriam White, and onstage through November 10, 2030 Sansom Street, Philadelphia. Related programs and events include Speaker Sunday, October 27, 2pm with Heidi Rose, Associate Professor of Communication, Villanova University. Also, "InterAct with Us," designed to engage younger audiences with different community leaders "hosting" a viewing of the play and a post-show reception. First event is Friday, November 1 with A. Naomi Jackson, University of Pennsylvania's ArtsEdge Resident. $10 tickets available.
"Marcus; Or the Secret of Sweet" at Plays & Players
Onstage at Plays & Players Theatre is "Marcus; Or the Secret of Sweet," by Tarell Alvin McCraney. Winner of the 2013 MacArthur "Genius" Grant, McCraney has been described as "a playwright exploring the rich diversity of the African American experience in works that imbue the lives of ordinary people with epic significance." The play follows young, poor, black and gay Marcus on his journey to find his father or the legacy he left behind in the fictional Louisiana town of San Pere in the days before an impending storm, onstage through November 3, 1714 Delancey Place, Philadelphia. Related programs and events include a "post-show classroom," Sunday, October 27 and "Behind the Scenes" on Sunday, November 3.
"The Woman in Black, a Ghost Story" at Act II Playhouse
In time for Halloween, Act II Playhouse thrills with "The Woman in Black, a Ghost Story," October 29 through November 24. The play, the second longest-running show in London history (still onstage in the West End), follows a junior solicitor who attends the funeral of a client, sees a young woman dressed in black, standing in the church yard. He ultimately discovers her dreadful secret at his own cost. Adapted by English playwright Stephen Mallatratt from the novel by Susan Hill, and directed by James J. Christy at 56 E. Butler Avenue, Ambler, PA.
"Pride & Prejudice" at Bristol Riverside Theatre
Bristol Riverside Theatre joins in the worldwide celebration of the 200th anniversary of Jane Austen's beloved novel, "Pride & Prejudice" with a fast-paced and engaging stage adaptation by Jon Jory, October 29 through November 24. Directed by Bristol's Artistic Director Keith Baker, the ensemble cast includes Jessica Bedford, Grant Chapman, Rose Fairley, Michael Gamache, Jessica Gruver, Michael Halling, Hannah Kahn, Samantha Kuhl, Mark LeVasseur, Robert Ian Mackenzie, Topher Mikels, Erin Mulgrew, Mary Elizabeth Scallen, and Jo Twiss at 120 Radcliffe Street, Bristol, PA. Related programs and events include a Friday Festival, November 1, 7pm, Theatre Theology, Tea with Mr. Darcy and more.
ArcheDream for HUMANKIND returns to their hometown of Philadelphia with its newest and most ambitious show, "Inside out," October 30 through November 3. The internationally touring black-light mask and dance theater company communicates universal ideas and emotions by merging ancient ritual and magical storytelling with modern technology, 20 N. American Street, Old City, Philadelphia.
New City Stage Company's "RFK"
New City Stage Company opens their new season with a remounting of the popular, sold-out hit "RFK," a historically accurate solo performance recounting the last 4 years of Robert F. Kennedy's life from 1964 to 1968. Back from a monumental run at the Capitol Fringe Festival, the play, written by Jack Holmes, features music, film and footage from the era, including videos of the Kennedy family never released to the public before. Directed by Ginger Dayle (Founding Artistic Director), starring Producing Artistic Director Russ Widdall (HBO's The Wire) as RFK, and onstage October 31 through November 24, 2030 Sansom Street, Philadelphia. Related programs include special guest speaker for the November 22 performance commemorating the 50th anniversary of the assassination of President John F. Kennedy.
Brandywine Ballet's "Grace & Guitars"
Brandywine Ballet opens a new season with "Grace & Guitars," featuring two distinct ballets in one program. Act I features the classic ballet "Serenade" (by arrangement with The George Balanchine Trust), followed by "Rock Ballet," live music from the Downingtown School of Rock House Band for Act II, showcasing the company's dancers through four decades of rock music with period costumes and lighting, Friday, October 25, 7:30pm and Saturday, October 26, 7:30pm, Emilie K. Asplundh Concert Hall, 700 South High Street, West Chester, PA.
"Sunrise at Hyde Park," a new musical by Tom Wilson Weinberg, tells the story of Associated Press reporter Lorena Hickok, who, when assigned to interview Eleanor Roosevelt in 1932, developed a close relationship with the future First Lady that lasted for decades. Ray Corry, a young curator at the Franklin D. Roosevelt Museum, shaken from the reading the content of 30 years of intimate letters between the two women, urged Hickok to donate her correspondence. The story is brought to life by Lauren Hope Gates as Hickok, Heidi Hayes as Roosevelt, and Brendan Dalton as Corry, directed by Bill Buddendorf, and produced by Lee Kramer, Friday, October 25, 7pm and 9pm, Saturday, October 26, 7pm and 9pm, and Sunday, October 27, 2pm, William Way Community Center, 1315 Spruce Street, Philadelphia.
Halloween events in the region
East Passyunk Avenue Business Improvement District's Fall Fest & Spooky Saturday is October 26, 11am-4pm, with free activities for all ages and dogs too. Expanded this year to include trick or treating, and new food and drink offerings, plus a craft show, live music, costume contest, and more, by the Singing Fountain, East Passyunk Avenue and Tasker, South Philadelphia.
South Street Headhouse District's annual Pumpkin Fall Festival returns for a 5th year Saturday, October 26, noon-5pm, with pumpkin decorating, circus performances, live music, a fall bazaar and more at the historic Headhouse Square Shambles, 2nd Street between Pine and Lombard, Philadelphia.
The Halloween Harvest Festival hits Germantown this Saturday, October 26. Participating sites include Awbury Arboretum, Grumblethorpe, Historic Fair Hill, Hood Cemetery, and Stenton – the historic, nearly 300 year old mansion, hosting haunted tours, pumpkin painting, crafts, treats and more, from 1pm-4pm, 4601 N. 18th Street, Philadelphia.
The Bryn Athyn Historic District hosts two fall events on Sunday, October 27 – a Candy Apple Workshop at Cairnwood Estate from 10am-noon, with candy apple making, spiced cider, hand-flamed s'mores, Victorian-era old-time photos, and more, 1005 Cathedral Road. Halloween at Glencairn Museum is from noon-4pm with wheat-weaving demonstrations, children's activities, Harry Potter scavenger hunt, "Angels, Devils and Spirits" tour in the 9 story medieval-style castle, 1001 Cathedral Road, Bryn Athyn, PA.
The Atlantic City Ballet performs "Dracula," Sunday, October 27, 4pm, at Landis Theater, 830 E. Landis Avenue, Vineland, NJ and Thursday, October 31 at Resorts in Atlantic City, NJ.
Painted Bride Arts Center hosts Boo! Jazz Concert and Halloween party with Steve Tirpak (The Roots) and a unique group of Philly musicians performing Halloween classics. Costumes encouraged, Thursday, October 31 and Friday, November 1, 8pm, 230 Vine Street, Old City, Philadelphia.
Rowan University's Percussion ensemble performs live accompaniment to F.W. Murnau's classic and creepy vampire film Nosferatu. The screening takes place on Halloween night, Thursday, October 31, 11pm in Pfleeger Concert Hall, 201 Mullica Hill Road, Glassboro, NJ.
Yifei Kong contributed reporting to this week's guide.
To submit an event to be considered for the Weekly Entertainment Guide email Robin Bloom at artscalendar@whyy.org.
Like us on Facebook to add the Weekly Entertainment Guide to your News Feed.
WHYY is your source for fact-based, in-depth journalism and information. As a nonprofit organization, we rely on financial support from readers like you. Please give today.