Unforeseen catch of the day: Sportfishing crew rescues seven off N.J.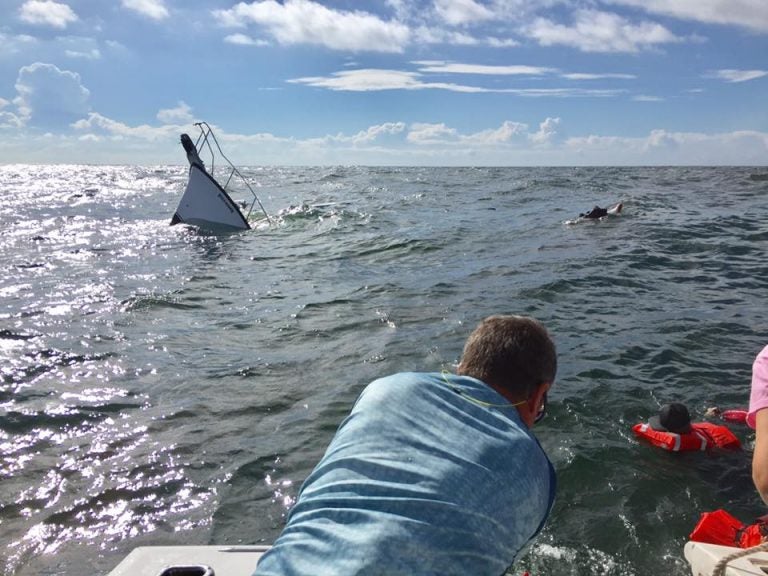 Joey Smith and his crew were aboard the Miss Addison II en route to a fluke tournament off Cape May on Saturday morning when their focus rapidly changed.
They were about nine miles offshore when they heard an emergency broadcast from the U.S. Coast Guard alerting boaters to a fellow vessel rapidly taking on water.
Images of reeling in fluke were quickly replaced with another target.
The Miss Addison II crew didn't hesitate to help the seven on the Beach Runner, a 32-foot sport fishing boat based in Wildwood. They were joined by another Good Samaritan rescue crew, the Porgy IV.
The Coast Guard simultaneously launched a 45-foot rescue boat and a 154-foot cutter from Station Cape May.
Smith, who says sea conditions were "pretty rough," says the Miss Addison II reached the Beach Runner just before it went under the surface.
The rescue team also included the Porgy IV, whose captain, Paul Thompson, maintained instrumental radio communication with the Coast Guard throughout the incident, according to Smith.
Smith and his crew brought all of the Beach Runner passengers, who were wearing lifejackets, aboard the Miss Addison II and transported them to Cape May. There were no injuries.
"Please practice safe boating and check your safety gear. The Miss Addison II practices a strict, no alcohol on the water policy," he said. "We all share the water, and you never know when you will rely on a neighbor."
David Umberger, command duty officer at Coast Guard Sector Delaware Bay, praised all involved.
"This is a perfect example of boaters and the maritime community doing the right thing in an emergency situation," he said in a statement. "From everyone wearing life jackets to all boaters having radios tuned to channel 16 – this case illustrates how good communication and safety measures bring rescuers together to quickly and effectively help those who are in need."
The Coast Guard hasn't said what caused the boat to sink.