Two commissioners leave fading SRC to seek spots on new Philly school board
SRC chair Joyce Wilkerson and commissioner Christopher McGinley needed to leave the five-member body before Mayor Jim Kenney could pick them to serve on the new board.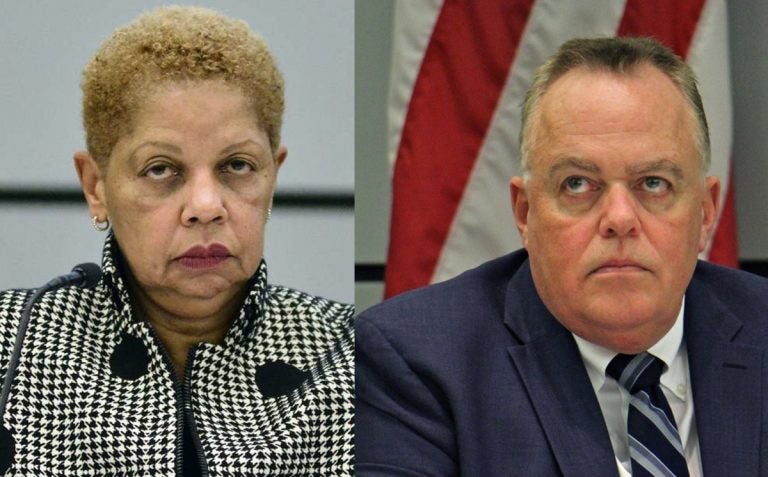 With Philadelphia's School Reform Commission limping towards its demise, two of the remaining four members resigned Thursday in order to seek positions on the incoming, local school board.
SRC chair Joyce Wilkerson and commissioner Christopher McGinley had to leave their posts before Mayor Jim Kenney could appoint them to serve on the new, nine-member school board. Kenney has not yet made his final selections, but McGinley and Wilkerson are among 45 finalists.
Because Kenney initially named Wilkerson and McGinely to the SRC, he also gets to name their replacements, and did so Thursday. The pair will be replaced by former SRC chair Marjorie Neff and former district COO Fran Burns.
In the same swoop, Pennsylvania Gov. Tom Wolf promoted one his appointees, Estelle Richman to SRC commissioner.
Absent an unexpected development, the SRC has little left to do before it dissolves on June 30. The state-controlled commission passed a lump sum budget for the upcoming school year at its last meeting and will have to approve a final budget before the fiscal year ends.
The five-member commission was already operating short-handed after the resignation of Farah Jimenez last month. The SRC needs three voting members to pass resolutions, and the dual resignations of McGinley and Wilkerson would have left it one person short of the quorum needed to conduct business.
Burns and Neff, familiar faces on the local education scene, should allow the SRC to polish off whatever work remains over the next three months.
"In this time of transition from the SRC to the new Board of Education, it is important to have two voices on the SRC who are ready on day one. Marge Neff and Fran Burns need no introduction to the issues that face the School District of Philadelphia," said Kenney in a statement.
Before serving as SRC chair, Neff was the longtime principal of Julia R. Masterman High School, one of the city's most prestigious special admissions schools. Burns served as COO under superintendent William Hite from 2013 to 2017 and now teaches at Villanova University.
"The School District has made great progress under Dr. Hite and I am honored by Mayor Kenney's appointment to serve during this important transition," Burns said in a statement.
The SRC voted last year to dissolve itself under pressure from activists and politicians.
After nearly 17 years as the governing body of Pennsylvania's largest school system, the state-controlled commission will give way to a local school board appointed by Mayor Kenney.
A nominating panel recently gave Kenney a list of 45 candidates for the new board. The mayor will announce his final nine selections by April 5th, a week from today.
WHYY is your source for fact-based, in-depth journalism and information. As a nonprofit organization, we rely on financial support from readers like you. Please give today.