Tropical Storm Gabrielle re-forms, expected to kick up surf Wednesday through Friday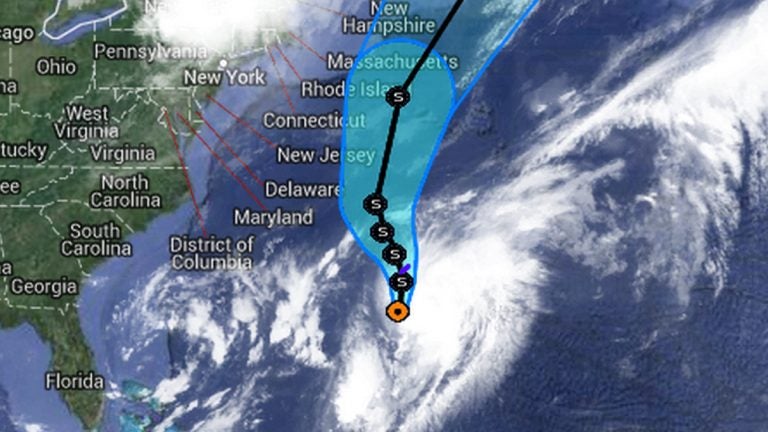 Tropical Storm Gabrielle has re-formed in the Atlantic and is taking aim at Bermuda.
Packing maximum sustained winds of 40 mph and heading north at 12 mph, the low-grade tropical storm storm is centered about 120 miles south of Bermuda, where a Tropical Storm Warning is in effect as conditions are expected to deteriorate later today and tonight, according to the National Hurricane Center's 11 a.m. Public Advisory.
Some strengthening is expected, but the storm will not reach hurricane status, forecasters say.
As the storm tracks generally northward over the next few days, longer period swell is expected to reach the Mid-Atlantic, including the New Jersey region, by late Wednesday, according to SwellInfo.com, a wave forecasting service.
The swell is expected to peak at about four feet on Thursday, creating a hazardous swimming condition at the many unguarded beaches. Longer period swells travel far distances over the open ocean, containing more energy than weaker, locally generated wind swells, according to Surfline.com.
Elsewhere, Tropical Storm Humberto continues to strengthen near the Cape Verde Islands off the west coast of Africa and is expected to become the first Atlantic hurricane of the 2013 season by later today or tonight, the National Hurricane Center advises.
The storm will not impact the United States.
Forecasters are also monitoring an area of disturbance in the northwestern Caribbean Sea near Mexico. The National Hurricane Center advises that the disturbance has a 60 percent chance of becoming a tropical cyclone within the next five days.
The Atlantic hurricane season peaks this month, and 80 percent of named storms between 1981 and 2010 have formed between August and October, according to a report on The Weather Channel, which had previously forecasted eight hurricanes for the current season.
In fact, on average, August 10 is when the first Atlantic hurricane forms, and in the five seasons without a hurricane through August since 1960 (1967, 1984, 1988, 2001, and 2002), multiple hurricanes developed later in the season, the report states.