Top 10 taxpayer subsidized projects planned for Camden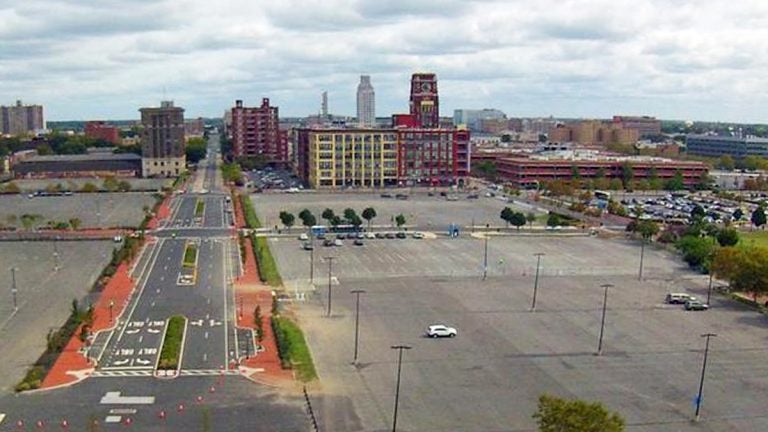 Thanks to state tax incentives that encourage private investment in the City of Camden, more than a dozen developers have committed to building large-scale projects in New Jersey's poorest city over the past two years. Late last month, Gov. Chris Christie announced the biggest privately funded construction project in the city's history, and while the master developer, Philadelphia's Liberty Property Trust, has yet to seek these incentives to offset some or all of the project costs, it is widely expected it will do so.
Scheduled to break ground next year, the $700 million mixed-use development will bring office, commercial, residential and hotel space to a 16-acre stretch of parking lots along the Delaware riverfront's entertainment district.
The project, which is to be completed by 2019, calls for two skyscrapers and a number of buildings that will house 300 residential units, a 120-room hotel, 1.7 million square feet of office space, and more space for retail.
Other developers have drawn up somewhat comparable plans for that section of the city before, only to abandon them before shovels hit the ground. But boosters point to Liberty's positive track record in building Philadelphia's tallest office tower and turning a former Navy base into a model corporate campus for the modern era.
The $700 million project dwarfs the city's second-most-expensive project – a headquarters for Holtec International that's expected to cost $260 million by the time it's finished. Last year, Holtec received the state's third-largest corporate tax subsidy to relocate from Marlton to Camden; now, analysts are pondering how much the New Jersey Economic Development Authority (EDA) will provide in tax credits if and when Liberty seeks them.
Camden has benefited from more state-subsidized investment than any other New Jersey city since lawmakers overhauled the tax-incentive system in a 2013 law called the Economic Opportunity Act (EOA).
Supporters say these incentives provide the best path to urban renewal, and point to Camden as a shining example.
Critics counter that the incentives are far too generous, "poach" from neighboring towns, put the state at financial risk, benefit friends of the powerful, and often don't succeed in their stated revitalization goals. To wit, New Jersey Policy Perspective, a liberal think tank that vehemently opposes so-called "corporate welfare," has calculated that almost two-thirds of the credits the EDA has awarded to companies that promise to create or preserve jobs in the state have gone to subsidize positions that already exist – usually in nearby municipalities.
Since the implementation of EOA in December 2013, only one project outside Camden has received a subsidy in the hundreds of millions of dollars (JPMorgan Chase in Jersey City), while 16 Camden projects worth $1.1 billion have won EDA approval over the same time period. Here are the 10 priciest.
1. Holtec International, $260 million
The award to this Florida-based energy design and manufacturing firm is the biggest since 2013 and the third-largest in state history, after the American Dream Meadowlands mall and Atlantic City's closed Revel casino hotel. Holtec is using the money to build a technology campus on 50 acres in the Camden Port District that will house a corporate engineering center, two large manufacturing plants, a reactor test loop and ancillary facilities like corporate apartments. CNN's Dr. Sanjay Gupta sits on Holtec's advisory board, while Camden's most powerful (unelected) political leader, George Norcross, holds a position on Holtec's governing board. Scheduled to open next year, the campus will create 235 permanent new jobs and bring over 160 jobs from an existing site in Marlton.
2. EMR Eastern, $253 million
This project's $728,386 cost per job makes it the most expensive per-employee incentive in state history. The metal recycling company is moving its American headquarters from Bellmawr to seven new buildings near Camden's port district seven miles away. Executives told the EDA the campus will allow them to add 285 new jobs to the 201 it has at an existing Camden scrap yard and preserve 62 jobs they've considered moving to New Orleans.
Though the port district is zoned for heavy industry, residents in the adjoining Waterfront South neighborhood have long complained about pollution-related health problems and continue to beg city leaders to stop adding these types of companies to those that are already there.
Additionally, portside companies don't lend themselves to integrating workers into the economy of the city; cut off from most of Camden by one of its poorest neighborhoods, workers typically drive directly in and out of their gated worksites.
3. American Water Works, $164 million
Based in Voorhees, the largest publicly traded water utility in the country supplies water and water treatment services to 47 states. When it received its EDA award in June, it was still considering whether to consolidate its five locations in Burlington and Camden counties into one corporate headquarters in Camden's Campbell Gateway District or Philadelphia's Navy Yard. At the time, executives said they would relocate 600 local employees and eventually add 100 more, though they would leave workers at their subsidiary New Jersey Water Works in place.
4. Subaru, $118 million
For years, Subaru of America engaged in a highly publicized search for a place to move its employees out of cramped and outdated buildings in Cherry Hill and around South Jersey.After the 2013 law extended generous provisions to car manufacturers looking to expand and consolidate the centers of their North American empires to Camden, Subaru selected a city parcel being developed by Campbell Soup Co. as its next home.
The company will move 500 of its white-collar workers to a soon-to-be-constructed office building and promises to create 100 more jobs over the next 10 years.
The problem is that existing employees presumably have homes in the surrounding area, and the corporation is building on an insulated border parcel hard against a highway and filled with parking spots. Take-home message: Employees of the auto manufacturer never have to enter the streets of Camden as they drive to work from Philadelphia or the suburbs.
5. Lockheed Martin, $107 million
Facing Defense Department budget cuts, the Maryland-based security, aerospace and IT firm threatened to reduce the size of its New Jersey force if the EDA didn't grant it the awards it requested.
In November 2014, the EDA complied and extended incentives worth two-thirds of the cost to build two laboratories in the waterfront's L-3 office building and the Waterfront Technology Center. The company will relocate 250 workers to Camden and has accepted a separate state incentive package to keep 1,000 employees at its Moorestown facility and at least 4,300 total in New Jersey.
The move brings desirable professional-class workers to the city; however, they'll be using space that formerly housed equally desirable L-3 defense contractors.
6. Philadelphia 76ers, $82 million
As the recipient of Camden's first major incentive package and as a high-profile professional basketball team, the 76ers generated a lot of excitement when they announced they would build their next practice facility on the city's waterfront.
Scheduled to open next year, the 120,000-square-foot center will bring 250 employees over from Philadelphia. While the practice facility may create positive exposure for the city, import players for children's charity events, and put feet on the ground to patronize nearby businesses, New Jersey Policy Perspective criticizes the deal for giving the team $328,000 in tax credits per job even though employees there will make a median annual salary of $45,000.
7. Cooper Health System, $40 million
With Cooper Health System anchoring the "meds" piece of downtown Camden's prized "eds and meds" development strategy, it's unlikely the nonprofit would move any of its employees out of New Jersey, especially considering that its board chairman is George Norcross, who discretely green-lights or red-lights many of the city's development projects.
Yet that's what Cooper administrators told the EDA in order to qualify for credits to consolidate 353 suburban back-office positions to Federal Street in Camden next year. In a statement, Cooper said the award would allow it to "continue to play an important role in Camden's renaissance, which will benefit the entire South Jersey region."
8. Contemporary Graphic Solutions, $33.9 million
The commercial print and packaging company is using its award to convert a warehouse in a commercial district to a technology center for its 170 employees, who previously worked in adjacent Pennsauken. The company promises to hire 56 additional employees over the next decade.
As a manufacturing firm, it qualified for bonuses above the base incentive package because manufacturing is an industry that the state wants to nurture. It also benefited from bonuses for locating a facility in a deep poverty pocket near an officially designated public transportation hub. It should open in 2017.
9. Chef'd, $19 million
Year-old e-commerce startup Chef'd ships fresh, portioned ingredients to home cooks across America who want to reproduce recipes featured in magazines.
With one operations center in California, the young company is deciding whether to locate its East Coast prep kitchen and office on a major thoroughfare in Camden or in Philadelphia. If the company chooses Camden, it intends to rehab an industrial warehouse and hire 200 employees over 10 years. Their EDA application, which received approval in August, stated their intention to open by the end of this year.
10. Great Socks, $15 million
The Dallas-based sock manufacturer is in the process of buying a manufacturing company that runs two plants: one in Camden and the other in Reading, PA.
Great Socks is threatening to close the Camden plant and move all of its operations to Reading. If it decides to use its EDA credits to stay in New Jersey, it would retain 67 jobs and add 33 more, all with a median salary of $28,000 per year. In some ways, Great Socks makes for an ideal award recipient:
Because of the proximity of its second factory, threats to close the doors in Camden are probably legitimate and serious; and the need for low-skilled labor means that Camden residents could benefit from newly created jobs and are likely already employed by the company.
__________________________________________________________
NJ Spotlight, an independent online news service on issues critical to New Jersey, makes its in-depth reporting available to NewsWorks.