Third water main break | DRWC traffic study results | jerk cyclists on notice | Roosevelt Blvd crosswalk work coming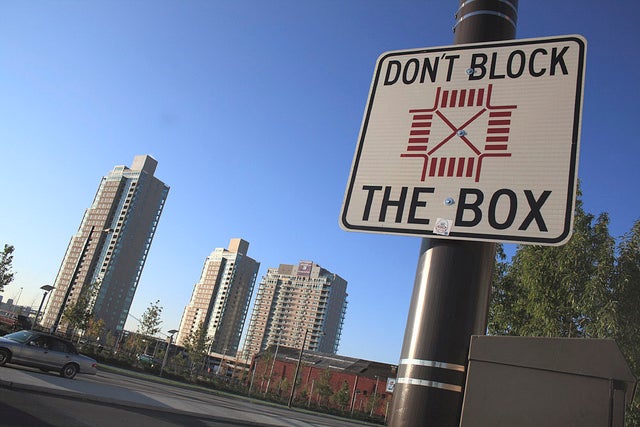 Happy August, Streeters. We're hoping the threat of thunderstorms doesn't make good until our Behind PlanPhilly boat tour is over, so fingers crossed. For your Wednesday Buzz, here's a transit/infrastructure themed roundup:
A water main broke this around 7:45am this morning, this time flooding streets around Front and Tioga streets, reports philly.com. This is the third main to break in 11 days. There is no word if this main broke due to nearby road construction. For now, Front Street is closed from Tioga to Allegheny, Allegheny and Ontario are closed from Front to 2nd streets.
In the coming years expect Columbus Boulevard/Delaware Avenue to have more left-turn lanes, longer traffic signals that smooth vehicle traffic along the corridor, better crosswalks, clearly marked bike lanes, and bus stops in smarter locations, reports PlanPhilly's Kellie Patrick Gates. These are among the changes recommended by a traffic study commissioned by the Delaware River Waterfront Corporation.
Bike riders are on notice: cops in Southeast Philadelphia will start ticketing illegal moves after Labor Day. The Daily News reports that, on top of a warning by the city for cyclists to obey the rules of the road, the 3rd Police District (South Philly east of Broad) announced its own campaign to encourage safer streets and sidewalks by issuing citations. Click here for a refresher on the rules.
Next week drivers can expect lane closures on Roosevelt Boulevard to begin as PennDOT performs a $2.8 million crosswalk project, reports NEast Philly. Several crosswalks will be resurfaced, added, removed, and signalization improved. Next week contractors plan to work on the Boulevard between Comly and Loney streets (northbound) and Rhawn and Comly (southbound).
The Buzz is Eyes on the Street's morning news digest. Have a tip? Send it along.